Guangdong Xuwen county below subordinate units to consciously contribute
400 元 donations file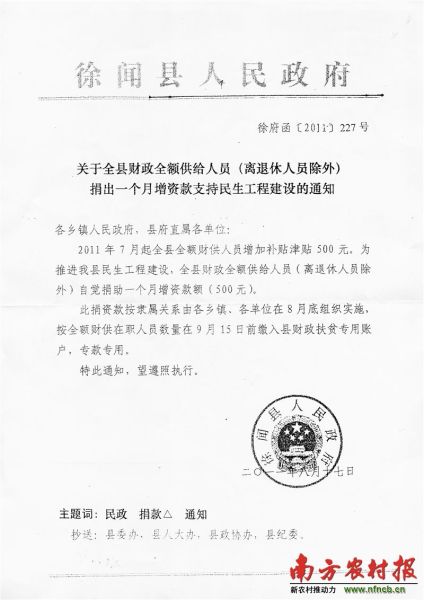 500 元 donations file

Southern Rural News (Reporter Huang Jin)" This year, we twice increased subsidies, allowances, we are very pleased to now have to be to donate $ 900 makes you unhappy! "September 2, a primary school teacher in Guangdong Xuwen county Zhang (not his real name) told the Southern Rural News correspondent.
2011 January and July, respectively, for the fiscal full Xuwen supply personnel to increase the per capita monthly allowance, allowance of $ 200 and $ 500. But the second time shortly after the introduction of pay, August 17, two "contributions notice" was issued to Xuwen the township government, counties as units and related departments. The symbol "Xu government letter [2011] No. 227," the notice said: "To promote the construction of county people's livelihood, the county fiscal full supply of staff (excluding retirees) a month per person to consciously increase the donor section (500 ), the township, the unit organized and implemented the end of August, according to the number of personnel on September 15 turned over to the county finance poverty alleviation special account. "symbol" Xu government letter [2011] No. 228, "the notice (left) said: "To effectively solve the problem of North-South drainage repair fund to ensure timely completion of restoration work, according to the" 2010 10th 县四套班子 (enlarged) meeting minutes, "the spirit of the county treasury the full supply of staff (excluding retirees) each to donate the additional two months of subsidies, allowances (increases in January) $ 400 to support north-south drainage repair works were donated in September and October. "
Many people believe that, although the livelihood project construction should support, but the government has requested donations have forced the horse. According Xuwen fiscal full supply personnel 14,591 people total, each donated $ 900, total $ 1,300 million.
9 2, Xuwen Chen Guangming, deputy director of the county government office told the newspaper reporter in rural South, the two "contribution notice" does exist, "county leaders take into account rural roads, education, water and other livelihood projects building financial pressure too, would like to increase subsidies, grants the opportunity to appeal the supply of staff offer full financial point of love. "he said, donations have not yet implemented, to inform relevant personnel is also not mandatory contributions" to the time, some people do not willing to donate, you can not donate. "
Zhang told reporters:" If it is voluntary, I certainly do not donate, can accept one or two hundred, 900 yuan is too many, Moreover, should the financial livelihood projects funding, there is no reason for us to donate. "
Xuwen Finance Bureau official said, made" contributions notice "One would like to ease the financial pressure on the county, the second is to arouse people's civic-mindedness, so that more people's livelihood construction, "Some people just want to increase their wages, lack of social responsibility, I feel scared for them."
welcome comments I want to comment
microblogging Recommended | hot today microblogging (edit: SN034)