Zhu disclosed in his final speech: not in favor of each person to buy cars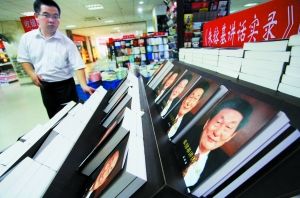 9 月 8 day, four-volume "Zhu Rongji speech Record" publication, readers are buying the book. Figure/CFP

"Zhu Rongji's speech Record" (four volumes Paperback) Author: Zhu Version: People's Publishing House in September 2011 Price: 196.00 yuan

2011 September 08 , by the People's Publishing House published four volumes of the "Record speech, Zhu Rongji," a written world.
"Zhu Rongji's Speech Record 'income as Vice Premier Zhu Rongji, Premier during an important speech, talk, articles, letters, comment, etc. 348, Photo 272, comment, letters and inscriptions photocopy 30 pieces. Incorporated into the "real Video: Record book, Zhu said the speech talk about the truth Source: Qilu network "Daily News" recorded, "the presentation is based on Zhu Rongji attended the important meeting and to local, departmental investigation and study of audio-visual speech data, text transcript editing made, most of the first published. All aspects of detailed records from the leadership of Zhu Rongji, China's economic history, covering China tax reform, financial reform, the state-owned enterprise reform, social security reform, investment and financing system reform, housing reform, response to the Asian financial crisis, inflation control expansion and other major issues of economic and social fields. Zhu is not only the reader understand the economic and social management thinking, leadership style, charisma and mentality of the readers the most comprehensive, but also the reader review and interpretation of China's economic development process and the basic laws of a rich historical data.
authorized by the People's Publishing House, part of the newspaper published excerpts.
on Beijing traffic
"Come on everyone to do more development of the bus, the development of public transport it"
April 22, 2011, Premier Zhu Rongji held talks with the Tsinghua University student, read the "Record speech, Zhu Rongji," a book Why select his final article on February 1, 2003, entitled "develop public transport." He recalls that last article was going to vote for him in the January 27, 2003 the ninth plenary session of the State speech, entitled "memorable five years." Printed near the test print is about the time, Zhu Rongji thought of an article. That is, one month before he retired Prime Minister, February 1, 2003, the Lunar New Year, 44 in Beijing Public Transport Corporation bus station to visit the North Guanting speech when public transport workers. In this speech, Zhu Rongji said:
"To be honest, I just do not agree that everyone buy a car, which is not consistent with China's national conditions of China that many people, ah, what a country did not like China, 2.8 million people in the city are numerous. how can each have a car? which city can not stand, ah, can not do that. How can so much oil, ah, most rely on imported oil ! there are exhaust emissions from vehicles, that pollution is even more powerful, and seriously affect people's health ah, I think, now the production car a little overheated. that I do not advocate the development of cars, can be properly developed, high standard of living of the people You can buy a car, but the government should not spend so much money to grant, to promote, it does not meet China's development direction now is to develop public transport, bus development, development of urban light rail, can also develop high-speed maglev train. " "In short, we must put more effort and attention to the development of public transport, not on the top of the development of cars, ah!"
Zhu at Tsinghua University, said: "It is my (open term) the last speech. I asked you not take public funds to buy cars, to subsidize the car; please you more than the development of buses, the development of public transport it. If you do this, as there are today, what? if that When I say do it, Beijing would not be so now the traffic jam. "
(" Zhu Rongji's speech, Record, "Volume IV P490-493)
on Hong Kong the future
"ruining Hong Kong in our hands, we are the 'traitor to the nation'"
2002 年 11 19, Zhu welcome dinner at the Hong Kong SAR Government said in a speech: "Hong Kong's future is bright, we are always proud to have Hong Kong and I do not believe that they might in Hong Kong if Hong Kong well cultivated, not only is your responsibility We also have the responsibility. reunification, ruining our hands, that we not become a 'traitor to the nation'? not and I see reports that, Mr Antony Leung, long ago I do not remember singing or read the "Lion Rock" this song and this drama I have not read, I will not sing this song, but I got the lyrics, is Mr. Gu Jiahui composer, Mr. Huang Zhan lyricist, Mr. Luo Wen singing in Leung That's when the idea of ??this song, Mr. Luo Wen has not died, he died recently, but I believe he made contributions to Hong Kong, Hong Kong will be forever engraved in the hearts of the people I saw the lyrics later, it is was moved to I believe that many of these old-timers to participate in entrepreneurship, more this feeling, because every word the lyrics are full of real feelings, real feelings and this will always be light and I now read this The first lyrics, together with all mutual encouragement for the future of Hong Kong:
is the same boat
in the Lion Rock and the Masonic
abandon the distinction between seeking a total of
open hearts to each other contradictions
chase our dream
vowed to unite as people go hand in hand
fear more without fear
with the Department Cape horizon
together overcome rugged
us
with hard work
write it
immortal Lights famous
I love Hong Kong! Thank you! "
(" Zhu Rongji speech Record, "Volume IV P493-444)
about writing biography
"one thousand pray for all involved to stop writing my memories or comment on material"
1999 年 3 25, Zheng Zhu Rongji to benefits and other comrades wrote:
"Recently, the old comrades solemnly say so, that brother and other materials being gathered in preparation for the biography I wrote, and I have agreed that no matter how the facts, I have made it clear: please do not do it. of difficult affairs of state, public opinion confused, Feiduanliuzhang, fear and trepidation, such as re-invited heavy criticism, glorifying, the crime can not escape. one thousand pray for all involved to stop writing my memories or comment on material, and on behalf of the my ad friends, grateful matter. "
(" Zhu Record speech, "the third volume P245)
Tsinghua University to talk about faith
"20 years without party affiliation, but I never lost faith in communism,"
2001 年 6 月 5, Zhu Rongji was invited to make a report at Tsinghua University. He said: "My heart always remain in the Tsinghua University, stay in the college, I resigned today to the president, ask someone to witness, I did not leave the Tsinghua University, my heart still Tsinghua, Tsinghua University and Tsinghua University's achievements of each point, I would be proud; your every problem there, I will care about; you if there is flawless, I will unceremoniously put forward, because I am Tsinghua people. "" I am ten years ago Tsinghua celebration when the write four sentences: 'SMTH, Dead Poets Society, Education taught me I will never forget. "Tsinghua give me too much, and I have done too little to Tsinghua University and I sincerely hope Tsinghua better and better, do into a world-class universities, every student is worthy of a world-class university students, this is my wish and I believe, here the students have been standing ambition, we should build a world-class Tsinghua University, the administered College into a world-class in the college, to serve the country, making China the world's first-class power. "" a man of Chinese people do have moral integrity, indomitable spirit of the Chinese people do; scholarship to a solid, rigorous, and must not fame, not to mention the results of plagiarism, never took it; has to be solid, truly for the people. One can not without shortcomings, but to strive to do their own clean and fair, do not leave infamy. "" I think, is this spirit that inspired me Tsinghua University, although I was wrongly classified as 'right', 20 years without party affiliation, but I never lost faith in communism, I never learn on their own work and the slightest relaxation I always try to ask yourself, do not live up to the teacher Tsinghua University, Tsinghua University and the party of my education, I always want to be worthy of the heart, this is my greatest wish. "
( "Zhu Rongji's speech, Record," Volume IV P159-169)
instructions Zhang Weiqing letter, "his life is missing, bit by bit knowing"
at a meeting, Comrade Zhu Rongji of the State Family Planning Commission's work was criticized. To this end, State Family Planning Commission Zhang Weiqing, minister in May 10, 2001, Comrade Zhu Rongji sent a letter, and sincerely accept that criticism. May 28, Comrade Zhu Rongji, in a letter of Comrade Zhang Weiqing on the instructions:
dimensional celebration comrades:
I, as Prime Minister and it is not commensurate with his life missing, bit by bit knowing. Last meeting gaffe, not for you, in fact, the emotions, and then lost a great sense of proportion, so far guilty mind. I know my understanding, hope not Guahuai. Since when the warning.
("Zhu Rongji's speech, Record," Volume IV P157)
exception inscription
"Jiaoshe Yinmi and forget There's that, almost time to quit? "
inscription is Premier Zhu Rongji's" five commandments ", one of Zhu Rongji at the National eight years ago when a classmate gave him a letter to demand inscription, Zhu replied: "I am not afraid of you to borrow money, the second job are not afraid of you, I am afraid you find the inscription, because I have a 'five commandments', this one also. not an exception, are requested to forgive me."
2002 年 5 月 5, Comrade Zhu Rongji Zhu Yan and his wife, Lao An, and daughter to visit Hu in Hangzhou, Zhejiang Province, the former residence. This time he not only in the Redwood Room autograph, and then sent back to the hotel the inscription. The contents of the inscription is:
Hu's former residence, see carved beams 砖刻, re-building peaks, very wonderful south garden, do the clever Wu and Yue culture. Houle rich princes, fiscal dumping Banbi. Guyun: rich, but three generations. The red top of the wily, but actually a decade. Jiaoshe Yinmi, carried away, there's that, almost time to quit?
Zhu
May 2002 his wife and daughter in the former residence of Hu
former residence of Hu's showroom exhibits some of the celebrities in this visit left picture, and signature and inscription, expressed their recognition and repair the existing home appreciation. Zhu Rongji's inscription unique, thought-provoking.
("Zhu Rongji's speech, Record," Volume IV P361)
woman president of Ireland on the issue of Tibet
"Our nation has always been eclectic , eclectic "
2001 September, Premier Zhu Rongji in the Sixth World Chinese Entrepreneurs Convention keynote speech, the scene comes to visit Ireland.
I visit and read the local newspaper, the biggest pictures are "Tibet independence" and "Falungong" demonstrations, Prime Minister of the pictures I have and they only have one ass in the newspaper. I can not say "young and fit," but old or a little "arrogant", it's business breakfast meeting in a public speech to say it. I said, you only understand the Chinese three things: first, human rights; second, Tibet; Third, the "Falun Gong." I said, in addition, you also know the Chinese what? No more.
I told them the woman President Mary McAleese talks about an hour to debate the "Tibet issue" It took 50 minutes. The female president was born in Northern Ireland, she has been in contact with the Dalai Lama, the Tibet "independence" of particular interest. I told her debate, I say the past is a serf society Tibet, over what is life? Now all of a sudden leaps and bounds into a modern civilized society. Its standard of living and per capita revenue level, a lot more than the national average, that are central government subsidies. She said that people not only have a material life, but also a spiritual life. I say spiritual life, freedom of religious belief in China is "constitutional" provisions, we do not infringe the individual case is hard to say. Can you tell you, she does not believe it. She said she contacted with the Dalai Lama, the Dalai Lama visited Ireland. In Ireland, many Buddhist disciples went to kiss his hand, said that "love." She said, I hope you can play such a loving Prime Minister, the Tibetan people love you. I said, Mr. President, anyone make everyone love him, like him, is impossible. I said, I know that a considerable number of people in the country is very like me, but some people I hated. How one can make everyone love him ah? Our delegation there, I visited all the ministers were accompanied by sitting here, and I believe most of them people like me, but I also believe there is a small part of my criticism of him is not satisfied, so I I may have to step down later for "revenge." The president said, Oh, you are very humorous. She said she understood that the Chinese people is no sense of humor, she liked my sense of humor. At this time, I is not good answer. How do I answer? I only say that our country is an open country, our nation has always been eclectic, eclectic. China has 56 ethnic groups, history is the long-term integration. I thought it still did not speak a word, not a good translation. You say Chinese people do not sense of humor, but two thousand years ago, the Western Han Dynasty Sima Qian wrote, "Historical Records" which had "funny biography" of the. Punchinello, China's humor. How do the Chinese people no sense of humor? Two thousand years ago on the humor. My words too far, but we still seem very interested.
("Zhu Rongji's speech, Record," Volume IV P245-257)
share: welcome to comment I want to comment
> related reports:
Zhu : If I do not care about the suffering of the people when what Prime Minister
Zhu Rongji's speech published in Record behind
SW: Premier Zhu Rongji's speech before the incoming and outgoing
microblogging Recommended | today microblogging hot (edit: SN026)