Temple One tank can be reused repeatedly filling is a national initiative
Temple One internal structure.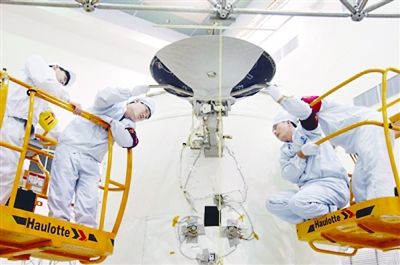 Temple One staff is assembling.

9 月 30 日 凌晨 1 时 58 minutes, that is, "Temple" flight to 4 turns at perigee, when successfully carried out its first orbit, boot length was 32.3 seconds.
Beijing at 16:09 on September 30th, at precisely the Beijing Aerospace Control Center under the control of Temple One successful implementation of the 2nd orbit control, the perigee height from 200 km to about 362 km uplift, smooth entry into the in-orbit test track.
"Temple" within two years need to refuel it?
Nanjing Morning Group decade "grind box"
WASHINGTON car out of oil, can enter the gas station. However, in the space, once the spacecraft ran out of fuel after the crash on the ground face or "wandering" space of the outcome. That rely on a supply?
China Aerospace Science and Industry Group, the Nanjing Morning Group four hospital after a decade, as the "Temple" designed and developed a special "tank." This looks like accordion bellows "tank", a large liquid fuel tank called the diaphragm. According to the reporter, large liquid fuel storage tank is the second phase of manned space flight is one of the five key technologies, of which the diaphragm is the core component of the storage tank, a domestic initiative.
"structure of this film looks like a box of accordion bellows, accordion bellows is rectangular but connected, and our diaphragm is circular diaphragm connection." The company is a senior R & D center Shi Yunpeng involved in the design development of one of the officers of the diaphragm, diaphragm tank is made of special metal materials.
on the ground to the vehicle refueling, gasoline itself because of gravity, is generally used to pump the gas filling the car tank. However, the propellant is in the weightlessness of space, and must be transported in liquid form. The "Temple" of the long-running, continuously operating power needed to do to protect, so to make the shape of the accordion bellows. The use of air pressure, squeezing diaphragm, the membrane inside the fuel to "squeeze" to the "Temple" in the engine. Fuel loading in the film box, diaphragm should have the flexibility to meet the functional requirements. "So the accordion bellows structure to meet our needs." Shiyun Peng said. "The 'Temple One' flight time is two years, we have a one-time film box full of fuel, can be maintained for two years not to refuel."
also have had our launch vehicle fuel storage tank, but whether it is solid or liquid are disposable. The "Temple", but can be repeated filling of the tank, re-use. This technology breakthrough and control, so that only a certain period of time the spacecraft into a long-running operation in space, "workstation." (LI Wu Jun Zhu Shu)
to share: welcome to comment I want to comment
microblogging Recommended | today microblogging hot (edit: SN028)