The direction of high-speed Beijing-Tibet from Beijing yesterday, a large traffic jam all day traffic saturation
Yesterday, the Beijing Tibetan high Pass near the traffic police directing traffic. Reporter Wang Jianing She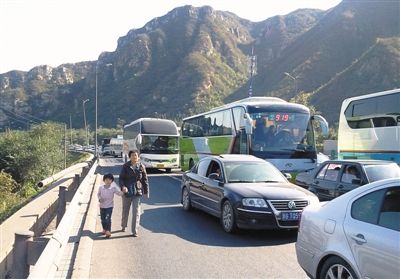 yesterday, the Beijing Tibetan high speed near the south exit direction from Beijing, one old and one less hand to walk around the cars lined up. Reporter Wang Jianing She

(Reporter Guo Chao) yesterday, a Beijing high-speed Beijing-Tibet direction, the supernatant from the bridge north to Pass a 7:00 am start and continued congestion vehicles , around 4 pm before resuming normal traffic.
Day Golden Week, a Beijing tourist numbers high, has reached a real peak travel, Badaling area amounted to 7.47 million visitors yesterday. Connecting Beijing and the major attractions of the mountainous northwest of Beijing-Tibet highway yesterday ushered in the peak travel, the direction from Beijing, the morning rush hour in advance to 7 pm.
10:30 or so, the reporter from the North Third Ring Road to the Beijing-Tibet high speed, Madian Bridge north, traffic was slow, the traffic from the street to see large screen display, from Madian to Qinghe toll way rosy. Reporters traveling car is idling almost driving, stop and go.
way after a short stay in Changping, arrived around 15:00 Juyongguan reporter, the reporter saw the "Great Wall entrance" of the big brands.
"no place, and go down!" Just Pass the entrance parking lot, Changping Transportation Battalion detachment highway police are directing traffic bypass, coordinators and police will be on the parking cone code market entry and high-speed main road forked mouth.
According to reports from the day before yesterday, the Beijing Tibetan high-speed ushered in the Golden Week traffic peak hour traffic volume by about 3000, Pass parking lot to form a congestion point.
It is understood, high-speed Beijing-Tibet yesterday, traffic is heavy congestion in addition to other reasons, accidents also have an impact. Yesterday day, more than 600 high-speed alarm unit, which asked congestion and help the majority of minor incidents. A police briefing, one day more than 600 phone, is relatively rare.
at 21 o'clock last night, press, high-speed Beijing-Tibet from Beijing is still the direction of vehicles crowded. The police described today will usher in a peak travel out of Beijing, is expected to flow with the flat yesterday, "If you want to come tomorrow to play the Great Wall, or take the S2 line of it." He said.
■ news
tight parking spaces in the country parks clogging
(Reporter Dan Minglei intern Liu Xiaonan) Beijing city parks around the country ushered in the peak passenger flow. Yesterday, due to lack of parking spaces, to Pinggu Jingdong Grand Canyon, Fengtai Kitamiya National Forest Park and other scenic spots of many tourists traveling by car, reluctantly abandoned the vehicle and walk into the park.
2 o'clock yesterday afternoon, Pinggu Jingdong Grand Canyon area on the road outside the entrance, waiting to enter the waiting area of ??the car several hundred meters long lines, slow to move forward. Sides of the road, has become a self-driving visitors to the temporary parking lot, hundreds of private cars parked too dense.
are required for all vehicles parked in the area furthest away from a car park and car park spaces waiting to be vacated.
a coordinators said, Jingdong Grand Canyon area a total of four car parks parking 200 cars, but traffic has more than 1000.
Jingdong Grand Canyon and similar to yesterday at noon, Forest Park, Fengtai District Kitamiya foot of the mountain, hundreds of vehicles lined up vehicles traveling by car.
desperation, the foot of the visitors will be parked on the roadside, half-hour walk into the area.
this, Kitamiya National Forest Park Service is responsible for advocacy work, Ms. Yue said, prohibited from driving up the mountain, is made for passenger safety measures.
"mountain slope is steep, narrow roads, in addition to self-driving tourists, there are some tourists up the mountain on foot, mixed with people and vehicles go on a road, prone to accidents," Ms Yue said.
to share: welcome comments I want to comment
> related reports:
Beijing-Tibet high-speed passenger rear-end large trucks killed at least 30 people were injured
Beijing ten a real-time during the Badaling high-speed Beijing-Tibet road
Video: High-speed Beijing-Tibet Photos worst team up to 30 km traffic jam
microblogging Recommended | today microblogging hot (edit: SN021)