Lianhuo 24 vehicles piled high at least 10 people died (Figure)
The picture shows the scene of the accident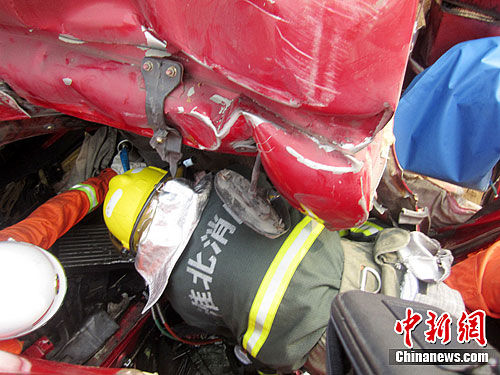 photo site emergency rescue wounded soldiers

BEIJING, Oct. 7 Huaibei Power (Li Xiaorui into Redgate) 7 at 7:00 pm, with Huo high speed (285 km at the direction of Zhengzhou, Henan) occurred 24 car chain collision accident, the accident so far at least 10 people dead and many injured. Hundreds of vehicle accident blocked traffic disruption up to 4 hours.
8:51, Huaibei, Anhui Province, the fire brigade received reinforcements on-site command, the rapid mobilization of soldiers, rushed rushed to the scene of the accident, in conjunction with Shangqiu, Anhui Suzhou fire brigade rescue. According to the officers described the rescue scene, has a severely deformed and rickety trucks roll on the road, around 5 meters, windows, glass, documents, vehicle supplies littered the sand everywhere around the car body , the weight of the cab has been completely deformed, asphalt road 20 meters long brake marks directed at the scene.
thighs truck cab driver stuck in the severe deformation of the cab could not move, while a driver was stuck in the driver's seat. He said there was fog on the highway, he opened the fog, but also the speed is reduced, are driving, look at the car in front stopped, he stepped on the brake or hit up, hit his head on the steering wheel , window glass was shattered, the hood deformation, also face his own blood.
Currently, on-site rescue work has been completed. According to the on-site rescue officers understood that the accident caused at least 10 people were killed and many injured. Specific number of casualties, and the extent of the damage caused by vehicles, property damage, cause of the accident is still under investigation and statistics. (End)
to share: welcome to comment I want to comment
microblogging Recommended | hot today microblogging