Construction of the village of Huaxi Village, celebrate the 50th anniversary of the 10 projects such as Qiao Shi sent congratulatory debut
West Village, Long Xi International Hotel 60-storey town Floor treasure – gold cow. Xinhua News Agency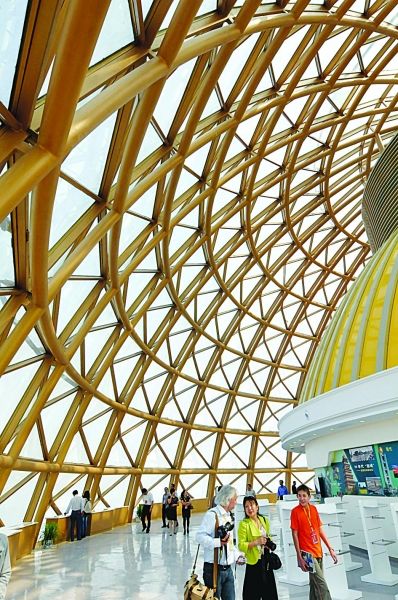 visitors to the new building in the West Village, 72-storey hall sightseeing tour. Xinhua News Agency

WASHINGTON Oct. 8, a "world village" reputation of the West Village, New Town commemorative meeting was held to celebrate the 50th anniversary of construction of the village. Qiao, Jiang Chunyun, Chi, Chen Zhili, Gu, Xu, to Shouzhi, Luo Zhijun, Zhou, Han Peixin so sent a congratulatory letter. The Tenth National People's Congress Vice Chairman of the NPC Financial and Economic Committee, vice chairman Liang Baohua, Jiangsu Province, leading Shitai Feng, Huang Lixin, Zhang Yan, Deputy Director of Press and Publication Administration, Dong-Dong Li, and former head of the central state organs Zhang Panorama, He Kang, Duan Bi, Chen Yaobang, attended the opening ceremony of commemoration.
Party Secretary Luo Zhijun said in his letter: West is a famous art typical of the socialist new countryside construction side of the glorious banner. For decades, the West, represented by Comrade Wu Renbao people always seek truth from facts, advance with the times and innovate, courage to go beyond, hard work, out of a prosperous economy, rich peasants, social harmony and success, to obtain remarkable achievements, creating a valuable development experience. Village West hopes to build 50th anniversary as a new starting point, thoroughly implement the scientific development concept, unswervingly take the road of common prosperity, set higher goals, and innovative development ideas, and strive to achieve a new leap forward, casting a new glory, as the province overall development and make greater contributions to pushing forward reform and opening up and modernization drive to create more and better experience.
50 years, the West adhere to the scientific development of the times, the people for the country's economic development is expected to end this year, the village will be more than 55 billion yuan sales income, taxes to the state 8.5 billion years per capita income of up to 8.5 million, the full realization of the clothing, food, shelter, transportation, use, play, education, health, nutrition, travel, "Shi Quan." The next ten years, West will be in the "Shi Quan", based on the construction of "ten United States", by continuous restructuring and upgrading to achieve sustainable development.
commemoration meeting, planning to build the new West's "Top Ten Project" collective appearance. The ten projects include offshore logistics, marine engineering, Long Xi, building, airlines, air travel, mountain irrigation, chemical fiber core steel, energy development, start spot trading and new markets. Among them, more than 30 billion investment, "Long Xi Building", a height of 328 meters, ranked world No. 15. 72-storey tourist lobby, features aerial views bird park, China and Asia will become a new landmark in the beautiful countryside. More than 50 countries from around the world, 175 more than 500 Chinese and foreign news media reporter, was the celebration of China Nishimura coverage.
(Jiangxi Min Ma Wei)
to share: welcome to comment I want to comment
microblogging Recommended | today microblogging hot (edit: SN017)