In Hong Kong, mainland China has been more than ten women prisoners may be transported drugs when human flesh machine
Luk's friends with him all correspondents tell of events in the south.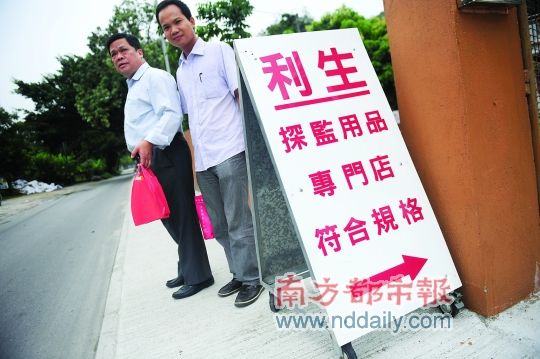 volunteers Luk (left) with a "witness" to the Tai Lam Correctional Institution to visit the mainland accused of drug trafficking women, but also for the woman to bring some life products.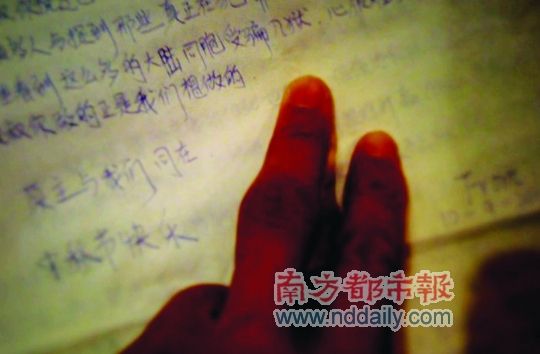 south mainland women are correspondents sent appeal letter.

hope more mainland people know that such criminal gangs and frauds. Only are vigilant, those who rely on "workers" and "about friends" to lure people leaving the mainland to run Lee's attempt to be detected as soon as possible. — Limei Jun
mid-September, more letters from the Hong Kong Tai Lam Correctional Institution for Women issued a distress signal sent to the South are, a number of mainland women imprisoned here with almost desperate words, describe with their "grievances." The court heard that highly similar: they were foreigners hired to Southeast Asian countries with goods, when they back from the Hong Kong Airport in Guangzhou, the luggage was seized several kilograms of heroin.
many clues revealed in Guangzhou, is likely to have foreign criminal gangs, to provide work or love under the guise of, recruitment of "drug trafficking in human flesh machine" cross-border trafficking of heroin to Guangzhou, from January to September this year alone, Hong Kong Customs has arrested 20 mainland airports (mostly young women), soared more than five times more than in 2008. Aid groups said in Hong Kong, Guangzhou police such groups should be destroyed as soon as possible, otherwise there will be a large number of drugs brought into Guangzhou, and allow more mainland people were arrested in Hong Kong, faces more than 20 years in prison.
a letter from the detention center for help
received a ticket and $ 300 subsidy, CHEN Xiao-li (a pseudonym) set foot on the fourth trip to Malaysia This line of work is still simple, leading a suitcase with clothing model back to Guangzhou, the trunk to the boss "FR ANK", you can get 4000 yuan in compensation. But this is only a high school education for disaffected girls, this is a very good income.
When the trunk was forced open, bags of white powder concealed in from the show came out, CHEN Xiao-li's destiny changed. January 19, 2011, the first time she had ever lost its freedom. Although she repeatedly explained his knowledge, but the Hong Kong Customs is still to "carry dangerous goods" charges to arrest.
almost arrested at the same time, CHEN Xiao-li and employers of foreign nationals boyfriend "FRANK", just disappeared, like the phone off, QQ avatar is no longer shiny.
and territories around the world, drug trafficking is a serious criminal offense in Hong Kong. Only to prove his innocence, "FR ANK" has disappeared, CHEN Xiao-li pale excuse a witness can not be completely innocent. Soon, she was escorted sent to Tuen Mun Tai Lam Correctional Institution for Women.
"I've never seen smoking and drugs, shock to the brain a blank, that all this is false." Detention pending trial when CHEN Xiao-li, emotions out of control several times. In fact, in order to prevent these do not consider themselves guilty, but had lost the freedom of people to commit suicide, Tai Lam Correctional Institution women's prison doctor special arrangements for them to be closely monitored and counseling.
in women who specifically take into custody pending the Tai Lam Correctional Institution for Women, CHEN Xiao-li is not alone, in which she soon found she had several similar experiences with women from the Mainland. In 2010, a total of seven women from the Mainland because of cross-border drug trafficking, was arrested at Hong Kong Airport. The same employer or boyfriend who are foreign nationals, the same departure as Guangzhou, cross-border drug trafficking similar experiences and amazing … These mainland women gather together to put together their case. Because it denied the allegations, they will be held here a few months to wait for the final time trial.
Fortunately, one called "quiet" woman, to a public desperate inmates hope. May this year, was arrested in 2010′s "static", in Hong Kong and several other friends Lushu the help of volunteers successfully eluted cross-border drug trafficking charges in Hong Kong court "acquitted" of the moment, "static" Several inmates will be entrusted to the Lu Shu.
the prisoners were always standing around the elderly for the elderly is a regular volunteer in Hong Kong, he said he just hopes to despair of their facilities to help.
in Lushu prompt, CHEN Xiao-li wrote in prison the help of a 13-page letter, a detailed description of themselves and their fellow inmates to this encounter letters reviewed by the Correctional Institution and the land tert-transit, the final in mid-September are sent to the South. Together with accompanying letter sent to this reporter in the hands of help, there are two other detainees, "A Month" and "Iowa" (both his real name) of the letter.
"I pray every day, pray for all of us, I would like to collect all the information and then wrote the newspaper, I do not know whether it is useful, but I can not sit still, I do not want to see people deceived into prison suffered many, it's horrible. "CHEN Xiao-li said in the letter described.
Southern woman held an interview with reporters to visit
CHEN Xiao-li was arrested at Hong Kong airport, is only the beginning of this year's series of cases.
special attention to inmates in contact CHEN Xiao-li Li Meijun after worried that "too many people were arrested came in, and must pay attention to such cases, because these girls have no knowledge of the case were lured into drug trafficking, and that they are really miserable, because if convicted, is equal to the golden age of life, all ruined. "
right Limei Jun visits at any time, from January to note that Correctional Services Institution was arrested due to drug trafficking in women from the Mainland more and more. She said she and several colleagues in the local correctional institutions, have been found more than 10 of the same type prisoners.
9 25, relatives of detainees in the referral and Lu Shu, the Southern Reporter as a friend to enter the Tai Lam Correctional Institution for women, women from the Mainland to visit detained them.
scenes drama as Hong Kong, in a transparent glass sealed with the storage room, the Southern reporter saw A month, in April this year, was arrested at Hong Kong Airport, Customs officers to carry in her the trunk, found large quantities of heroin.
said last month, according to A, she was a kindergarten preschool Haizhu District of Guangzhou, in the case of a casual acquaintance of foreigners "M IK E", 4 to 5 years after the exchanges, the two eventually identified as male and female friends. New Year's Day, M IK E A month that is willing to pay to go to Malaysia to invite to play, and entrusted her with a suitcase back to Guangzhou.
"exchanges for so many years, I totally did not think he would put the drugs in the box, even if they are caught, I still can not accept the fact that a long time, he even played me a few years, the results just to lure me to bring him drugs. "prison through telephone, on speak A look sad, she said that only people still alive, my heart has died.
the day of the Yue Fang, the Southern reporter also saw another detainee Iowa, she has to Guangzhou, "the boss" work for a very long time, had previously been to Bangladesh, the Philippines areas such as clothing model and Vietnam, until April of this year, Iowa trip to Malaysia to continue to bring goods back to Guangzhou at Hong Kong airport intercepted by customs. Iowa said that only women in the Tai Lam Correctional Institution, 17 awaiting sentencing mainland sisters.
Iowa mood eagerly hope that the media can be released as soon as possible out of their experience, so that more mainland people know, in Guangzhou, so a group of lawless elements in the design of such a vicious trap. "We must as soon as possible, because just recently, there is a girl locked in, or a recently graduated female students." Iowa said.
Who is behind?
"in such cases is very special, all luggage are found large quantities of heroin, but most of those caught are involved in three key words: foreigners, Guangzhou, Southeast Asia, This may explain, in Guangzhou, foreign drug gangs, they are the primary delivery of these Mainland women imprisoned behind. "assistance for a long time in the mainland, said Li Meiyun prisoners who, in meeting with more than 10 mainland women, she, according to This can be speculated that a conclusion, Guangzhou has one or more foreign drug gangs, QQ and other tools through the use of the Internet "phishing", but specifically looking for those simple ideas have motivated the girls to "hire" or "talk love "as a cover to chat with these girls in the process, step by step to obtain their trust.
go abroad only for a model with a few clothes, why not take the delivery? Trip can get a few thousand dollars in return, how can such a good business? Trial of suspected drug trafficking in women from the Mainland, the above questions frequently asked by law enforcement officers, because the model with clothes and get between a few thousand dollars reward, it is difficult to form a persuasive logic.
but Limei Jun view, that the reason these girls adventure drug trafficking, but also very far-fetched: the mainland people know that drug trafficking is a felony, the maximum will be sentenced to death, these girls will go to thousands of pieces to take such a big risk? In addition, according to the laws of Hong Kong, was arrested as long as the crime pleaded guilty, be entitled to 1/3 of the sentence, why do the majority caught in the money, no one helper in the case, still choose not to plead guilty?
obligation to participate in assistance over the whole of Hong Kong volunteers are that a considerable part of such arrested by Hong Kong Customs Mainland women are more likely to be lured abroad.
Ah Hua Xiangnan all foreign reporters about her and get to know people process between employers. July 2010, in Guangzhou, Iowa for many years lost their jobs in the job market in Guangzhou Hing Fat encountered a foreign boss "MOU SSA", when "MOU SSA" when informed of the status of Iowa, she immediately offered to recruit for employees, and ultimately into the "MOU SSA" clothing drive in the city of Golden Dragon stalls. Initially, because of their love and care, Iowa on the "MO U SSA" a very good impression, even in the Spring Festival this year, they also returned to Iowa with his hometown in Sichuan.
April 9, in the hair for a few months after the goods, "MO U SSA" began to organize Iowa to the Philippines, overseas customers and bring the grounds that the meeting provides a model to Guangzhou clothing. "Customers are also expatriates who speak Chinese, so-called business meetings, but that is with me in the local play days." Iowa said that in return the same day, the local "client" to Iowa a suitcase. Holding employers to provide tickets, Iowa arrived in Hong Kong, was immediately arrested by the local customs, law enforcement officers in that the base of the trunk seized a large quantity of heroin.
Iowa, said she was incarcerated in correctional institutions, the same with more than 10 were arrested for drug trafficking because the inmates talk to each other and found a lot of suspicious circumstances, such as two to three girls to the same foreign city with a building, but also to their luggage looks are also highly consistent with the foreigners, expatriates sending machine is the same person.
"These girls, there are college students, a teacher, a working girl, but also some vegetables peasant girl, the youngest only 20 years old, if we are sentenced to imprisonment, the prison in Hong Kong be 20 years, and end up in prison and then go out, we are all basket case. "Iowa said.
criminal gangs in Guangzhou, why do not control immigration in Guangzhou, mainland women, but had to detour through Hong Kong Customs in another first, the Mainland Customs? For this question, analysts say the legal profession in Hong Kong, Guangzhou, mainland women from entry if, once intercepted, law enforcement agencies have the opportunity to follow it all the way to dismantling criminal gangs. In contrast, immigration from Hong Kong to Mainland women, once intercepted by the local customs, far away in Guangzhou, criminal gangs have long been controlled by himself and cut off the link between.
the root of evil is not removed or more people were arrested
Correctional Institution at all by the letter sent, no mainland women in custody one case of Hong Kong and other foreign volunteers of Lushu expressed strong gratitude. It is precisely because of these volunteers, only to make the prisoners were in despair, and hope to see the release of social truth.
lack of friends, can not call, do not understand the laws and procedures in Hong Kong, once arrested immediately caught limb, which is why more than 10 mainland women in custody awaiting trial, volunteers had strong dependence on Hong Kong the heart of the reason. Acquitted in CHEN Xiao-li, the Lu Shu told the South said, he received a letter from Tai Lam Correctional Institution for Women for help information.
Limei Yun said, these suspects appear in court in Hong Kong, mainland women, no hearing will be in a great disadvantage, since, can not afford expensive legal fees, provided the choice of these girls are extremely rare, or confessed to the crime in exchange for 1/3 of the sentence, or to lawyers for free legal aid centers.
and it is free legal aid lawyer mechanism, such as Hong Kong volunteers make Lushu very unhappy, because a small number of lawyers to fight such a lawsuit, the lawsuit from the receiving to the final hearing, and the defendant have not see a few faces, some lawyers suggest it is a meeting on the defendant to plead guilty for a reduced sentence.
"in Hong Kong trial, the jury is very important because they vote on guilt of the accused, but the status quo is part of the people of mainland women are biased, the case to trial they will not face unfavorable situation. "Limei Yun said.
the face of a sharp increase in people seeking assistance, several Hong Kong volunteers have said is difficult to rely on several volunteers to help to each detainee. The most crucial point lies in the Mainland and Hong Kong authorities to attach importance to such a sudden emergence of this piece of cross-boundary drug trafficking cases, the woman hiding behind the lure mainland to eradicate drug trafficking criminal gangs. Because only the root of these evils removed, in order to block the mainland women may cross-border drug trafficking.
Limei Jun said she also hopes the case can go out through the media release as soon as possible, hoping to make a large number of mainland people know the existence of such gangs and frauds. Because only if we have increased vigilance, those who rely on "workers" and "talk about a friend" to lure people leaving the mainland to run Lee's attempt to be detected as soon as possible.
Hong Kong Customs will communicate closely with the Mainland case
Hong Kong Customs in an interview with the South have confirmed the Li Meijun concerns about the status quo, and Iowa, as data show that this year the number of such cross-border drug trafficking is rapidly rising: from January to August, Hong Kong Customs in Hong Kong Chek Lap Kok International Airport arrested a total of 19 Mainland women entering drug trafficking, and in the year 2008, the figure was just 3 people, the year 2010, only 7 people.
call for volunteers, both Hong Kong Customs in an interview with the South, said the Hong Kong Customs has been working with Mainland authorities to maintain close contact and cooperation, both sides will exchange crime case and the relevant information.
04-05 edition
written: Southern Reporter payment can
Photography: Southern Reporter Huojian Bin Chen Huai
■ Case Study
CHEN Xiao-li's 冰火两重天
2011 年 1 19, CHEN Xiao-li loss of freedom, at 14:00 on October 7 30 minutes, Hong Kong High Court, when the jury announced on behalf of a ruling of seven jurors were locked up in the dock CHEN Xiao-li, on the spot Yanmianerqi, and when she was escorted by security personnel to enter the dedicated channel, the entire court can hear the sound of crying coming from the channel.
Southern reporter on the scene, at the moment, sitting in the gallery Limei Jun and two other volunteers, the clenched fist excitedly, embrace forcibly suppressed emotions. After eight days of trial period, seven from 700 million Hong Kong permanent residents were selected from the jurors to reach a unanimous verdict, the defendant CHEN Xiao-li acquitted.
then sophisticated words can not describe CHEN Xiao-li was a huge gap between the hearts. Because before CHEN Xiao-li had experienced nearly nine months of purgatory torture. In the jury announced the results of the moment decision, she is more a sense of life on the line, if the jury that convicted her, she will face 25 years in prison.
CHEN Xiao-li sent to the South are a 13-page appeal letter a detailed record of their deception in the experience:
acquaintance: he is the perfect man
2010 in March, has just lost their jobs CHEN Xiao-li, the QQ chat, met foreigners "F RANK". Words with CHEN Xiao-li, "FRANK" vast experience, knowledge, good wealth, good English, is a particularly gentlemanly "perfect man" who was "FR ANK" attracted, feeling each other with their own into another piece of heaven and earth: English, long exposure, but also into the future field of foreign trade. Back to reality with the dream of a better idea, CHEN Xiao-li in "FR ANK" to pay the fare in the case, boarded the car from Dongguan to Guangzhou.
30-year-old, is not high, slightly curled hair, the two meet, "FR ANK" for employees to hire CHEN Xiao-li, in addition to work, they also evolved as a couple's relationship.
cheated: he instantly disappeared
2010 年 5 29, CHEN Xiao-li for the first time riding on a plane to Malaysia, the first very well abroad , get back in the local model of the suitcase with the clothes after, "FR ANK" soon to pay 4,000 yuan reward. Since then two, is still very successful completion of the task and get back reward. While also on the "why not go get the clothes express a model," asked the question "FR ANK", but immersed in the feelings and income double harvest CHEN Xiao-li and her boyfriend did not carefully screened prevarication words.
2011 年 1 17, dragging a suitcase when CHEN Xiao-li stepped out of the Fourth Hong Kong airport, Customs officers found in his luggage in the number in kg of heroin. And at this moment, the moment the plane trip had also called her boyfriend asking, but you can not contact.
future: grasp this malicious people
a large number of Mainland women were detained for drug trafficking case, has been noticed by volunteer organizations in Hong Kong in Hong Kong dedicated who continued to help, the original helpless mainland women, learn how to apply for legal aid mechanism and the selection of defense counsel, and help seal a letter, also in the help of enthusiastic people, was able to get the South are reporter's hands.
extremely heavy weight of the stone, and finally from the heart down, but at the moment is not so easily CHEN Xiao-li, Zhaoqing in her home a few days back, will return to Hong Kong, she said, still in prison, go to Help sisters, I hope good luck to continue. CHEN Xiao-li said, not only to help her sister, she wanted to go to Guangzhou, to find that unconscionable drug traffickers "FR ANK", net of justice, one day, that hide in the shadows of the malicious people who will be the law.
■ Links
● calendar year at the Hong Kong Airport Hong Kong Customs anti-drug operations in the Mainland arrested nationals
Note: Hong Kong Customs acceptance of the South have an interview, provided a 2008 to 2011 the sector in Hong Kong Chek Lap Kok International Airport arrested a drug-related cases Mainland. Into this year, was arrested cases soared, Hong Kong Customs said that they will maintain communication with the Guangdong authorities to exchange information and related crimes case. Southern mapping: Li
● Mainland was arrested nationality trafficker court case
Note: 2011 cases, most of the trial court still stage. Between January and August of 19 persons were arrested, of which a person withdraw the charges, 12 people pleaded not guilty, another six people are still waiting for court tomorrow.
share: welcome comments I want to comment
microblogging Recommended | today's microblogging hot (edit: SN056)