Hong Kong gang boss to start the election the most powerful competitors age 32
" sub-Tang "was only 32 years old, the new boss is a strong contender.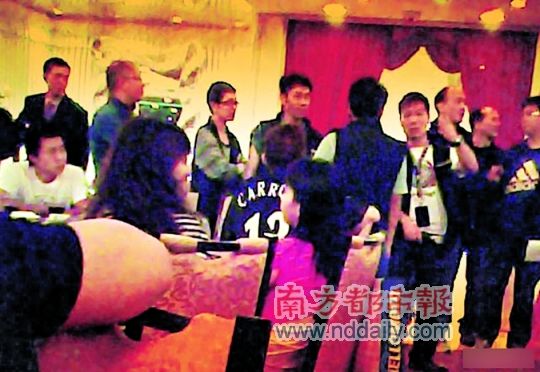 Hong Kong anti-triad police department arrived at the scene investigating.

Southern News called Bangzhong 200,000, is considered the largest gang in Hong Kong and win and are in full swing to start the new term "sitting hall" (referring to the boss, leader) election . Reporters after follow-up survey found that the gang just two weeks, taking advantage of office wedding for three consecutive suspected canvassing activities and Watch the police pull DATS team Caichang process. And wins, and veterans' feet black "To elect a young disciple," Son Teng "to compete for Hong Kong's largest gang sitting hall, rivers and lakes become hot words.
It is understood that "sub-Tang" was only 32 years old, is a "black feet" disciple. ATV actor father who was later transferred to nightclubs large classes, so that his son embark on rivers and lakes road. Sub-Tang visibility is low, but the earlier people get Yuen Meng, "Kids in child 'campaign funds donated large sums, plus was" black feet "placed to the Temple mahjong any boss, the" packaging ", by a nobody into a "sitting hall" hot.
It is understood, and the wins and the "sitting hall" elections have always been two veterans "black feet" and "big fly" of wrestling games, and win big fly and is considered the "gold manager . " The source refers to the last "black feet" successfully elected "potato" as "sitting hall", he supported the qualifications of this more shallow "sub-Teng" election.
the other younger leaders, "Kin" are very much the "big fly" favor. The source said: "sub-Tang do 'sit Museum' almost a foregone conclusion, with its 32 years of age, the youngest in the history of Hong Kong gang who work In order to compensate for lack of qualifications, the rumor that he would never have done together 'sit Museum' predecessors leaders 'coconut', dominated by the formation of a say in the old one tender situation. "As for the big fly factions, the disciples have not yet decided which elected seats contested House seat. "Young leaders 'Kin' being favored."
It is understood that the Hong Kong gang many different electoral system, boss, and win and practice such as "democracy" (top one vote), However, some hereditary system, the leader in the number of Sun Yee On, the title is not called "sitting hall", and called the leader. And wins, and select "sitting hall" to choose the foot a year, during the year, 20 candidates to the right to vote in the hands of veteran and former House seat "tickets" for support, one year, the parties gain the amount of crack head collapse, until the results released so far.
share: welcome comments I want to comment
microblogging Recommended | today's microblogging hot (edit: SN026)