Outstanding young teachers in rural ethnic minority areas in Beijing style training classes
11 2, "2011 national outstanding young rural teachers, style regional training course" in the Beijing University of Physical Education classes. People's Daily reporter Luoxu She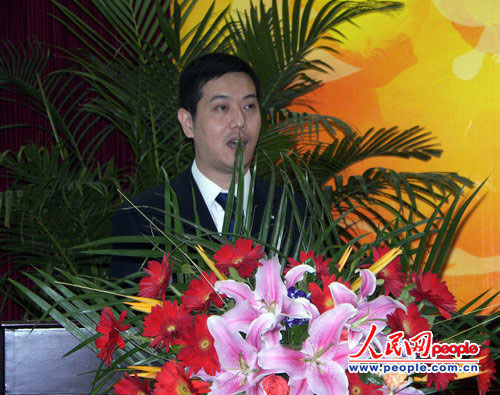 deputy secretary general of the China Red Cross Foundation, the direct Youth Committee, executive director of the Chinese Association of Black Dekun unity and progress in the "2011 Outstanding Young rural ethnic areas teacher training style" opening the ceremony. People's Daily reporter Luoxu She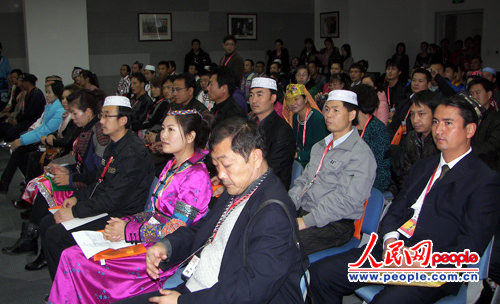 participate in "2011 Outstanding Young rural ethnic areas teacher training style" opening ceremony of the student's Daily reporter Luoxu She

Taekwondo Olympic champion Chen Zhong (fourth from right) and the "2011 Outstanding Young rural minority areas of teachers training style" representative of the participants presented sportswear Daily reporter Luoxu She

People Beijing on November 2 (reporter Luo Xu) this morning, by the Chinese Red Cross Foundation Youth Federation jointly organs directly under the CPC Central Committee, China Youth Development Center, unity and progress of the Chinese Association co-sponsored Beijing Association of National Co, Beijing Sports University hosted the "2011 Outstanding Young rural ethnic areas teacher training style" in the Beijing University of Physical Education classes.
The 13-day training course will come from Inner Mongolia, Guangxi, Guizhou, Yunnan, Tibet, Gansu, Qinghai, Ningxia, Xinjiang Production and Construction Corps, and nine regions of nearly 120 nationalities working in the line of outstanding young teachers for rural sports, music, art, health training for four courses. During the training, participants will also visit the Sky City group, the Forbidden City, and the National Stadium Bird's Nest Pass, on the ground receiving education in patriotism.
recent years, the level of education in minority areas is lagging behind most of the rural teachers in minority areas, both who is also the language, mathematics and other cultural programs, as well as sports, music, art and many other sports and arts education courses work, this training will be held, will allow participants to be targeted learning, enrich their knowledge of style, to further improve the quality of teaching. The training course in order to "enhance physical fitness, depicting life, sing to the future, to create harmony" as a slogan, truly concerned about rural teachers in minority areas of cultural and educational level, attention to educational and cultural development in minority areas, for the development of national education, to promote national harmony do practical things.
to participate in the training of the "love of teachers", including China's national basketball team members, well-known professor of Beijing University of Physical Education, Olympic champions, famous Chinese painters, singers, presenters and other well-known.
"very pleased to participate in training." Guilin, Longsheng County from the river bottom river bottom Township Central Primary School teachers Tangqiong Qiong Yao told People reporter, "have come to Beijing to To see more learn more, to see what they have learned to talk to the children to take home, increasing their knowledge. The course has so much celebrity as a teacher, is really to think about in the past. "
culture grown spirit of the times, the power struggle and cultural cohesion. The party's congress considered by the Sixth Plenary Session, "the CPC Central Committee on deepening reform of cultural system, to promote development and prosperity of socialist culture and a number of important issues" on the occasion, the courses focus on the culture of rural teachers, physical education level of attention to cultural transmission and development of minority areas to actively help strengthen party unity and struggle of people of all nationalities together the ideological and moral foundation, to develop nonprofit cultural programs, to promote development and prosperity of socialist culture, the building society with Chinese characteristics Culture of power to contribute.
share: welcome comments I want to comment
microblogging Recommended | today's microblogging hot (edit: SN055)