Community water turbidity, Heilongjiang Jixi 30,000 inhabitants 10 years back water to drink
early morning rush to the intake water carts for the elderly (Source: in wide network)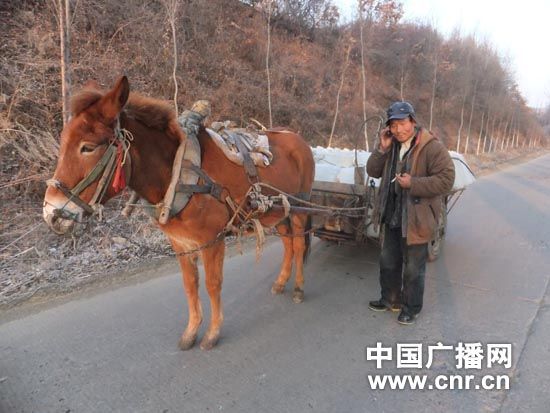 morning buggy District to sell water to the old pear tree (Source: China National Radio)

early morning rush to the residents of water intake point (Source: China National Radio)

Zhongguang Wang Jixi November 9 news (reporter Yu Ma Wenjia white), according to Voice of China " News Coverage "report, recently, to China's Heilongjiang Jixi public information hotline at 400-800-0088 to reflect the sound that they live in Jixi City area street pear Although every family has access to tap water communities, but no one would dare to drink tap water. To drink, drink, or local people can only buy back and forth every day to find their own water to drink, even water, sold in the local water has become a career. And this situation has lasted 10 years, which in the end is how is it?
residents not to drink tap water turbid water companies per capita fee
Mr. Yin: the pear area ah, this is like the water and mud washing hands as, muddy too! Clothes to be washed it, it becomes yellow, it can change color.
Jixi City West Pear Street side a cottage, 77-year-old Mr. Yin was looking out of the muddy water tap to worry about. He told reporters that this water has to flow for several years, in the pear tree never would dare to drink.
Mr. Yin: Yeah not to drink, not only to buy the water we drink ah. A bucket of water 50 kg, on 2 dollars a barrel.
Correspondent: 50 kg how many days can it?
Mr. Yin: That is day for it, but that we can get Xianyan eat, you shall not eat a lot of thirst Well, do not have to drink ah thirsty.
Reporters: Who gave you the lead over the water it?
Mr. Yin: the water company.
Correspondent: overcharging you?
Mr. Yin: income, per capita income, a head on two five.
correspondents: two five a month.
Mr. Yin: Our family is both head it is 5 dollars, not much.
Reporter: Not that much?
Mr. Yin: Not that much, why do not it? You have to prepare drug money, and drink this water, it ran belly, belly you have to buy Terramycin run, this is not the thing began to spend money, if the diarrhea or disorder eighty-seven bad, not so that oxytetracycline , much to spend on two. And then spend this money, this water has combined three forty dollars. I was then a mean, I live for another day for it, drinking a can of clean water, I'll be satisfied, so be it.
water, buy water in the area has become a career pear
in the pear tree, water, water has become a selling career. Hydraulic operation with carts, carriages, three motorcycles and trucks during the day, walking through the streets among the water to the vehicle, cries, hoofs and disappeared the next.
Reporter: Do you install the car much more.
driver: 70 to one.
Reporters: 70 to the barrel.
Driver: ah, 70 to the barrel.
Reporters: 70 to be sold out when the barrel?
driver: half right.
reporter survey found that in the pear tree street community, better family conditions generally choose to buy water to drink, living in poverty and most choose to go a little water to clean water. Reporters visited the communities surrounding the three water points. From early morning to late at night, residents flocked to the water. Some of them use the bag back, and some motorcycle care, as well as specialized welding a wheelbarrow to push the water. Reporter interviewed nine at night to water the residents.
Correspondent: how come so late then water it?
residents: too many people during the day, you take a bucket of water, nearly a line in the morning here, you do not Han did, few people this evening to pick, not to Gansha a thing.
Reporter: Do you play the drums is the number of pounds?
residents: 50 pounds.
Correspondent: This water clean?
residents: We do not know usually used in negative net, that's strong Yeah than tap water, tap water can not eat.
water company argued: water for the residents to exercise
Pear Street in the community area residents told reporters that the community has more than 30,000 households, that every family dripping water , but to buy water to drink every family's situation has been going on for 10 years. Well, so long, why did not the local authorities to improve the water quality of natural water, so that people drink safe water? The face of questioning by reporters, Jixi City, pear District Water Company first argued that the co-manager of Gao, told reporters that the situation does not exist, the people back in the water is a pear exercise.
Gao together: it is morning Morning, old man, old lady, little wife getting better, the morning four or five o'clock, five, six o'clock nothing to do back up a small pot, a little water to back up the mountain chant, you said you midnight you have to exercise, I can stop the thing you? That 5 pounds is a small pot.
Correspondent: But I see many people take 50 pounds of barrels are you? Even pushing the car going?
Gao together: I tell you, it is exercise, you believe me.
later, under questioning by reporters, pear district manager Gao combined water because tap water is admitted to the existence of upstream pollution.
Gao together: First, how to? Upstream pollution, and second, how to? It is the unrestricted river sand, it not natural purification.
Correspondent: You travel on what it means?
Gao together: Muling piece.
Correspondent: That one who should control it?
Gao together: go Muling tube.
Correspondent: Muling return pipe, regardless of Jixi tube?
Gao together: Yes, nothing if you can stop people in Jixi City, our unit has no enforcement power.
Jixi City Environmental Protection Bureau: the upper reaches of the river pollution caused by pear turbid water area
Gao and closing this statement, the reporter in the Jixi City, pear zones where Wei-Jun Li, deputy director of the EPA also been confirmed. Wei-Jun Li, said he had sent a letter to the upstream river pollution Muling Mudanjiang City departments, but without result.
Correspondent: how the results like?
Wei-Jun Li: results of it, that wherever he goes, now it has stopped, but also be able to see the left along the ditch signs of sewage.
Reporters: If you want to solve people's drinking water safety, then, do you think is the best way?
Wei-Jun Li: This is a watershed management issues. From upstream to downstream, the river bank on all aspects of the various departments involved in such an action, only one to monitor the environmental protection department, a department alone to governance, it is difficult to reach this level.
pear muddy area upstream pollution of natural water is not the result of why the decade-long period of time, local residents have not solved the problem of drinking water? Voice of China will continue to follow-up reports. Nevertheless, faced with 30,000 inhabitants for ten years, due to water every day to run around for the troubled water, the local government should no doubt take for dereliction of duty.
microblogging Recommended | today's hot microblogging
(edit: SN010)