Yishui induced transformation of old admitted to some farmers barn (Photos)
Villagers look at the ruins of their own house, distance is likely to afford a new building, did not come in and opened the Red Lantern, brand new wardrobe, just install a good solar water heater is also littered the meantime (in the broad Network correspondent Wang Xian Wei Xueshe)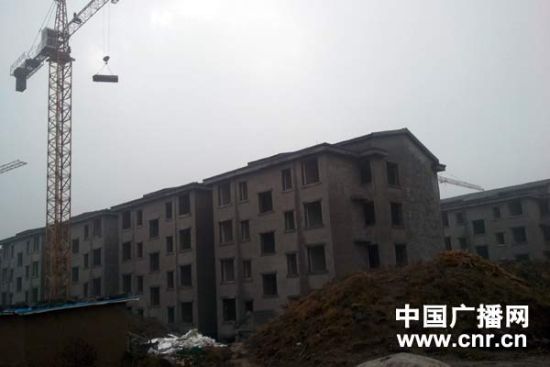 Yan family home built in the village of new communities (Zhongguang Wang correspondent Wang Xian Wei Xueshe)

Zhongguang Wang Yishui News November 21 (Reporter Wang Xian Wei snow), according to China Voice of "News" report, the rural transformation of old villages in many parts of rural China has been to promote the open, live together, to improve the conditions, which could have been a good thing. But recently, there Yishui County, Shandong Linyi audience to CNR News Hotline 400-800-0088 phone call, to reflect the family home village Yishui County Gaoqiao Yan process during the transformation of old against the wishes of farmers, they are " is forced upstairs. "
farmers were "forced upstairs"
villager Liu Qingpei: secretary called me to say about something, I said on the line by the relocation compensation law, As long as you reach this level. But here already broke up.
Reporter: You are talking on the demolition?
villager Liu Qingpei: Just then the excavator began demolition.
standing in rubble, Liu Qingpei could not sigh. New home built for his son married, and now only rubble, did not come and opened the Red Lantern, brand new wardrobe, just a good solar water heater is also installed during scattered. Yan Liu Qingpei home is the family home Yishui County, the first phase of transformation of old villages, was demolished last one. Relocatees had 143 houses have been six four-story apartment instead. Starting in 2010, Yan decided to transformation of old family home village and community building.
village: new buildings tight
Yan, deputy secretary of the village with the village family home called Health: now cover a total of 160 households, total now 48 households, but now pay to pay the light more than 60 households, but also points to it.
Villagers: do not intend to live in the new building
Yan transformation of old village family home has not completed the first phase, in the village cadres, mouth tight buildings Many villagers were relocated did not intend to live here.
Villagers: inappropriate. Why? Rural areas is such, chickens, dogs, firewood ah ah no place across the grain.
villagers: I can not go, my legs not, go upstairs to Chuyishenhan, climb not move, the legs can not.
upstairs in addition to the inconvenience, more villagers are worried that they could not afford a new house.
Correspondent: You bought that building it?
villagers: No, no money to buy.
Correspondent: How much with you?
village: building seemed to be more than eighty thousand, right?
Villagers: A compensation did not get no financial ability to buy flats
new family home community is divided into 112 Yan square meters and 85 square meter two-family, cost of 623 yuan per square meter, even if you select a small size, but also need 66,370 yuan. Yan family home in the village, planting fruit and sweet potatoes are the main source of income, per capita annual net income is 1,000 yuan, barely enough to maintain normal living expenses, purchase of a building without food or drink should be accumulated for decades.
village: a subdivision only nine people, three pounds of peanut harvest, thus income a thousand dollars.
Correspondent: farm income by one year will a thousand dollars?
villagers: that is gross income. Remove fertilizer, seeds, machinery, and that very little rest, and also four to five hundred dollars.
Although the phase response of Health said that the maximum compensation for the demolition of the price of 6,000 yuan/room, but in the village of Yan family home, presented to reporters the overall transformation of the village house demolition compensation schedule, the majority of the villagers compensation for house prices In between 2000-3000 yuan each, and some only a few hundred dollars. Five or six tile down, the villagers with the amount of compensation is generally two to three million. However, these compensation payments, the villagers have not seen so far.
Villagers: demolition of the house did not give a penny.
but in January 21 this year, the State Council published "state-owned land on the housing levy and Compensation Regulations" is defined, the collection of housing should be compensated after the relocation. In addition, what time to put compensation back to the villagers, the village there is no clear answer. Yan family home village had such a compensation is how baked? Now, winter is approaching, a new house has not been established, not a house And how the villagers live?
Road and cow the villagers lived in the village party committee more than a year to respond to community needs time to build a new
Yan family home in the village, a new community project plan, the residents including the owner of several villages nearby. Village where the deputy party secretary of the Club plus Gaoqiao said, this is a pilot Yishui, a project after construction will continue to keep up with the back. The first phase demolition of the house are mostly dilapidated buildings and houses were being dismantled status, now not known, most of the villagers interviewed said that their house intact, able to live normally. Liu Qingpei house new homes built in 2007 still discount 33000, has also been forcibly removed.
standards for housing compensation, a special meeting to discuss the village.
phase response of Health: the representatives of villagers, all party members to form an assessment team, then the assessment, we are not directly involved in the village.
winter approaching, the 83-year-old Song Fan too can only staying in the neighborhood of the hallway, in addition to a thin quilts, nothing warm.
villagers: I sleep in here, or by the people of the aisle. To what time is the head ah? How to do? Do not know how to do. He said how to do on how to do it.
more of the villagers, only the neighbor's barn or house transformed into a pigsty.
villagers: the house did not fire. Elderly have get up.
Reporter: How long to live?
villagers: more than a year.
Correspondent: rain have leaks?
Villagers: leaking. Not frozen.
village party secretary Liu Jinxi, for that matter a bit excited.
Liu Jinxi: building a new community, you have to have time for, ah, not a day to build up the community, nor is it a year to build up!
in China's rural areas, farmers homestead strictly implement the "one family, one house" provisions in the Yan family home village, the land used for new building, it is the farmers who own homes homestead. Unless it has to depend on others, to buy the building became the only way to settle down. However, after removal of old houses, the villagers money to buy a house, how to solve the housing problem? The villagers do nothing.
share: welcome comments I want to comment
microblogging Recommended | today's microblogging hot (edit: SN010)