Hubei Han-Yi 40 high-speed car collision caused a chain 6 dead 24 injured
on the scene (reporter Xiong Xiongshe)

car accident tragic scene (reporter Xiong Xiongshe)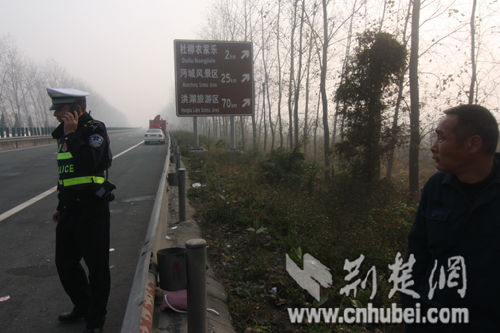 on the scene only 2 km away from the high-speed intersection (reporter Xiong Xiongshe)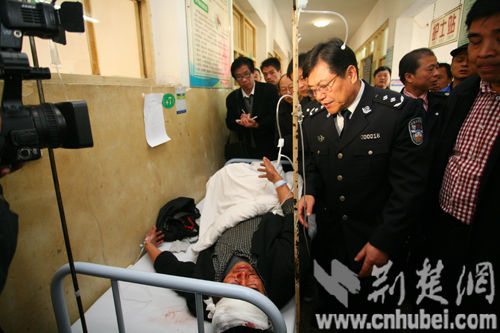 Provincial Public Security and Traffic Authority Maguo Xian city leaders rushed to Bristol condolences to the injured site (lots of photo reporter)

Sports Network (microblogging) messages (Hubei Daily (microblogging) Correspondent Guo Xi Song, Bristol Times reporter Yin Liqun, a lot, bear male) on November 23 7:40 or so, due to hazy fog, Han-Yi expressway from Yichang to Wuhan, the direction of 978 km at 40 car chain collision occurred in the accident, a total of 6 dead 24 injured. After the accident, the provincial Public Security Traffic Authority Maguo Xian, the provincial high-speed traffic police corps, the Han River and the Bristol Fire Brigade Bristol detachment related to municipal government leaders rushed to the scene to direct rescue.
As promised at 9 am, the fog was gradually dispersed. Around 11 pm, on-site rescue and comprehensive end of the scene of the accident investigation, the road to restore patency. Provincial Public Security Traffic Authority Maguo Xian, the accident department of a bus from Yibin to Shanghai overtaking operational errors, resulting in more than 30 chain rear-end vehicle later.
It is understood that on the scene of killing three people were killed and 27 injured. The first time all the wounded transferred to Bristol City, close to the First People's Hospital and Hospital. First People's Hospital, Bristol City, which admitted 26 people, three people died from serious injuries, one of them is a half years old boy, others were in a stable.
share: welcome comments I want to comment
microblogging Recommended | today's microblogging hot (edit: SN026)