Nanchang dozens of old to check out the owners due to falling house prices (Chart)
Nanchang Qizhe a real estate houses, dozens gathered to check out the old owners, developers did not respond.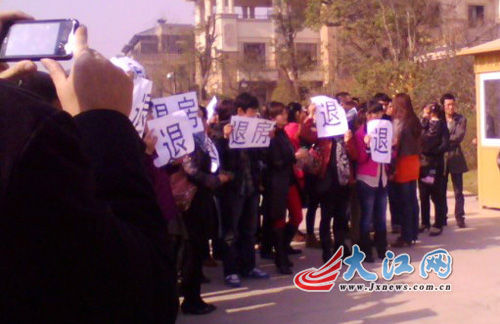 11 24, because of dissatisfaction with real estate prices, dozens of owners gathered in the East Bay Poly mouth to check out the international sales department.

Dajiang News correspondent Qin Haifeng reports: at 10:00 on November 24th or so, dozens of real estate owners not satisfied with the price, gathered in the high-tech zone in Nanchang East Bay Poly International sales department, holding the "check out" sign, requiring the developer to give a reasonable explanation. This is also the prices into a downward spiral in Nanchang have occurred since the first class check out the event.
It is understood that these requirements out of the per capita availability of the top real estate owners, since the second half of this year, they were to rough 6000 yuan/㎡ and hardcover highest 8600 yuan/square meter of the purchase price East Bay Poly International Building 6, Building 2, and rough housing, and 3 to 5 Building Building hardcover houses. November 24, Poly release "buy the dips shocking prices" ads, claiming that senior housing 4680 yuan/square meters from the sales, and 20 sets of special limit buy weekend houses, in addition to mass advertising messages saying that he would Qizhe houses, suddenly ripple.
site owners, who declined to be named, told reporters that more than a month ago, he bought the East Bay Poly international set of hardcover houses, Building 4, an area of ??about 90 square meters, when the price is 8500 yuan/square meter, the same houses now sell Qizhe even make your own real estate in just a month or two has shrunk more than 20 million, so that he could not accept this and insisted the developer check out.
It is understood that, because the real estate sale, resulting in dozens of site owners, have suffered tens of thousands and even hundreds of thousands of different degrees of damage. However, in the 24 am check out the scene, in addition to security and property consultant, the developer responsible person does not show up. Site owners said they will continue to require 25 developers to check out, or the same can not be less than the price of their houses to buy a house at a predetermined price.
as correspondents of press time, the East Bay Poly head of international marketing, the matter did not respond.
Nanchang real estate industry who asked not to be named, said, Nanchang is a matter of falling house prices, the question now is how many fall, when the fall issue. Owners of owner-occupied housing prices change relatively calm, and investment-type users are more sensitive. But the ups and downs of the market price behavior, if a price check on the requirements of the property market and development. Meanwhile, under the premise of government price regulation, the price drop is a good thing, so that more people can afford housing.
related laws have also pointed out that, unless the parties have signed the contract for the purchase price to make a special agreement, or the developer's price cuts are business practices, buyers difficult to get legal support.
share: welcome comments I want to comment
microblogging Recommended | today's microblogging hot (edit: SN014)