Jilin Songhua River caused by fog, more than 20 vehicles piled up (Photos)
multi-car collision, the disorder to stop on the road. Yan Cang photo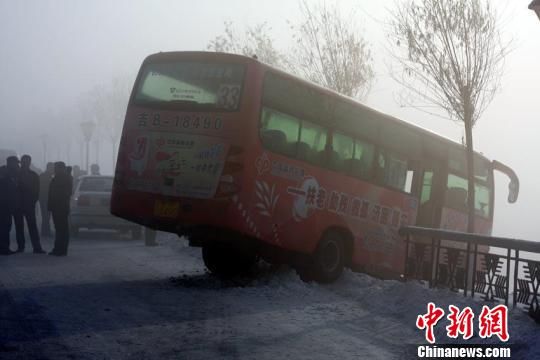 a bus down a river bank nearly severing fence Yan Cang photo

the first half of passenger cars has been off the road, planted to the river bank. Yan Cang photo

BEIJING, Jilin November 27 (Reporter Yan Cang) as early as November 27, 7:30 Xu, Songhua River in Jilin City side protruding fog, visibility on the road very low, resulting in more than 20 vehicles piled up. Among them, a passenger bus crush barrier, almost planted river bank, but fortunately no casualties.
early as 7:30, Jilin City Riverside South protruding fog, visibility less than 5 meters, more than 20 vehicles collided in heavy fog in the phase ring. At the scene about 150 meters long section on how cars, vans, buses collide in varying degrees, many body fragments scattered on the ground. A collision of heavy vehicles, 33 buses in front of the line of severing the roadside fence, planted on the river bank. Many drivers and passengers standing on the roadside, waiting for the relevant personnel to deal with the accident vehicle.
at the scene, the reporter was crushed to see multiple pieces of triangular warning signs. Due to fog is not casual, has the sections of the traffic police traffic control, suggesting that passing vehicles bypass.
"too much fog, the car drove like a fly walking on clouds, like the car in front suddenly stop, the brake was too late." According to one driver said the incident occurred, he was by the west to east, after a sudden hit a bus in front of the vehicle lost control due to slippery road surfaces, the body changes to the car and then run into the opposite, across the car and subsequently collided with a van in front.
"I have been driving along a bus, for unknown reasons, bike bus suddenly braking, due to slippery road, crashed into the guardrail is less than the escape." Bu 33 wire bus master driver, the incident when nearly 20 passengers on board, fortunately no casualties.
9 am, the fog has not yet dispersed. Trailer has been rushed to the scene, under the command of the traffic police, the accident vehicles gradually away. (End)
share: welcome comments I want to comment
microblogging Recommended | today's microblogging hot (edit: SN021)