Nanjing, the robbery suspect shot depositors were caused by 8 years 7 dead 2 injured
yesterday morning, police in the disposal of the scene. At 0940 hours the same day, Shimonoseki area and Yan Nanjing Road in front of the Agricultural Bank robberies, a man was shot dead. Guoxin She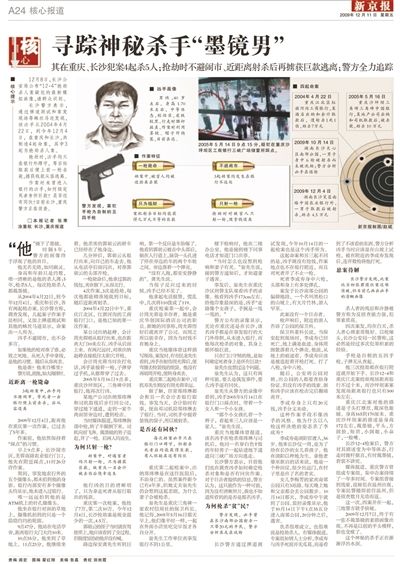 2009 年 12 月 newspaper reported that Xiang Yu track robbery.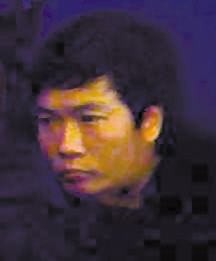 Nanjing police lock suspects

(Reporter Liu Gang) yesterday morning, the north of Nanjing shooting next to a bank robbery, a man shot in the head died in hospital, 20 million in cash robbed. Nanjing, the police confirmed the case and Changsha, Chongqing Department shooting range is the same person.
Nanjing man was shot dead
1 月 6 am, Nanjing Shimonoseki robbery occurred, the suspect in the East Gate Street 2 wounded by gunmen outside a bank robbed after a man fled. After preliminary investigation, the process of a man robbed a building materials company in Jiangsu employees (male, 42 years old, Jiangning District, people). The same morning, a way out of 200,000 from the bank teller, the suspect was armed attacks, head injuries. Was rushed to hospital, after she died.
police informed the suspect characteristics: 40-year-old male, height 170-180cm, medium build, darker skin, toe walking, with a dark coat, do not speak standard Mandarin.
Xiang Yu and the murder case and the case
According to the briefing yesterday, Changsha, Nanjing and robbery, "2011.6.28″ armed robbery case, "2010.10.25″ armed robbery and murder, "2009.12.04″ armed robbery and murder, "2009.10.14″ gun homicide, Chongqing City, "2005.5.16″ hold gun robbery and murder, "2004.4.22″ armed robbery and murder case, are in the same person. Nanjing police have started with two police police cooperation.
8 of the suspect committing the crime seven years, a total of seven people were killed, two seriously injured, robbed of cash has reached 480,000 yuan.
Kunming million reward had wanted
on July 12, offering a reward of 1 million yuan Kunming Public Security Bureau wanted the suspects. Yesterday, Nanjing police arrest warrant issued again, reward of 10 million apprehend the suspects.
Changsha, according to media reports, the suspect committing the crime in Changsha, Chongqing before the alleged robbery and murder in order to apprehend Xianxiong as soon as possible, issue in Hunan Xiechatongbao police shortly after the Ministry of Public Security issued Class A warrant is the national wanted "flat man", and the case as "Yu Xiang series of robbery and murder."
why "flat man" disappeared after six months, is located in the southwest of Kunming, the police suddenly released heavily million reward notice? In this regard, Changsha police official said: as soon as possible catch the "flat man", a task force to investigate the case and made a lot of careful pre-deployment, and sent to the country evidence Mo Pai.
According to Kunming police, the case is in the country, the province has a significant impact particularly serious cases, in line with Ministry of Public Security "can be increased according to the actual need for appropriate reward standard" requirements.
■ Focus
serial killer or has open your
Police insiders said the chain Ministry of Public Security Class B fugitive killer and more information on match
Xiang Yu reward notice issued by the police after only a suspect's photograph and physical characteristics, not the suspect's identity information. Yesterday, our reporter was informed by insiders from the police, "flat man" is likely to be fugitives wanted for Class B Public Security has opened expensive.
According to the Hunan news media reports, you have to open, also known as Zeng Zhiping, who made you, nickname "Siniang" (ranked fourth), August 23, 1969 birth, residence Neijiang City, Sichuan Province , height 169 ~ 172cm, Mandarin, Sichuan accent, skin color than black, walking spine straight, a little toe, a habit of shaking shoulders. October 13, 1995, the suspect had opened your Xishuangbanna, Yunnan Menghai in armed robbery, fled after killing one person.
Ministry of Public Security issued the arrest warrant that you have open long after the killings in Yunnan, fled away, it may have to change the name.
According to the police inside information, fugitives who had been opening your border armed police in Yunnan, there is a strong anti-detection capabilities, the perpetrators wearing a hat, wearing sunglasses, walk left a little lame. To avoid video surveillance, wearing a hat, head low. "Suspects held by the system 54 pistol firearm as Myanmar, bullet for bullet expired, but Bouncing to firing."
"There is no sufficient evidence must have been." Yesterday, insiders said, Police highly suspicious "flat man" has been opened you, from age to match characteristics of many of the details, but had disappeared after 1995, did not leave DNA and other evidence, so the reward notice, the "flat man" is no identity of.
Nanjing police lock "flat man"
6 日 上午 9 点 40 minutes, an upper middle-aged man wearing a dark jacket, Shoulin a bag, a black car left behind from about 1 m, the head had been shot, lying on the ground face down, in the hands of the bag being snatched away. Black Mitsubishi sedan this car license plate number "Su A70A05″, about 10 meters away from the bank door.
Nanjing police preliminary investigation confirmed that men fell to the ground a certain way, 42-year-old, who Jiangning District, a building materials company in Jiangsu employees, suffered before the shooting, Cheng Mougang 200,000 from the bank teller, "was criminal suspects, armed attacks, head injuries, was rushed to hospital, after she died. "
Nanjing police said witnesses had provided the suspect may be traveling in a bus, in Bridge toll to intercept inventory. After verification, yet suspicious circumstances.
police yesterday by the media to verify Nanjing, Nanjing revolver robbery suspects and Hunan, Chongqing and armed robbery and murder more than Department of the same person.
Changsha, according to earlier media reports, beginning in 2004, Chongqing, Changsha series of armed robbery and murder have occurred, several cases were all the same person as the suspect and the media called "flat head man . "
yesterday evening, the reporter from Changsha Municipal Public Security Bureau spokesman was informed, Nanjing, "1.6″ murder, armed robbery, police have confirmed that the case of Nanjing and Changsha, "6.28″ case Department of the same person. At present, the police rushed to Changsha, Nanjing, police have been deployed.
■ warrant
male, 40 years old, about 1.7 meters tall, medium build, darker skin, toe walking, speaking Mandarin is not standard . Withdrawn and quiet of few words, a loner, a habit of getting up early. Check out the location when the phenomenon of crime waiting, wearing a white baseball cap, wearing sunglasses, a dark T-shirt on (dirty), used to tie into the waistband without the shirt, dark pants and under wear black leather shoes.
■ link
8 wins 7-year life
Chongqing
2004 年 4 月 22 日
around 12:00, a hotel Chongqing, two female cashier and accounting staff, to the yellow Road, Jiangbei District, five branch teller, the man was armed robbery, the suspect shot and killed a man, playing one injury after the escape, stole cash $ 70,000. Police initially judge the criminals are using a home-made pistol, followed the suspect from behind and shot directly to the head.
2005 年 5 月 16 日
9:35 or so, armed with Shapingba occurred murder, robbery cases. Suspect followed two teller staff, teller who shot and killed two and wounded one innocent people, stole 170,000 yuan in cash after the escape.
Changsha
2009 年 10 月 14 日
Tianxin District on the slopes of the southern suburbs Park shooting occurred, were killed in the 6 Li Chengshou gun body , who was robbed of 20 dollars is not.
2009 年 12 月 4 日
Tianxin Furong Road, Changsha, armed robbery and murder occurred, killing the suspect from the bank teller a gun out of Kwak, away cash 4.5 million.
2010 年 10 月 25 日
around the city in Hunan Yuhua District, trade companies, the suspect shot the manager and stole a laptop computer.
public security organs according to analysis, the case series of shootings and robberies 2009 Changsha City, and case investigation (the case of the southern suburbs of the park, "12.04″ Hibiscus South Bank case).
2011 年 6 月 28 日
a 48-year-old man, Changsha, Zhang was a man shot and wounded, causing the head, waist wounded. The patient was to open a Lexus car, get off the gun.
Nanjing
2012 年 1 月 6 日
10 am, Nanjing Road, Yan Shimonoseki area and robbery and murder occurred, two 200,000 victims of withdrawals from the bank came out, the suspect was shot, one dead, 20 million in cash was taken away.
edition written/reporter Gang
share: welcome to comment I want to comment
> related news:
in Nanjing, Changsha police to send police involved in investigating the shooting
video: police held a press conference in Nanjing shooting robbers notification feature
Changsha, Nanjing shooting suspected robbers 6-28 shooting suspect (Figure)
microblogging Recommended | today's microblogging hot (edit: SN034)