Enhance the towns and villages in Tibet party secretary stressed that the level of work in Temple
1 On the morning of May 7, autonomous regions to Lhasa City Party Secretary Chen Quanguo research. This is Chen Quanguo in the streets of Lhasa Chengguan District Gamagongsang northbound Nagin cordial community grassroots cadres and the masses, condolences village-working team members. Correspondent photo Yao Hai all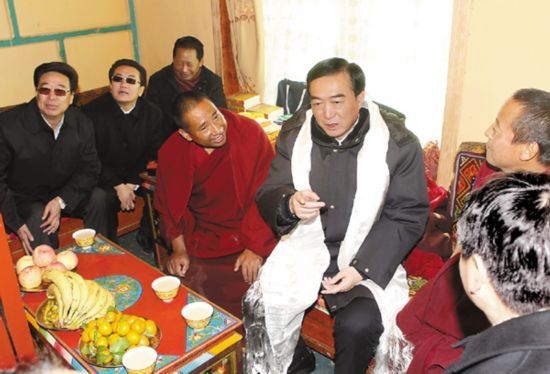 1 月 7 morning, the regional party committee secretary Chen Quanguo to Lhasa research. This is Chen Quanguo Karma Choephel monks in Sera Monastery in the shag, a cordial conversation with the monks. Correspondent photo Yao Hai all

1 月 7 morning, autonomous regions to Lhasa City Party Secretary Chen Quanguo research, stressed, according to the CPC Central Committee with Comrade Hu Jintao as general secretary of the clear, "a center", " two major events "," four guarantees ", and further implement autonomous maintenance of stability and building a harmonious policies and measures to continuously improve the level of work to ensure that tangible results, and effectively build a harmonious and stable long-term mechanism .
Autonomous Region Party Committee, Vice Chairman Wu Yingjie autonomous region, autonomous region Party Committee, Party secretary of the Autonomous Region Political Consultative Conference, the civil servant Tashi regional party United Front Work Department, Autonomous Region Party Committee, Party Secretary Qizha La Lhasa, the regional party committee Standing Committee, Secretary-General Deng Xiao-gang, Nyima Tsering, vice chairman of Autonomous Region People's Congress, CPPCC Vice Chairman Liu Qinghui with regional research.
streets of Lhasa Chengguan District Gamagongsang northbound Nagin is a community with more than 1,000 households in a large community. Chen Quanguo braved the cold to come here, cordial grassroots cadres and masses, condolences village-working team members. Shook hands with everyone after Chen Quanguo and village-based team players sitting together cordial conversation: The Task Force has several players? How many households visited? What are practical for the people? … … Village-based team responsible comrade that the Task Force stationed, in order to purchase the eight electric community patrol duty room 20 square meters built, coordination of the relevant commercial enterprises convenience supermarkets opened, held "eight to see." , "considered an old account," "an expose", "four enhancement" and other educational activities. Chen Quanguo listened, nodding praise: "Your work to carry out a very solid, very unique, as long as we sincerely do practical work for the masses, the masses of all ethnic groups would be welcome and support."
"You and mass communication are difficult?" Chen Quanguo asked with concern.
"No, we work with Tibetan comrades team, while, from the first day of residency, all Han players insist on learning every day, three Tibetan, is now able to simply exchange."
Chen Quanguo encourage them to say: "This is a good idea, a strong base in the region to promote Waste Management activities as soon as possible. The ability to communicate, and more conducive to communication, to work."
Chen Quanguo that A Good Waste Management activities were carried out in strong base, departments at all levels attach great importance to the region, a positive response, prompt action, the whole event had a good start, good progress, initial results, by the people of all ethnic groups a warm welcome. Next, to achieve full coverage and villages to work on the basis of a good start, around the five key tasks, combined with practical, advantages, and constantly work to enhance the village-level, to ensure the party and the government's warmth to the hearts of the masses build a strong foundation for rural development and stability.
Subsequently, Chen Quanguo retired cadres of his party came to Lausanne, home, sitting in Tibetan living room, and pulled an old married couple affectionately homemade. From income to housing, from the body to life, from social security to the work of the regional party committee and government recommendations, Chen Quanguo asked a very carefully. Lausanne to respond.
"village-based task force to the future, residents welcomed not welcome?" Chen Quanguo asked with concern.
"village-based teams entered, we have built a community supermarket, with security, to buy things convenient, safe life I heard, we have to transform this community, then our lives better. everyone on the team are very welcome, thank the party and play acting in the good government issued a policy. "Lausanne answer.
Chen Quanguo said: "I tell you good news, the district party committee, government, and are speeding up the work in Lhasa, Lhasa, next winter will be able to spend 40% of the public heating, and winter of 2013, all Lhasa people can spend on heating up in the Communist Party under the leadership of the Tibetan people the day we will be good every day. "
happy old married couple in Lausanne, clapping her hands, said, this must The good news as soon as possible to tell the community residents.
research, Chen Quanguo also came to the Sera Monastery, protection of cultural relics and Buddhist temples to learn more about people's living conditions. Chen Quanguo deputy director of the CMC and Sera walk and talk Pub Tsering, all monks who understand the concern of the regional party committee, the government recently introduced the temple to strengthen management and innovation, and strengthen the temple's public services, such as care for the majority of monks and nuns view a series of policy measures. Pub Tsering said: "These measures have done the majority of monks and nuns of the heart, we support one hundred." Monk Karma Choephel in the shag, the Chen Quanguo a cordial conversation with him: "You go in Temple cadres home visits over yet? now taken by the government party and you welcome these measures are not welcome? "Karma Choephel said excitedly:" Temple of cadres have been in their home, his family was very moving. Now we have old-age old monk Kim, sick have medical insurance, with no worries, we must take the Scriptures, to concentrate on practice, not involved in separatist activities of the motherland. "Chen Quanguo said in earnest, good harmony and stability of the situation, not only benefits the country, and Lee Monk Lee Temple Lee to teach, I hope you comply with state laws and regulations, comply with regulations Temple discipline, spiritual peace of mind, enhance skills, and people of all nationalities to join together to maintain stability and unity, harmony and stability of a good situation, unswervingly and up Lai Group's fight against separatist activities, and resolutely safeguard national unification and national security, safeguarding national unity and social stability.
Chen Quanguo also greetings in the Sera Monastery cadres, on behalf of regional party committee and government to the people to maintain social harmony and stability of the overall positive contribution to express my sincere thanks. Temple cadres hope to grasp in a rare exercise, and improve the quality of good opportunities, overcome difficulties, to work hard and effectively to the regional party committee, the government introduced various measures in place to continuously improve the level of work in Temple. To take advantage of the Spring Festival, Tibetan New Year two with a good time to celebrate, in-depth development of "six" activities, and actively coordinating relevant departments to speed up the "nine as" projects, expanding health care, pension insurance coverage, so that the majority of monks and nuns patriotism truly feel the party and the government's care and warmth to promote, carry out a model of the temple-cum-Harmony advanced monks and nuns to create a law-abiding patriotic contest, fully mobilize the enthusiasm of the monks and nuns patriotic and law-abiding, good co-create a safe and harmonious environment.
autonomous regions and relevant departments, accompanied by research. (Reporter Li Cheng business)
share: Welcome Post Comments I want to comment
microblogging Recommended | today's microblogging hot (edit: SN026)