Su Zhijia was elected chairman of the CPPCC Guangzhou Lin Yuan and active outgoing
■ Zhang and attended the closing ceremony of the CPPCC members shook hands. Shi Yan Xia Express reporter/photo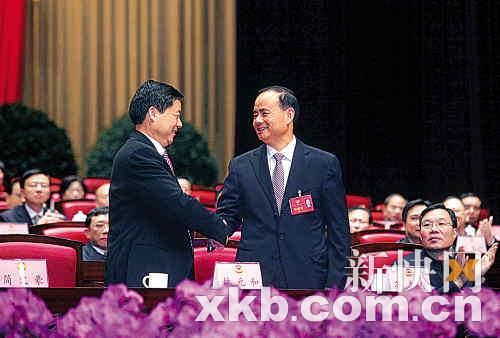 ■ The past City Committee Chairman Lin Yuan, and (left) and Su Zhijia (right) shake hands, congratulate him. Shi Yan Xia Express reporter/photo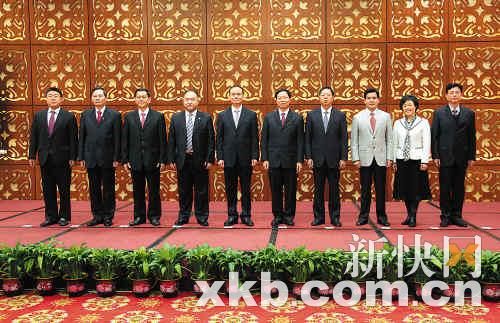 ■ Yesterday, the newly elected leaders of the Guangzhou Municipal CPPCC members to meet at the photo in the media. Shi Yan Xia Express reporter/photo

CPPCC Guangzhou Municipal Committee of the twelfth meeting closed Su Zhijia first elected City Committee Chairman
Express News correspondent Liuzheng Xu Xu Na correspondent Li Zhijie report
yesterday afternoon, the twelfth CPPCC Guangzhou Municipal Committee at its first session closed. Su Zhijia was elected the new chairman of the CPPCC Guangzhou, Lin Yuan, and outgoing. Guangdong Provincial Committee Zhang, Party Secretary of Guangzhou Wan Qingliang, director of Land Management Act Municipal People's Congress, Municipal Committee, acting mayor Chen Jianhua attended the closing ceremony.
closing prior to the meeting, also held the election of the General Assembly, elected Su Zhijia Twelfth CPPCC Guangzhou Municipal Committee, Ping Yan light, Sun Feng, Pan Shengshen, Jane writer, Xian Weixiong, Yang City, Chen Yi Ni , Yuming Yong was elected as Vice-Chairman, Jiqing elected as Secretary-General, Jian-Hua Ding and other 116 members were elected to the Standing Committee.
Suzhi Jia said at the closing session, the CPPCC Guangzhou City will be under the leadership of the CPC Guangzhou Municipal Committee, closely around the center of the city's overall goal of building the country and lead the transformation and upgrading, construction of the core tasks of Guangzhou happy, positive perform political consultation, democratic supervision, participation in politics functions.
General Assembly adopted the CPPCC Guangzhou Municipal Committee first 次会议决议 the twelfth, the twelfth CPPCC Guangzhou Municipal Committee meeting report of the examination of proposals. As at 11:00 on January 7th 2012, the conference call for proposals a total of 428. Proposal Review Committee, "the Guangzhou Municipal Committee of Chinese People's Political proposed Regulations" on the proposal by collecting different types of groups to conduct a careful, rigorous examination, to be placed on file 402, accounting for 93.93% of total call for proposals. Not on file, will be transferred to comments sent to relevant departments to study and reference.
new CPPCC leadership meet with the media, Su Zhijia reflections on election –
"have a responsibility, a passion, as"
Express News, "Our new team was composed of very great responsibility." yesterday afternoon, after the closing session, the Baiyun International Convention Center Cotton Tree Hall, led by Su Zhijia new leadership of Guangzhou Municipal CPPCC collective team to meet with the media, an opening, he used these words to show feelings.
"I was born and raised in Guangzhou, living and working in Guangzhou, you listen to me, are very strong in Guangzhou Mandarin." He said, in this new position as the hero of the city to work, "I keep my city living services for the hardworking people of good service here, very honored, but also feel great responsibility."
he said, to work more than 40 years, generally engaged in party work to the main Commission for Discipline Inspection and Organization Department, a colleague jokes that his experience was "organized and disciplined." Although there as deputy secretary of the division of the city CPPCC contact twice, but directly in the CPPCC working for him was a new challenge, "This is a new issue, but also one of my new challenge."
"have a responsibility, a passion, as." Su Zhijia In summary, was elected chairman of the CPPCC is a great honor, but also responsibility; at work, to keep the passion, heart will be more focused, "There is passion , will be more love and dedication, will be first to face competition, more difficulties to tackle tough. "
Suzhi Jia went on to say, but also as a CPPCC new leadership next job very complicated, especially the just-concluded party congress to speed up industrial restructuring and upgrading, construction of the target being Guangzhou and so on, after a lot of work to do. This requires that the CPPCC plays pool of talent, intelligence gathering, extensive links, as well as the advantages of detached position, strengthen coordination, unity of all forces. Next, he will work with the entire leadership team together and actively participate in politics, to perform their duties, fulfill our mission, great trust.
scene close-up
new interview: reporters standing leadership sitting
Express News in the past CPPCC new leadership after the election, generally at the closing conference hall of the collective appearance on the podium, to the media reporters taking pictures, but after yesterday afternoon's closing session, the situation is quite the opposite.
Yesterday, at the Baiyun International Convention Center Cotton Tree Hall, not on a high podium, a microphone placed in front of the stage, but no stool, and the audience, it is a big row of seats reporter . This allows us wonder: "Is an interview with reporters, leading standing, the reporter sitting? This is very novel."
little, Suzhi Jia and Yan had just been elected Vice-level light, Sun Feng, Pan Shengshen Jiqing filed into the room, etc., and Secretary-General. A crowd was led to the podium, stood a row of neatly, which makes the reporters sitting there not used to the hand. Meanwhile, Su Zhijia published 6-minute election speech. Until he spoke, everyone was lined up position until the reporter who took a group photo before we leave together.
share: welcome comments I want to comment
microblogging Recommended | today's hot microblogging