Meizhou, Guangdong police motorcycle team as migrant workers return home to clear the way (Photos)
Guangdong, Jiangxi police to ride a motorcycle back to clear the way for foreign workers.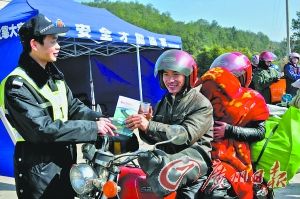 police as migrant workers return home and bottled water, books.

Meizhou section of National Highway 206 is another motorcycle traffic
newspaper Meizhou (Reporter Ye Shixin correspondent He Zhilin, Wuxian Yao, James Bailey photo coverage) Chinese New Year approaching, the State Road 206 See also section of Jiangxi Province, Meizhou migrant workers return home riding a motorcycle in traffic, to ensure safe flow of Chinese New Year back home after a motorcycle road in Meizhou, Pingyuan County Public Security Bureau sent traffic police in Guangdong Ping Yuan bachi ring motorcycle checkpoints set up special rest stop, where police put up tents to rest, put tables and chairs, tea and kits for motorcycle drivers to rest and emergency use.
yesterday afternoon, the reporter and his party drove to the checkpoint level eight feet away, I saw more than 40 vehicles from Shantou, Chaozhou, Jieyang, Jiangxi and other places back Xunwu, security and other places far from the motorcycle parked in a rest station, traffic police are far from flat to them tea and bottled water, although cold and windy outside the tent, but the tent was hot, well-ordered. These motorcycles are almost always two adults and a car ride, some with children, also equipped with a luggage shelf and New Year. To keep warm, they will own bag tightly, and even his shoes were put on plastic bags.
14 when 20 points, 15-minute break after the motorcycle driver, under the leadership of the police cars, 40 motorcycles mighty far away from flat sections of the town of eight feet, all the way to the scene mighty Wei is spectacular.
Pingyuan Traffic Police Brigade chief Zhong Ming Yin told reporters on the eve of the Spring Festival every year, the State Road 206 road motorcycle Meizhou Pingyuan home has more than 60,000 foreign workers, near the Chinese New Year period one day there will be more than 5,000 people, more than 2,500 motor vehicles.
share: welcome comments I want to comment
microblogging Recommended | today's hot microblogging