Chinese students in Korea horizons: Korean students to avoid the world topic
Korean students for art show

Chinese students in Pyongyang "Arc de Triomphe" call the river before the game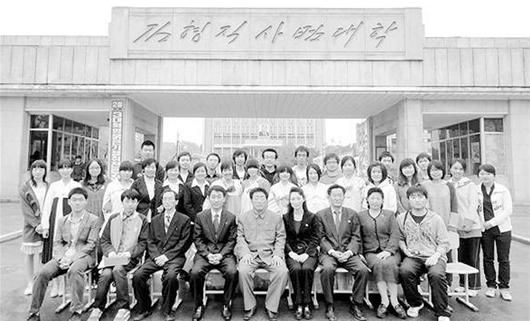 students and Korean teachers photo

Metropolis Daily News
a group of Chinese students into the world's most mysterious, the most closed countries, and foreign students to share their "most happy" life.
Korean students are some of the more or less bring the atmosphere of the outside world over, each leaving towards the Chinese students have never experienced life experience.
Korean students will automatically avoid the outside world topic
"I dreamed of a great leader General Kim!"
North Korean graduates recall white Xiao Yi their study in Korea five years ago the lives of the most memorable scene is the Korean Residents Ji Xuejing day with the morning, excited about his "happy dream."
Jixue Jing said: "In the dream, the great leader has given me the best guidance, we will overcome the research challenges it!" White Jixue Jing Xiao Yi never forget when talking about this dream look, "it feels just like to see the inside of a night light!"
few months later, in October 2006, North Korea's North Hamgyong abundance of the river area to complete its first nuclear test, shocked the world. Chinese Ambassador to the DPRK embassy to convene a meeting to appease the Chinese students who repeated, but it also requires everyone in the dorm room storage of water and instant noodles to prepare for contingencies tension.
Bai Xiao Yi, a layer of more panic, because she clearly remembered with boarders Jixue Jing's "great leader of the dream." Jixue Jing's father was a Korean scientist, she is also engaged in related research in the field of nuclear physics.
entire Korean universities received two Chinese students: Kim Il Sung University and Kim Hyong Jik University. Kim Hyong Jik Kim Il Sung, father's name is. Each batch of Chinese students in the dormitory would be arranged for varying amounts of the DPRK to do with the boarders and their roommates.
previous year, Xiao Yi, Bai and another more than 50 Chinese students came to Pyongyang, North Korea to participate in CSC students were sent items. CSC project is basically 8-10 months, but local Chinese students want to make friends is not easy. Bai Xiao Yi recall the time when the subway to see an old lady carrying a heavy bag, she and another made up of Chinese students to take the initiative to help grandmother was scared off.
activities of Chinese students is completely free. "Nobody went out accompanied them know you will not do anything bad, do not dare." Zhao Song (a pseudonym) is very confidently said.
Zhao Korean Song is a Beijing university student, he was in April 2011 to October in the Korean study. He said: "These Korean students with the boarders are not ordinary people, most of the family root seedlings are red."
only with the majority of Chinese students with the boarders talk the language problem, Zhao Song is not the same, he sometimes will intentionally try to explore some more in-depth topics, such as the view of the outside world. However, Korean students tend to his side off automatically to avoid this conversation.
way to avoid a little bit funny. "They often say, have to go make a phone call, but would no longer go back."
returned home, White made several attempts to Jixue Jing Xiao Yi, Lotus same letter boarders, sometimes Tuoren Dai also believed in the past. But never received a reply from them, "people have vanished like the same."
"Down with U.S. imperialism," the slogan everywhere
plane landed in the way schools go, do not blame the white Xiao Yi began to cry. In her eyes, covered with a layer of ash throughout the Pyongyang seems to cover, not a building is bright.
to school, he slowly, Xiao Yi, white people here began to feel pretty good. "They were all kind of simple, but no eye." She even found a man called "Lotus" in the United States with boarders in particular, "as the Korean movie star."
Zhao Song of the feelings that Korean people's life is not depressing. Many around the character of the Korean people are cheerful spirits, "as if any thing not beat them, the state allocated for something to eat, live carefree."
memory of Chinese students, the majority of Korean Residents with pride, self-esteem, but also polite. , "Give them to eat snacks, they will happily eat a little," White Xiao Yi said, "no more take, not take the initiative to ask you, will not eat while you are away," said Zhao Song. His classmates often proudly told him, thanks to the great leader General Kim to the Korean people a happy life.
leaders to create all the happiness and good, but if there is not enough good places, such as shortage of materials, the Korean student solemnly told the Chinese people, it must be because the final analysis, "U.S. imperialism harm" . The streets of Pyongyang, "Down with U.S. imperialism", "as one unity, defend the motherland," the slogan is still everywhere.
to a good relationship with the Korean students, Chinese students are often prepare some gifts. Bai Xiao Yi to the girls prepared a small scarf. Her close relationship between a student teacher to get a blanket, she recalled, to get the blanket when the teacher moved to have red eyes.
Zhao Song is homoclinic to the Korean students who recommended the U.S. drama "bridge situation." This is America, a reality show about fashion design program, the supermodel Heidi Klum as host. "I told them that the West is such a fashion, they were surprised to say, what is good, not good-looking as we wear it!" Recalled here, Zhao Song laughed.
addition to the "Avatar" this American movies, drama starring Jang Dong-gun, he still kept a lot of computer hard drives in Japanese AV. "Of course they will not directly ask for, but more clearly suggested that, 'all the movies you gave me, all !'"
Zhao Song, especially interesting is that these normally serious Seriously boys, this time have become like a kid, "pretty childish." "Now boys and girls can walk hand, and before the hand will not work. Premarital sex is not the basic, various shopping malls, markets, did not see selling condom."
copy with boarders who Zhao Song, "all" the film, had some days, some people saw his eyes some dodge; some people are confidently told him some bad movies have been removed.
Korean history written with the "Human Origins in the Korean Peninsula,"
Bai Xiao Yi, never known before came to Korea, the world has a flower called "Il flowers", there is a flowers called "Kim Jong Il flowers." The former is a large red, which is purple. "Kim Il Sung, the United States that spend more." She then said.
Chinese students were divided into two classes, and from Bulgaria, Czech Republic, Slovakia, Mongolia, Vietnam and other countries, students with private lessons. Korean students in the classroom does not.
Although the appearance itself is not very different, but to distinguish between Korean students and Chinese students very easy. Korean students are white and blue uniforms, and everyone Leader badge to wear. In addition to wearing a badge, jeans, this country is the most obvious "exotic character." Near the school, the police have been trained to picket atmosphere out of the experienced eye, can basically tell who is a foreigner, for their "grooming" not required. Long hair male students, female students of the vests, the Korean people have been tolerant. "Many foreigners around, they are accustomed to seeing strange."
specific courses to language courses based, including hearing, intensive reading, extensive reading, grammar, writing, as well as a simple history and culture of North Korea class. Bai Xiao Yi remember history is written, "Human Origins in the Korean Peninsula," stresses "Birth of the great leader," the text is used at length about the leaders before the birth of the heavens. "Another time to see TV programs that tunnel warfare and mine warfare tactics of General Kim Il Sung, the great leader is invented."
Pyongyang buildings are mostly gray, but the sky blue tile. Streets plastered with banners and posters, in addition to portraits of leaders, soldiers and medical staff images are also common. Street is spacious and clean, not many cars, it is useful when waiting for the bus orderly queue.
Beijing Language and Culture University Department of JIA Hang Korean students in Korea Kim Hyong Jik University during the class. He recalled that before 2010, the Korean National Day, the school's music teacher arranged a concert celebrating the leaders of Chinese students, "North Korean Red Song." Attitude is not positive enough, some Chinese students, which makes music teacher very angry. "Our leaders have helped China win the war against Japan you do!"
"latent" and "Sword" to attract a large number of Korean visitors
schoolwork while, Xiao Yi favorite white where is the zoo and playground. 50 towards one currency can be a roller coaster ride. North Korea has not yet implemented in 2006 currency reform, the official exchange rate, the 1 yuan coins can be exchanged toward the 12, but on the black market, one yuan to exchange up to 300 towards the currency. 50 toward the roller coaster currency into RMB as long as a few cents, "value."
or she also call on other Chinese students went to the top of the Koryo Hotel revolving restaurant "private use", as long as 150 yuan two people eat enough.
Zhao Song occasionally in the school to see the Korean television. "To receive a total of three television stations, broadcast revolutionary ideological content specifically called Korean Central Television, was broadcast only on weekends called Mansudae TV, there is a channel only to the large holiday was playing, the name … I have forgotten . "
Zhao Song of the most attractive is the Mansudae TV, the station will broadcast international news.
Saturday and Sunday at 8 pm, Mansudae TV will play China. "Latent" and "Sword" to attract a large number of Korean visitors will also allow Chinese students to find a home feeling. Even the occasional movie player in China, including "Hero", "Ip Man" and so on. "There are ancient, modern and contemporary revolutionary themes there, but basically no contemporary friends."
Zhao Song also found on the street as well as that small kiosk, selling audio-visual Publishing House of the Korean Mulan their old movie disc or the Soviet Union, is generally a few hundred to several thousand Korean currency. Pyongyang good condition will have a family DVD.
if Chinese students three thousand three hundred twenty-two together, bring their own computer to play the movie, "strong-willed," the North Korean students take the initiative away. But the White Xiao Yi found that the conditions are good, with many families will bring their own boarders or computer DVD player, some people will quietly hiding in bed watching Korean dramas!
In Korea, every Chinese public school students can get $ 250 per month China, the DPRK subsidy of € 40 per month. "Metro is almost two cents RMB once, not ice cream into RMB to 1 million." Zhao Song said.
The main cost is to call us. International long distance to go to Korea Communications Commission, or hotel, will cost about 13 yuan per minute. JIA Zhi-Hang has breath hit three phones, check out the results, we found that telephone charges up to $ 78!
Zhao Song study period, a student Kim Hyong Jik University of pictures in the market, captured a ragged old woman, "may be considered damaged the image of the Korean people," is taken away by security team , and also confiscated the camera, until the embassy to come forward before the people brought back. This may be the year's biggest accident.
students return home feeling a strange world
gathering place of young people, love is inevitable. Chinese feelings among students is not uncommon, Zhao Song that really unusual is that the same session, a girl from southern China, with a North Korea with the boarders between the "goodwill."
which China and the DPRK among young people, "goodwill" and "ambiguous" between the students is almost open. North Korea to the Chinese girl boys would secretly buy something to eat – this is such an environment the most simple and best way of confession. "But we all know they will not have results." Zhao Song said, "they maintain this relationship, has no deviant behavior, not even a kiss … … also very good."
Bai Xiao Yi
??clearly remember, she returned to Beijing in December 29, 2006. Mother to pick her, handing me a cell phone that fast to your friends by sending text messages, notice where you come back it. Bai Xiao Yi happily took it, "is a Panasonic's flip phone, but I thought, I feel like I already know how to send text messages do not!"
from March to December, White Xiao Yi suddenly discovered that nine months of isolation and the Internet make the world a strange lot. For example, the students are playing a place called "school" thing. To go before she heard, but what exactly is it?
JIA Hang clearly remember, October 19, 2011, the students returned to Beijing. When the plane landed, he and his friends in the cabin can not help but actually applaud.
JIA Hang returned to Beijing, sometimes quiet, but also often think of farewell that night. North Korea has been red for Chinese students sing the song does not actively rather angry music teacher unexpectedly shed tears.
we tried to comfort him, we will meet again. The 60-year-old looks older, but in fact only 40-year-old man drank a lot of wine. His face with tears, said: "I'm afraid not see friends!"
do not want to return home after just two months before cheering crowds still accept the supreme leader Kim Jong Il died. North Korea to stop all foreign exchange activities, the border of the tour also stopped functioning. JIA Hang think that music teacher, may actually see the.
Times comprehensive "Southern Weekend" report
share: welcome to comment I want to comment
microblogging Recommended | today's hot microblogging