Beijing no wind, no snow accumulation of pollutants in air quality caused by far exceeded
This is taken from the Jingshan Park was heavy fog enveloped the Forbidden City (January 19, photo). Xinhua News Agency reporters Jin Li and Wang She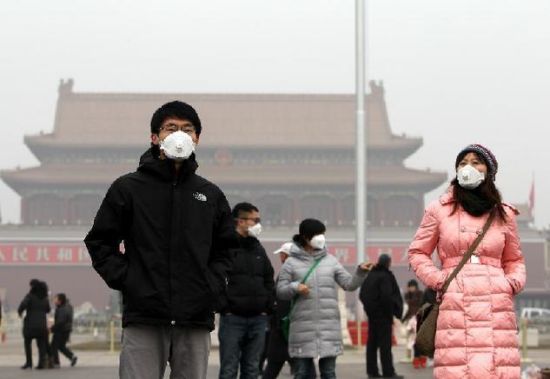 January 19, several tourists wearing masks visit Tiananmen Square. Xinhua News Agency reporters Jin Li and Wang She

Xinhua Beijing January 19 (Reporter Zhang Miaomiao) entrenched in the capital to continue the fog, no wind, no snow, causing pollutants to accumulate in Beijing, air quality, excessive serious. Environmental sector is expected, 19, Beijing's air quality monitoring stations values ??were 3-5, and that means a slight to heavy contamination contamination between.
Beijing Meteorological Department at 6:00 on the 19th to release the yellow fog warning signals, 19 day, the fog will continue to be stationed in the capital.
In fact, the recent weakness of the whole North China region continues to be shrouded in mist. Beijing Municipal Environmental Protection Monitoring Center released the official micro-Bo said, with the atmospheric dispersion conditions, deterioration of air quality in Beijing from 18 noon obviously deteriorated, PM10 continue to accumulate, from the evening peak traffic, the majority of stations every hour concentration cubic meters more than 300 micrograms, at night, with fog increased, the concentration continues to rise, the maximum hour concentrations Liangxiang station 516 micrograms per cubic meter.
environmental protection department official said, and 10 that focused on haze pollution in Beijing during the weather than the south, the fog and haze pollution in the city's distribution more uniform, the air quality monitoring stations are severely affected.
According to the environmental protection department expects 19 more particulate pollution in Beijing the day before the increase is expected to air quality stations in between 3-5. 5 is the highest level of severe pollution, the weather conditions, in addition to cardiovascular and respiratory disease symptoms became worse, the healthy people will be obvious discomfort, the environmental protection department reminded the public to minimize outdoor activities.
pollution in Beijing is currently showing the gradual increase from north to south trend. Show last 18 hour monitoring, air quality stations in northern counties as three minor contamination, six districts and the southern city standing between 4-5. Among them, Fangshan, Tongzhou and accumulated the highest concentration of PM10, respectively, 520 and 559 micrograms per cubic meter, than the standard.
environmental protection department said that 19 night, with a new round of cold air is gradually affecting Beijing, will improve diffusion conditions, the concentration of respirable particulate matter will be further reduced, to reduce pollution, but the haze completely disperse, but also expected in Saturday's north is "on time" arrived.
correspondents access to weather forecast display, Saturday 21, Beijing will be the north wind blowing thirty-four, is expected to completely disperse the fog, haze, sunny reproduce thereafter until January 24, Beijing will continue to maintain a sunny day .
share: welcome comments I want to comment
microblogging Recommended | today's microblogging hot (edit: SN056)