100 experts in Guangxi, Heilongjiang cadmium disposal
1 27, the cut-off regulation Gold River Mining Co., Ltd. Guangxi. Ming Ming Meng photo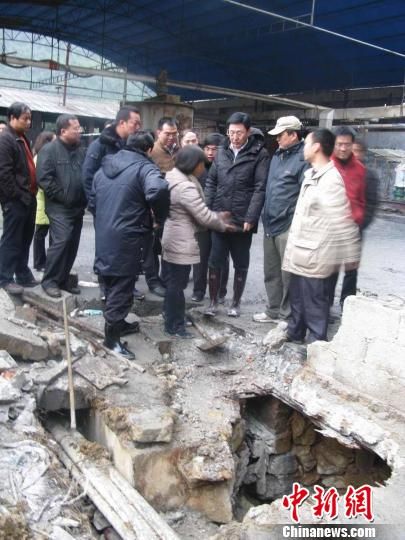 1 27, the investigation found The suspected source of pollution washing mines, the experts and emergency workers in the suspected discharge of toxic waste-water treatment of sewage disposal in consultation before the hole. Ming Ming Meng photo

BEIJING Hechi January 29 (Reporter Meng Ming Ming) Reporters from Hechi Municipal Propaganda Department was informed that more than 100 domestic environmental protection, prevention and control, metallurgy, geology and other experts in the field gathered in Hechi City, an expert team in Longjiang heavy metal pollution disposal. Currently, the city Hechi all mining companies is to conduct a comprehensive investigation and rectification.
excessive cadmium from Guangxi Heilongjiang found after Hechi activate contingency plans, by controlling the flow of contaminated water, put lime and aluminum chloride in the river and the matter of excessive dilution. Currently, the environmental protection department monitoring data show that within the reach of polluted water Hechi cadmium content decreased.
Longjiang contamination occurred, within the city Hechi companies involved in mineral conduct a comprehensive investigation and remediation. WASHINGTON correspondent was initially identified in the previous sources, Guangxi Golden River Mining Co., Ltd. company learned that the company has all suspend production for rectification, are suspected to have a residue field leakage remediation has been completed.
vice chairman in office of the company, a company executive said the mining company Gold River was identified as the source of pollution residue field is odd, the company residue field, and there is no leakage, the present appeal has been material submitted.
The Guangxi Golden River Mining Co., Ltd. is a state-holding enterprises, the main exploration and production and comprehensive recovery of zinc dilute your valuable metals. Since the company was initially identified as the residue field the Longjiang cadmium pollution, the company chairman, director, security manager and the others ring was detained by police.
1 27, Hechi local authorities through the investigation found, Longjiang river section east side of a wash is not listed smelting mines, suspected new sources of pollution, a large number of experts and emergency staff to dispose of. Reporters in the mines of the suspected sources of pollution within the wash to see, a diameter of about 1 meter deep bottomless hole suspected toxic waste-water treatment of sewage effluent. By experts on the spot providers, emergency workers immediately put the hole in the ground lime and aluminum chloride. Whether the plant has yet to be expert sources to confirm.
Villagers told reporters that the plant usually closed the door, this washing has been three years. Reporters found that the plant is only a kilometer away from the roadside, there is a local set of control illegal mining joint law enforcement checkpoints.
present, the police have to control the plant-related, and make inquiries.
share: welcome comments I want to comment
microblogging Recommended | today's microblogging hot (edit: SN026)