Guangzhou, more than 30 migrant workers suspected poisoning of glue eyes are dead (Photos)
Guangzhou, dozens of workers suspected of glue poisoning.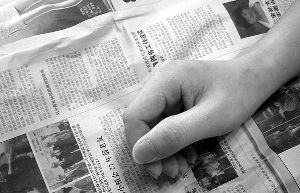 Guangzhou, dozens of workers suspected of glue poisoning.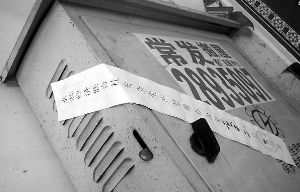 Guangzhou, dozens of workers suspected of glue poisoning.

consecutive months to the Guangzhou City, more than 30 shoe factory, bag factory work staff have been taken to the hospital, their symptoms are similar to, his eyes dull, incontinence, his hands trembling memory, was diagnosed with dichloroethane poisoning. 16, the Guangzhou People's Hospital to Article 12 of these patients will gradually start occupational qualification procedures.
and glue to deal with disease
Fan Xiuwen working in a shoe factory of the Baiyun District of Guangzhou, the doctor said he was lucky, in the conscious thought he might be the glue poisoning to the hospital for treatment. Treatment for more than a month, not to restore his memory. Fan Xiuwen daily work is to the upper brush glue, this is his poisoning.
12th People's Hospital of Guangzhou City, currently live in 27 patients because of the deal and glue, dye sick. The most serious coma and woke up could not answer "1 +2 equal to a few, incontinence, life can not take care of themselves.
the twelfth
Guangzhou City People's Hospital, vice president Liu immigrants explained that this is because their central nervous system by the injury. He said that since November 3 last year, the 12th People's Hospital in Guangzhou as a professional occupational disease prevention and hospital were treated in 32 cases of dichloroethane poisoning patients, no new cases after the Spring Festival.
said Liu immigrants, and one cases of recovered and was discharged in these patients, 1 patient died, three cases of transfers, there are 15 cases of the disease in 27 cases is relatively heavy, only temporarily out of danger. Liu immigrants, the vast majority of these patients will not have after-effects, but does not exclude individuals may be a problem, according to medical requirements, in the year to make the final judgment.
these patients have already spent 1 million yuan for medical expenses, the medical expenses incurred by enterprises, 70% not in place, the hospital has been open a green channel, without regard to cost, first to a patient. Government departments is being coordinated to solve the cost issues. Black workshop stealth residential buildings in
Hunan small group of children Liang Jian several times to allow journalists to look at his trembling hands, the tiger's mouth at the slightly yellowed. A month ago, he was diagnosed with suspected glue poisoning. Before the onset of his work in the Liwan District of Guangzhou City, a shoe factory, and his slightly retarded to want the dichloroethane words written in a book was written in the carbon dioxide.
reporter came to the place of work by Liang Jian – Sand Village, Liwan District, Lane on the 4th floor. This so-called factory is actually located in an old neighborhood people, and the door without any signs and factories. Boss Liu Liang Jian working factory boss, he said Liang Jian advance of more than 10,000 medical expenses, but the factory is actually a black workshop, not really take too much money.
reporter survey found that the hidden sand village in Liwan District, like this countless black residents building workshops, small-scale it to more than ten square meters, completely is a family-run shop. Some residential buildings, roads are often narrow and dark, and sewers.
glue still in the market for sale
23-year-old suspected of glue poisoning wage by Chenxi Long life can not take care of themselves. Before the onset of Chenxi Long working Mary Lu Iraqi leather factory in the town of Guangzhou Baiyun District of Wing Tai. Reporter rushed to the factory on the 13th, the door closed in February 1st, the factory the Yongtai economic community safety production management office has been sealed up.
Mary the dew Yipi with sales director Mr. Kwok confirmed that the glue is a glue factory boss of Chen procurement to the dealer, called "Wing Shun Da" brand they have used for many years, not previously found had any problems.
reporters in the market that still sell this brand of glue. Reporter to buy a barrel of found this glue is nearly brown, very high viscosity.
glue poisoning after exposure, the Guangzhou Baiyun District, the implementation of the carpet special rectification. Or the document leather enterprises within the jurisdiction of banned certification of enterprises, should be strictly implemented to achieve the occupational health and production conditions, a number of factories have closed.
the Central People's Broadcasting Station reported
■ Progress
police arrested six suspects
the Guangzhou Daily reported 2011 December 30, the Guangzhou Municipal Administration of Work Safety began to receive the report, as of January 19, 2012, the Guangzhou City, a total of 37 patients with suspected occupational acute dichloroethane poisoning, all distributed in the white clouds, Liwan District 37 household units (35 Wupaiwuzheng private workshop). At present, 37 patients, four cases the treatment failed in the last year and this year were killed and three cases to reach discharge criteria was discharged, three cases of self-discharged or go to a local hospital for treatment, the remaining 27 patients still under the Occupational Disease Prevention Hospital hospitalized .
investigation, this incident is the illegal use of low-quality glue Wupaiwuzheng private small workshop production process, coupled with last winter, the weather is cold, the shop doors and windows closed, no effective ventilation, resulting in workers of acute occupational poisoning.
Up to now, the public security department has assisted captured six inferior glue or illegal storage of hazardous chemicals criminal suspects, two of whom were under criminal detention, four were held in administrative detention.
■ Glossary
glue containing dichloroethane
dichloroethane is the main component of the glue. Dichloroethane is a colorless liquid, toxic, potentially carcinogenic, can be absorbed into the body through the respiratory tract, gastrointestinal tract and skin, can cause poisoning, mainly caused by the nervous system, liver and kidney damage can also cause toxic brain diseases.
dichloroethane was used as a narcotic, is mainly used for chemical synthesis of raw materials, industrial solvents and adhesives, also used as a degreasing agent in the textile, petroleum and electronics industry, gasoline proof agent, The metal parts cleaning agents. In addition, also widely used in plastic toys and bonding of electronic components.
share: welcome the , comment
microblogging Recommended | today microblogging hot (edit: SN047)