A primary school in Weinan, Shaanxi has been leased by the village committee to build 4S shop
, the diagram: February 17, the children play in the sixties and seventies of the last century, built zhaocun primary schools.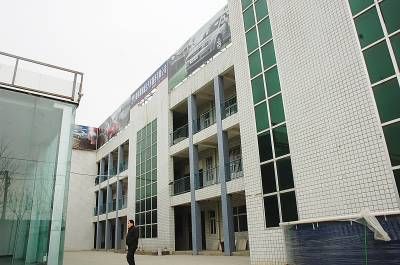 the Figure: Shaw Primary School three-classroom building has become Shaanxi Wei Nan Weida car service company office building (photo) on February 17. Xinhua News Agency reporters Du Hong and Gang She

donation by a Hong Kong philanthropist Sir Run Run Shaw, Shaanxi Weinan City Department of Transportation, Weinan Hi-tech Zone Poplar offices zhaocun village committee co-financing of 1.906 million yuan for the construction of the zhaocun Shaw Elementary School, built at the end of 2009. However, in the class, the students only two weeks, the village committee will zhaocun student school is not convenient, there are security issues grounds of the school premises for a period of 10 years, 175 million in rental has been rented to Wei Nan Weida, Shaanxi automobile Services Limited. Shaw Primary School into a car 4S shop, more than 80 pupils were forced to return to school on the 1960s and 1970s to build the tile-roofed house.
Over the years, the villagers have repeatedly petition to reflect that to no avail, on January 21 this year, Weinan High-tech Zone of Utilities Board ordered zhaocun village committee to restore Shaw Primary School "educational purposes, but until the reporter February 17 visited when still no change.
share: welcome the , comment
microblogging Recommended | today microblogging hot