The Jingfu rear-end accident injured more than 30 people seriously injured
the injured in Xuzhou Mercy Hospital treated. Shao Guodong photo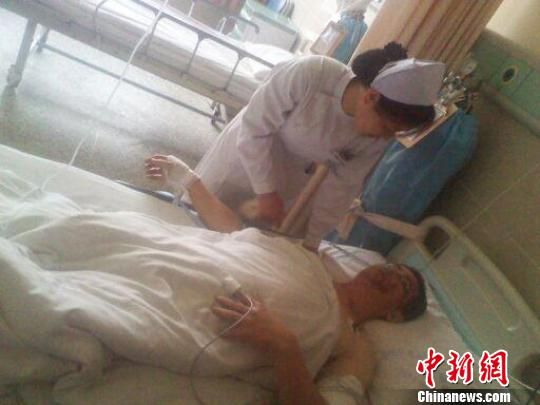 injured, treated at Mercy Hospital in Xuzhou. Shao Guodong photo BEIJING, Xuzhou,

March 17 call (reporter Zhu Zhigeng Shao Guodong) at 7:40 on the 17th to 8 am, the the Jingfu Sulu at the junction of Xuzhou passes through the territory of the collision accidents involving vehicles 60 academic books, accidents, killing at least six people were killed and 30 people were injured, six seriously injured.
17:00 reporters came to the Mercy Hospital of Xuzhou. According to the hospital emergency department, director Yin Wenjun said their hospital this morning, went to two ambulances, because the first one has been to get down, so later also sent a. 9:00 Departure 14:00 to the hospital, sent three of the accident accident injured. One of the minor injuries after a simple dressing have been discharged, the remaining two people in the hospital for treatment.
Zhangzhou, Fujian injured Master Huang complexion looks good, he said, the pickup truck he was riding hit around 8:00 in the morning in front suddenly stopped the vehicle, followed by the back of the car rear-end. His car was five people, injured two people from their own out of the car, the other three were rescued after the fire open vehicle. When reporters tried to take pictures when he put his hand to block his face, he said, "I do not shoot do not shoot me I do not want to see the way I injured my two children, two children, just go to college, I do not want allow them to be distracted. "as he spoke two tears, says he sorry for the family, do not want to let the family worry about him.
reporter severely injured lying on the bed of a pickup truck driver saw the eight wards at the Mercy Hospital Cheong Yee. The nurse Hu Yunjuan reporters that Chen is a bilateral rib fractures, and rapid heart rate, feeling of chest tightness, and the hospital has given him to do a surgical drainage, and now signs were stable. (End)
the share: welcome comments microblogging Recommended | today microblogging hot spots