Anhui Wuhu the Asan town government buildings completed two years were removed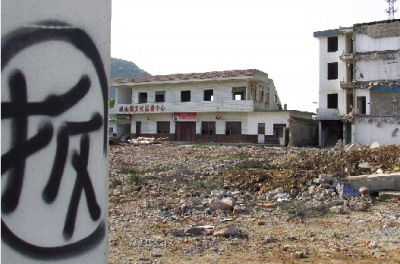 the original Fanchang County, Asan town" government buildings "devastated.

newspaper Changsha information completed in January 2009, the town government office building in September 2011, started working to remove? Broke the news of the well-known friends, "Feng Zhang", caused by users who have the thread screaming "waste".
"Feng Zhang", Fanchang County, Wuhu City, Anhui Province, Asan town government building, completed in 2009, but two years after the removal of the move, called "the most short-lived government buildings. Upload multiple photos, the network posted the first photo was a publicity card, its contents show that the, Asan town government office building, the final acceptance time for the January 10, 2009. The other photos show that the town government office building has marked much of the "demolition", doors, windows and office signs have been removed, casually discarded on the ground. At the entrance to the town government, a prompt card to tell the people to the town government has moved to Phoenix E Mountain Springs King resettlement area in the 500 meters.
friends, "Feng Zhang" told reporters that the new the Asan town government office buildings occupied by public events club for local residents in resettlement areas, causing the discontent of the residents, so the camera to complain about, he chose to release of this online messages.
in order to verify the authenticity of the photo, friends, "Feng Zhang" also contacted the the Asan town mayor Chen policy Mori, "Feng Zhang" was told, due to urban construction needs, so torn up the original floor. Complaints from residents of the resettlement area is not real, the government office building is temporary.
yesterday afternoon, the reporter contacted the the Asan town party secretary Wang Jin standard, Wang said the office building, they have to report back to the county, if the reporters to understand the situation, you can find the county propaganda department.
last night, the reporter also contacted Fanchang County Redon Redon explained that users reflect the situation is not true, the Asan town government built 20 years ago. As for the publicity card shows the "Project Name: Fanchang County Asan town government office" and "final acceptance time: January 10, 2009," Redon said this is an area of ??small ancillary room ", as regards its subsidiary use as well as the size of the room ", He said he did not know.
He also said that now a new district of the the Asan town has been incorporated into the county, the new building is location, the office point of the the Asan town government resettlement area in King Fung E Mountain Springs is not occupied by the people's housing , but the government-built community room as a temporary office transition point. But reporters found that the Asan town government in 2011 once the tender to build the government canteens, address, Fung E Mountain Springs King resettlement area, since it is a temporary office point, why should the construction of the canteen? Redon did not explain. Reporter to Derek
share: welcome to leave a comment I want to comment
> relevant reports:
Hebei gucheng denied wishing to irrigated land planning for the land for government buildings
villagers allegedly as a result of not received subsistence allowances fall death in the township government building official rumor
lovelorn man set fire to government buildings pay talks
arrest
migrant workers to pull the banner in front of government building The former government building in Kunming today successfully blasting demolition (Figure)
Recommend | microblogging microblogging today hot spots