The Hail flood disasters, MINXIAN injured juvenile that would like to go back to school as soon as possible
the nightstand stood nurses to send flowers and his favorite banana. Package Ling Feng said, his wound has been hurt, he wants an early return to school. Guo Songxia photo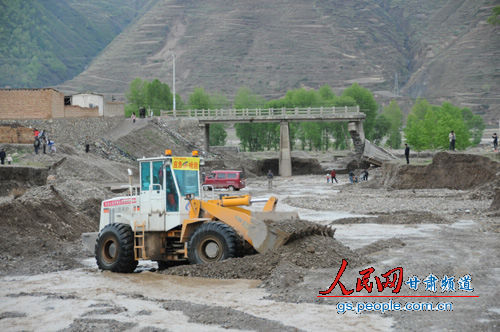 the the distance has been broken bridge the Racecourse ditch bridge, but also package Ling Feng school the only way. May 10, he dropped from above. Guo Songxia photo , May 14 (reporter Guo Songxia)

People Minxian "5.10″ Minxian large hail Debris Flow Disaster in the injured people have been depending on the injury into the township hospitals are or Minxian People's Hospital to receive free treatment, the heaviest injury has been sent to Lanzhou treatment.
13,
interview meichuan town of Shan Tsui Village, the villagers Renfang Qin told us that she is most worried about is the injury of his grandson. Her son and daughter-in-law working in the field, she and her husband take care of a 10-year-old grandson package Lingfeng Ping. On the 10th afternoon, just to catch up with the school's package Ling Feng went to the racecourse ditch bridge bridge was washed away. Package Ling Feng and three people on the bridge fell down. Fall edge of the bridge, he and another student may be washed away, fortunately, the same village Qiao Linchun they pull up and sent to shore in the vicinity of the masses of help.
October 14 at noon, in the of Minxian People's Hospital 4th floor of the injured people for medical treatment area, we saw the package Ling Feng injured in the disaster. Written on the back of the head trauma in the medical records of card on the bedside. The wound has healed, but small Ling Feng still need to infusion to prevent wound infection.
hands wearing a pin, but the small Ling Feng looks very lively. I asked his wound in pain, the place of the hands of an acupuncture treatment in pain, he smiled and shook his head. Take care of his grandfather at the hospital told us that he is very good move, now gone always running around.
Ling Feng said he would like as soon as possible to go back to school, and students together to play.
According to data released by the Minxian related departments on the 14th, the county affected to varying degrees from 28 schools, 211 primary schools, 18 kindergartens, 257 schools, 107 classes of students in 11 schools be closed, after emergency repairs, there are 30 classes in five schools resume classes. Current local is stepping up the construction of the activities of the board, set up tents to fight all the resumption of classes until the 17th.
small Ling Feng desire to be able to achieve earlier.
the
share:
welcome the
, comment
I want to Comments the
micro Bo Recommended | today's microblogging hot
(edit: SN056)