From the south rain will once again be enhanced from Friday
the current round of the process of heavy rainfall, Jiangxi, Hunan, Guangxi and other places of the most violent rain.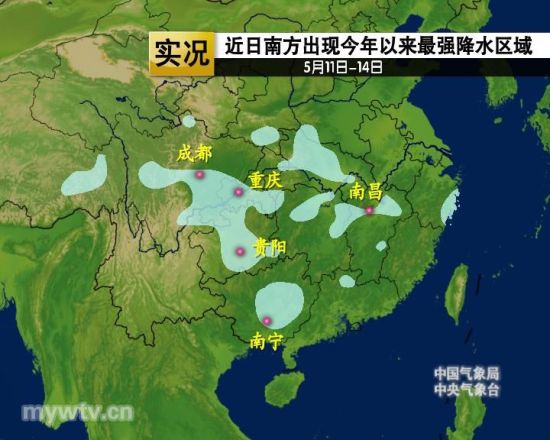 The southern provincial cities this year, the strongest rainfall.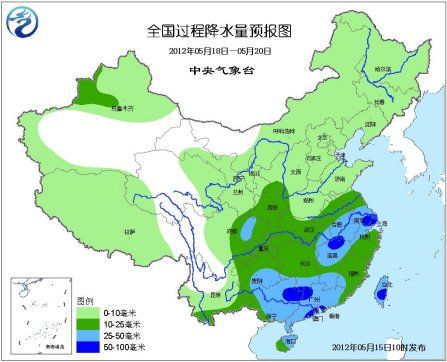 start on the 18th, south of rainfall will once again be increased enhanced. Chinese Meteorological video,

Reuters on the 11th, in southern China of a wide range of heavy rain, this is also the southern region since April this year 9th heavy rainfall process, its strength and range close to this year The strongest April 27 to May 1 torrential rain. (15), the current round of strong rainfall gradually came to an end before rainfall and violent Jiangxi, Hunan, Zhejiang and other places will storm. But from the beginning of the 18th, the rain water of the South will once again increased.
11, 2007, Sichuan, Guizhou, Hubei, Jiangxi, Hunan, Guangxi has suffered heavy rainfall, severe convective weather in many parts of the strongest rainfall this year, the provincial capital level in large cities, in the May 11, Chengdu, Chongqing, Guiyang, ushered in the strongest rainfall this year, Nanchang, Nanning is to usher in this year's maximum rainfall on the 12th. After a rainfall accumulation from 08 15 08 11 in some areas of Hunan, Jiangxi, Fujian, Guangdong, Guangxi and other provinces rainfall in more than 100 mm, which Yuanling cumulative rainfall up to 205 mm, Nanchang cumulative rainfall up to 179 mm.
south of this process has a heavy rainfall affected areas and points of heavy rain, strong local rain, some heavy rain area and the early heavy rainfall areas superimposed repeat the affected features, leading to the South and more disaster-prone According to the National Headquarters of Statistics, the national flood disaster losses in this year, the overall emphasis of the main statistical indicators in addition to too few houses collapsed to almost 60% of the rest of the affected indicators compared with 2000 since the same period the value of the high side 2-8 into.
future three days (15-17), the South most of the weather calmed down, but the Central Meteorological Observatory predicted 18 to 20 days to turn the process of time rains in most areas of China Eastern , the largest rainfall will also appear in the South, northern Jiangxi, northern Zhejiang, southern Jiangsu, Guangdong, Guangxi, Taiwan, rain will be the most violent.
the
share: