Philippines Foreign Minister said that as soon as possible to solve the event of the Huangyan Island
Philippine Foreign deny the visit to the United States to talk about" contain China ". News agency issued Zhangming She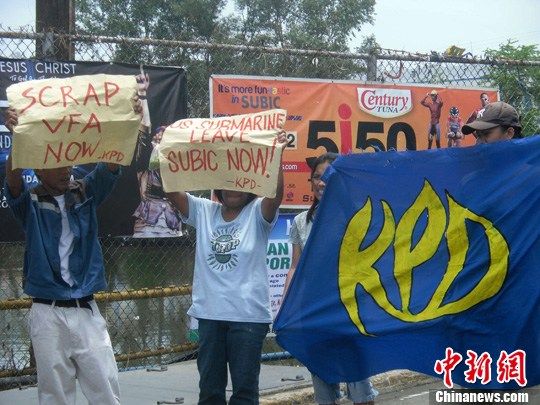 May 16, 2009, civil society organizations in the Philippines National Democratic Movement" (KPD) in front of the Subic Bay Metropolitan Authority held to protest against U.S. nuclear-powered submarines docked in Subic Bay. News agency issued KPD photo

China news agency Manila May 16 (Reporter Zhang Ming) del Rosario, Philippine Foreign Secretary said on the 16th, the Philippines hopes to end soon with China Huangyan Island waters continued confrontation between the two countries in order to restore "normal relations".
del Rosario, the day invited to a forum of the Philippine capital of Metro Manila, Makati City speech. He claimed that the Philippines is willing to Huangyan Island confrontation behind us and look forward to develop a positive relationship with China.
Del Rosario said the Philippine government to believe that through continuous consultations to peacefully resolve the crisis.
del Rosario refused to disclose the progress of negotiations with China, but stressed that for the Philippines and China will eventually be able to find solution to the problem is "optimistic." He also clarified that some so-called "China to the Philippines to impose economic sanctions," reported in the media "not accurate".
Del Rosario, said he went to the U.S. and Philippine Defense Secretary Jia Siming to participate in the Philippine-US "2 +2″ meeting goal is to enhance Philippine-US bilateral strategic partnership to optimize the two alliance between the countries. The talks involve many issues, including national defense and security, economic cooperation and personnel exchanges but did not involve "contain China", "because we believe that prosperity for all is good".
He also touched on relations between the Philippines and China, claiming that China is a long-term partner and neighbor of the Philippines, we benefit from the relationship with China, as China also benefit from the relationship with the Philippines . " (End)
the share: welcome comments microblogging Recommended | today microblogging hot spots