Jiangsu Yancheng multi-car rear-end collision caused 11 dead, more than 30 injuries (Figure)
the scene of the accident. Zhou Xu only photo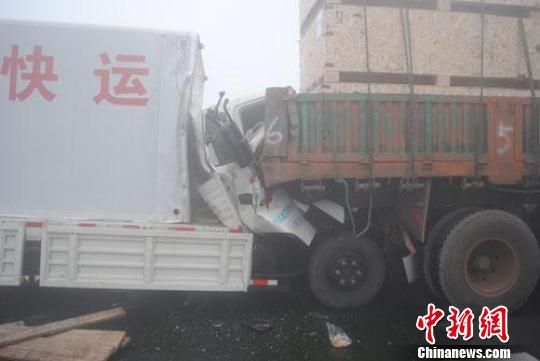 the scene of the accident. Zhou Xu photo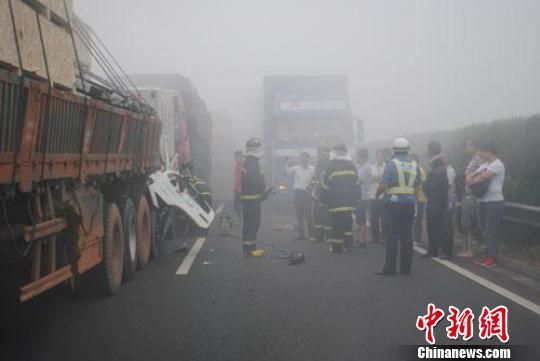 the fire officers and men to save people. Zhou Xu photo

BEIJING, June 3 (in Wen Zhou Xu) the morning of June 3, Yancheng, Jiangsu Yancheng Shenhai within high-speed (G15) high-speed and salt Huai (S18) interoperability near the low visibility due to fog, continuous occurrence of rear-end collision accidents, causing 11 people dead and more than 30 people were injured.
Video: Yancheng, Jiangsu, rear-end accidents caused 11 dead 19 injured

sources, "
June 3 morning from 5:00 to 6:30 hours, Yancheng, Jiangsu Province Economic Development Zone, the territory of Shenhai high-speed (G15) and salt Huai high-speed interoperability (S18) near the fog of sections of visibility less than 10 m, resulting in Shenhai high-speed high-speed direction and salt Huai there were several from the rear-end accidents, causing 11 people dead and 30 wounded. The injured were sent to the Dafeng City People's Hospital, Yancheng, People's Hospital and the First People's Hospital of Yancheng.
morning 9 am, when the reporter arrived at the scene of the accident, I saw many cars collided, a messy scene, the fire brigade is the rescue, came to the medical staff is treating the wounded. According to Mr Chu said that witnessed the scene of the accident, 5:00 8 when his car to the incident, see the previous car after another rear-end, extremely tragic scene, their car because of the speed unhappy stopped at the side. Behind him, a lady just a small car down on the back open to the BMW car, killing the. Because of heavy fog visibility, he could only hear the sound of a bumper crash in the end the number of car rear-end, he can not tell.
learned reporters in Dafeng City People's Hospital, the hospital received a total of 21 people, 16 of whom have varying degrees of injuries in the hospital to receive timely treatment, another five people died.
in Yancheng City People's Hospital, South Campus, by the reporter to understand that, here, admitted 17 injured passengers of a tourist bus on the tour bus, a 26-thirty-four Female tour guides in the accident died on the spot. The Yancheng Third People's Hospital North hospital, two wounded, injured Tang told that their car tourists is the individual of of Yancheng several travel agents and 5:00 this morning in front of the building of the telecommunications company focused on going to Shanghai to participate in the joy Valley day trip, the car a total of thirty to forty people, departure on the road some fog, originally thought that the high-speed road closure, did not expect the high-speed entrance road and there is no closure, but on a high speed a few minutes to an accident. The car also injured in the First People's Hospital of Yancheng treatment. (End)
the share: welcome comments
> relevant reports:
Shenhai high-speed Yancheng paragraph 6 car rear-end collision caused by the road two-way traffic interruption
Beijing-Zhuhai Expressway two tank vehicles rear-end two people were killed in traffic interrupt 7 hours
Shanghai-Kunming expressway car rear-end collision caused three died and more than 10 people hurt
Guizhou highway lorries roll caused by more than 10 cars rear-end 3 dead Beijing-Fuzhou
rear-end accident 30 more than injured six people seriously injured of the seven injury
microblogging Recommended | today microblogging hot (edit: SN056)