Passengers about Wuxi bound for Xiamen bus plunged into a gorge feelings
2012 June 20 Japanese charts: Fujian, the Xiapu a bus plunged into a gorge to death 17 people Xinhua News Agency reporters Qu Zhen and Dong Bianzhi

6 In the early morning of 20 May, firefighters at the scene of an accident rescue.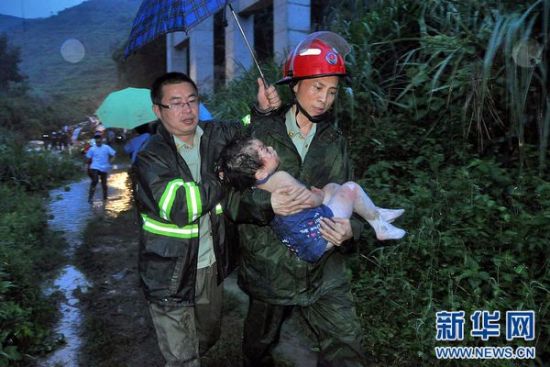 of June 20, rescue workers will of children injured in a car accident moved out of the scene.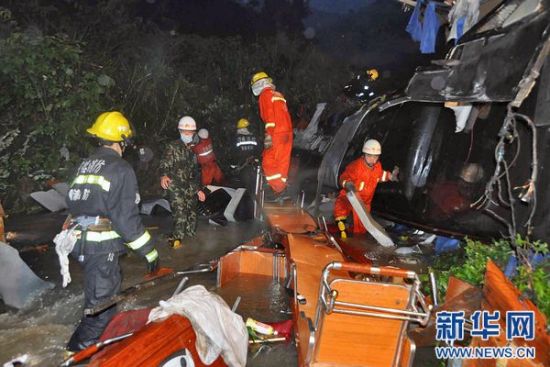 the morning of June 20, firefighters at the scene of an accident rescue.

a loud booming noise in the front of the ground like a big earthquake "
– Shen Hai Expressway the Xiapu paragraph 17 people were killed and the passenger accident scene Muji Ji
Fujian Ningde,
Xinhua, June 20 (reporter Zheng Liang) at 1:50 on June 20 Xu, Shenhai Expressway at 1908 km a bound from Wuxi Xiamen bus turn the Longtou viaduct has been confirmed dead and 17 people were treated injured 28. Immediately after the accident, Xinhua News Agency reporters rushed to the scene of the accident and the injured admitted to hospital.
September 20, the reporter saw at the scene of an accident, rollover bus accident under the viaduct, the front of the ground, body glass, all crushed, the vehicle is completely deformed, the site can also see traces of blood. Border defense, fire officers and police officers at the scene has been cordoned off, the baggage of passengers are properly safeguarded.
scene rescue workers told reporters that the time of the incident is the heavy rain, after the viaduct when a downhill turn sections, vehicle turn from the viaduct parapet, the front of the ground.
10, reporters see in Xiapu County Hospital, the hospital has set up a family reception point, caring for the wounded work is in progress to carry out, 8 hospitals, a serious fracture patients just underwent surgery. The passengers, including Jiangsu, Henan, Hubei, Sichuan, Fujian Quanzhou persons.
the Quanzhou
survivors Wu love the right, told reporters that the car was double sleeper bus, about 3.5 meters high, on the 19th 15 am starting from Wuxi Fuding, Fujian Province, at 0:30 on the 20th stop for half an hour, when to start again.
Wu love the right to say: "when the accident occurred, I still in the sleeping and waking in a sudden feeling of falling from a height, the car has a few seconds between the ground, a loud booming noise in the front of the ground, like a major earthquake, the car all window glass break anymore. "
Wu love the right seat is the underlying Central, Miss love the right subject only to a minor injuries, rib fractures, he told reporters after the vehicle fell to the ground, he struggled to climb in from the broken windows out when the next heavy rain, three passengers climbed out of the vehicle with him. They quickly called the police, rescue workers immediately rushed to the scene.
reporter learned that, at present, Fujian Province, the relevant government departments at all levels is fully treat the wounded, and properly dispose of follow-up accident.
welcome to comment on the comment I want to
share:
microblogging Recommended | today microblogging hot spots