Liu Jianchao said the visit of President should be invited to the Philippines, the wisdom to maintain peace
Pictured attended the party in the Philippines Chinese Ambassador Liu's speech. BEIJING send correspondents Zhangming She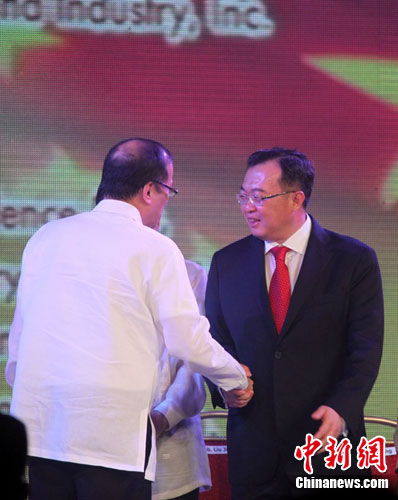 photo shows Philippine President Corazon Aquino attended the party in the Philippines and China, Ambassador Liu shake hands at the party scene. BEIJING send correspondents Zhangming She

China news agency, Manila, June 11 (Reporter Zhang Ming) – 11 Chinese Ambassador to the Philippines Liu Jianchao here on the evening when the Chinese expression for Philippine President Corazon Aquino Government and the people look forward to their visit to China, "Chien grandson home village looking forward to it."
the day of the Philippine Federation of Chinese businessmen held a grand evening party to celebrate the 113 anniversary of Philippine Independence Day, the Philippines, the 150th anniversary of Dr. Sun Ming Festival Rizal, the Philippines established diplomatic relations 36 and the Tenth Anniversary of friendship between the Philippines and Japan. Philippine President Corazon Aquino in the Philippines and China, Ambassador Liu attended the party and delivered a speech. Ambassador Liu Jianchao said in his speech, "Mr. President, we Chinese people will never forget, April 1988, the late Philippine President Corazon Aquino (the current President Aquino's mother) to Fujian, China Xungenwenzu in a Hongjian small village called Village, villagers said she, 'I was not only President of the Philippines, I am also the daughter of the village Hongjian', today, Mr. President, the village is looking forward to it Hongjian grandson home. "
Liu stressed that in the past year, relations between the Philippines continues to grow, President Aquino met several Chinese officials to visit the Philippines, shows the importance of Sino-Philippine relations. "We are looking forward to His Excellency the President Aquino to visit China, Chinese leaders and people are looking forward to make new friends, a Filipino."
Liu also said China and the Philippines fruitful economic and trade, trade between the Philippines in 2010 to $ 27.7 billion, an increase of 35.1%, China is the Philippines third largest trading partner of China in ASEAN, the Philippines, the sixth largest trading partner. China's investment growth in the Philippines is the fastest in the ASEAN countries, the Philippine government launched public-private partnership projects (PPP) in China road show of concern, the Chinese state-owned and private enterprises have expressed considerable interest. Cultural and personnel exchanges between China and the Philippines are growing rapidly, the first four months of this year, about 70,000 Chinese tourists travel to the Philippines, "Our colleagues in the visa department overtime every day, to go to China, the Philippines, businessmen, students and visitors visas. "
Liu Jianchao said that China and the Philippines in the disputed South China Sea is a fact, sometimes the debate has become "a little emotional." Chinese government and people most want to see, excellent relations between the two countries during the dispute, damage Philippine friendship and brotherhood between the two peoples. China insists on maintaining its sovereignty, committed to a peaceful solution to this problem and maintain regional peace and stability. "Our option is cooperation rather than military means is our common desire for peace, we should be wise, there are ways to maintain peace."
Philippine President Aquino praised the speech development of the Philippines Philippine overseas Chinese have made great contributions, and showed off a Chinese site, "thank you" win full field of applause.
talk about relations between the Philippines, Aquino said, "like all the neighbors, we sometimes have different opinions, but no one can deny that our friendship over the years to benefit the two countries."
Aquino said the Philippines last year, China's direct investment approved by nearly 57 billion pesos more than tripled in 2009. In the first three months, the Philippine exports to China reached $ 1.4 billion, accounting for the Philippines, 11.5% of total foreign exports. The wealth generated by trade with China, the Philippines has been used to help the Philippines improve education, improve health conditions, improved social services. "I assure our trading partners are grateful, I hope they can public-private partnership projects and investments in the Philippines continued to show interest."
Aquino also mentioned in his speech that he has Chinese blood.
welcome comments I want to comment
microblogging Recommended | today microblogging hot (edit: SN014)