Premier Wen to visit Japan to encourage victims to rebuild their homes strong life (Figure)
5 21, Chinese Premier Wen Jiabao in Fukushima, Japan, Agatsuma Sports Complex condolences to the victims Park Stadium shelter. This is a haven for the children Wen Jiabao and cordial exchange. Xinhua News Agency reporters Huang Jing and Wen She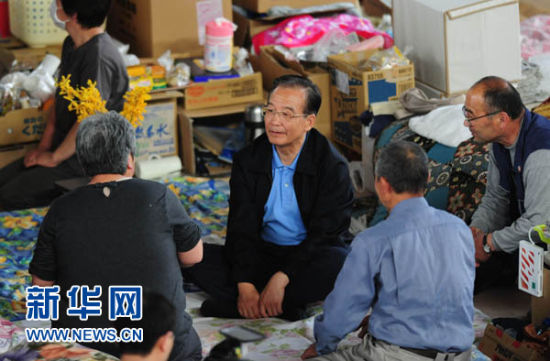 5 21, Chinese Premier Wen Jiabao in Fukushima, Japan, Agatsuma Comprehensive Athletic Park Stadium shelter condolences victims. Xinhua News Agency reporters Ji Chun and Peng She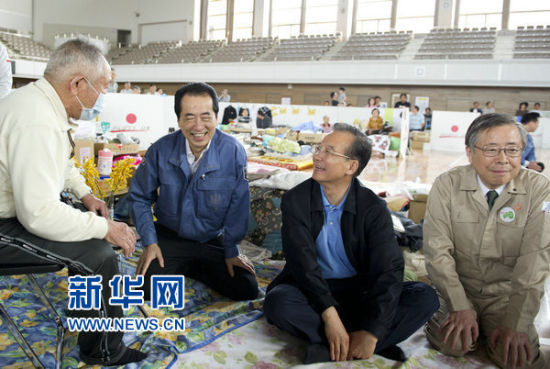 5 21, Chinese Premier Wen Jiabao in Fukushima, Japan, Agatsuma Comprehensive Athletic Park Stadium shelter condolences victims. This is Wen Jiabao, Japanese Prime Minister Naoto Kan (left), accompanied by the affected people to visit shelters. Xinhua News Agency reporters Huang Jing and Wen She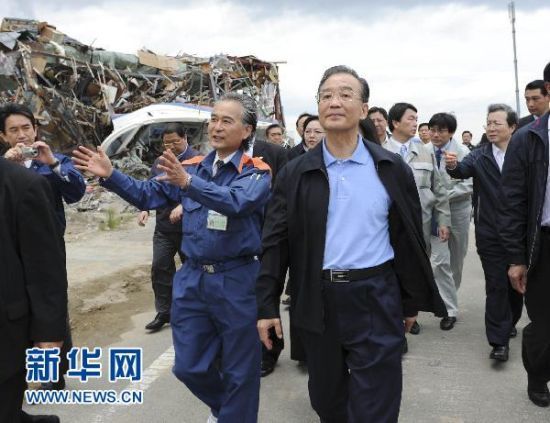 5 21, Chinese Premier Wen Jiabao to Japan to take the big earthquake and tsunami disaster, whose real name condolences. Xinhua News Agency reporters Xie Huan and Chi She

According to Xinhua News Agency yesterday, Premier Wen Jiabao visited Japan, Natori City, Miyagi and Fukushima City, Fukushima Prefecture disaster, on behalf of the Chinese government and people to the disaster area people to express my sincere condolences.
Wen Jiabao arrived in Sendai airport immediately after the ride to Natori City, watching the devastation of the earthquake and tsunami on-site, warm Video: Premier Wen Jiabao visited Japan Fukushima, Miyagi visited the disaster area to explain the purpose of Source: CCTV "News Network" Jiabao, accompanied by a concern to local officials about the disaster. Wen razed site of the fishing association, presented bouquets to the victims. In the "Museum waist Elementary School Gymnasium" shelter the victims and "my wife Comprehensive Athletic Park" shelter the victims, victims of one sat on the floor with Wen Jiabao, chatted, asked about their losses and the current living conditions, expressed deep sympathy for them, encourage them to strong to live and rebuild their homes. Wen Jiabao to Japanese people in shelters donated household items, presented to the children of Sichuan panda plush toys and juvenile production Qianzhi earthquake.
Wen Jiabao to the disaster areas overseas Chinese and students to convey the cordial greetings of the motherland and the people, asked them to take care of themselves, and wish them success in life, peace.
Wen Jiabao delivered a speech on foreign correspondents and answered questions. He said that, I decided to visit Japan, Fukushima and Miyagi people, to directly express the Chinese people for the Japanese people's deep sympathy and condolences. Today I have witnessed this serious disaster to the Japanese people the enormous trauma, feeling very heavy. Although the earthquake and tsunami disaster destroyed the people of their homes, but they did not defeat the will and confidence. Believe that the Japanese people will overcome difficulties and rebuild their beautiful homeland.
Wen Jiabao said in natural disasters, is the fate of mankind. China and Japan are neighbors, but also to help each other, help each other and strengthen cooperation. We have not forgotten when a major disaster occurred in China, the Japanese government and people for their strong support. Chinese Government and people of Japan will continue to support relief and reconstruction. The foundation of the Sino-Japanese friendship between the two peoples, I believe that through joint efforts, Sino-Japanese relations will continue to improve and develop, which the two countries and two peoples' fundamental interests, but also conducive to Asia and the world peace and development.
today, Premier Wen Jiabao will attend the fourth meeting in Tokyo, Japan and ROK Summit. In between, Premier Wen will also work with Japanese Prime Minister Naoto Kan, South Korean President Lee Myung-bak hold bilateral talks, Japan and South Korea attended the luncheon and addressed the Business Summit, met with embassy staff, Chinese-funded institutions, overseas Chinese students and representatives.
welcome comments I want to comment
microblogging Recommended | today microblogging hot (edit: SN047)