Hengshan area of ??long-term disorder quarrying has been severely damaged (Photos)
granite blocks discarded lumber, Hengshan being" disfigured. " Ren Lina photo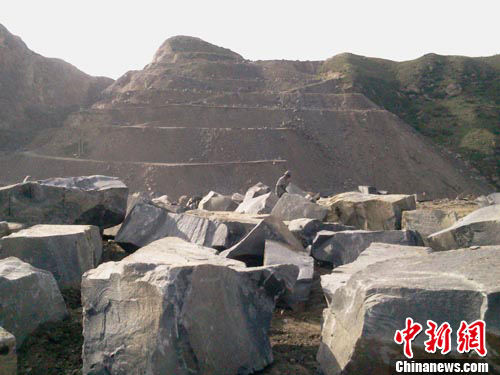 a granite mine workers were cutting stone body, Hengshan mountain area near the left side is damaged, the right of the green grass cover, ecological contrast. Ren Lina photo

Taiyuan, Aug. 13 Xinhua news (reporter Ye Jian) ??Hengshan "disfigured" again! Reporters interviewed recently discovered in Shanxi Hunyuan, due to the long disorder, lack of supervision of ore mined in the county of Hengshan Scenic Area near the mountain, there was greater area of ??the mountain, the phenomenon of environmental degradation. Scenic area surrounded by mountains, there are many to be a large area "disembowelling" shocking form of "white scar."
Beiyue area is "mine" surrounded by
Hengshan, known as the 108 peak, what stretches 150 kilometers across Shanxi and Hebei Provinces, towering standing up , imposing, called Beiyue. Hengshan in Shanxi Hunyuan peak in 1982, Shanxi Hengshan Hengshan Scenic Area in the name of the State Council included the first national scenic area, with scenic wonders of the world within the Monastery and many other attractions.
Recently, the reporter followed Shanxi Environmental Protection Department of the "pollution reduction Shanxi Province News interview team" into hunyuan found, and many other famous scenic spots make great efforts to remediation area and the surrounding environment is different, Hengshan Scenic Area has been "mining" surrounded by its surrounding environment riddled with Beiyue position disproportionate.
Reporters from more than ten minutes by car south of Hunyuan county, will enter the Hengshan Scenic Area, not far across the scenic roads on both sides of parked excavator, dump trucks and other heavy machinery vehicles equipment , including both sides of the road has been drying up the river, you can see ash, cinders, garbage and other waste rock, with "dirty, chaotic, and poor" to describe without exaggeration. And other well-known scenic spots of large goods vehicle access is prohibited in stark contrast, along the way, can often be seen carrying the rock, coal carts sped past, starting with bursts of choking dust.
car and then half an hour before the trip, reporters came to Green Township is Ciyao Shanxi Xin Yue Stone Village Development Co., Ltd. quarry. Here and on the adjacent mountains, large areas of forest vegetation was damaged by stone mountains, instead of only the large and small stones, stone waste dumping anywhere, with vegetation intact, the surrounding scenic mountains, forming a very sad contrast.
around Hengshan Scenic Area of ??the mountain, a similar "white scar" not unusual. The edge of the Hengshan Scenic Area, the reporter saw three coal mine being developed to Hengshan opened a new "edge." Stripping damage to the mountain of debris, the accumulation of earth cover of vegetation, in the original ecology of the green mountains piled up a mountain of soil, the formation of ecological destruction and environmental pollution.
predatory exploitation of ecological damage
Hengshan "disfigured" the source of profit-driven – Hengshan not only outstanding scenery, but also has rich deposits of coal, flowers Stone and other resources. Especially the "Shanxi black" type of high-grade granite stone, the highest price per square meter can be sold for five or six thousand. Stone mining mining and processing enterprises, will be granite products are exported to Japan, Korea and other places to make tombstones.
Hunyuan granite, said Wang Feng, deputy director of management committee in 1994, Xin Yue Stone hunyuan since the introduction of reform and opening up as the first investment project, and began "Shanxi Black," the mining, after the stone mining company was developed to 23, due to years of exploitation, of which 12 companies no longer recoverable resources, the current remaining 11 companies, including Xin Yue stone there, including three companies were in the normal production.
Shanxi Environmental Protection Department that the Hengshan "Shanxi black" granite mining is an extensive, chaotic, predatory exploitation of way, and in the stone mining without planning, leading to exploitation of arbitrary , resulting in waste of resources. Business and government has no plans in ecological restoration, more than ten years, and only continue mining, but not ecological restoration. Especially the large number of abandoned blocks of cluttered, but also damage the ecological environment as the culprit. It is understood that less than 0.1 square meters of small blocks is generally regarded as waste rock handling, according to estimates, a single channel is being abandoned mining blocks to reach an annual output of 20,000 cubic meters.
ecological protection should establish a "large area" concept
Hunyuan County Health Xiaojian, deputy head of Guopu Yue, who told reporters that the muddy Xinyuan is a national poor counties in recent years, driven by a strong desire for development in the process of economic development has left a series of historical issues such as ecological destruction, the new county government will learn in the future work, we must enhance resource development and management of the mine to be effective protection and rational utilization of active ecological restoration, strengthening environmental protection, both gold and silver mines, but also lies to.
Xiao Kang Jian said: "We should be aware, every inch of land belong to Hengshan Hengshan area, Hunyuan mine will soon come up with a set of ecological restoration implementation, active ecological restoration Hengshan."
Education Center of Shanxi Environmental Protection Bureau Director Li Jingping said, Hengshan, "disfigured", there is lack of scientific Hengshan ore mining development planning, environmental regulation in place of reasons, simply because of the lack of eco-sociological thinking, as long as development projects Hengshan area not designated "red line" could be developed within the building. As everyone knows, from a social sense, "Hengshan area" and "Hengshan area" is an ecosystem, the region's ecological damage, ecological damage is scenic.
Shanxi Academy of Social Sciences researcher Tan Kejian that the "Hengshan disfigured event" worthy of reflection, in the current tide of development, how to balance the relatively backward areas of economic development and environmental protection. Currently, the development of a strong desire in many parts of the Midwest, and facing the eastern region to undertake the transfer of industries, it is easy to blindly high pollution, high energy consumption enterprises. The fact is the considered environmental accounts, economic accounts, or, at the expense of environmental and ecological cost of development and construction projects, are not worth the candle.
welcome comments I want to comment
microblogging Recommended | today microblogging hot (edit: SN013)