Shenyang hundreds of police holding assault rifles surrounded the search fake steel (Figure)
fake brand name used by steel mills

fraud steel production steel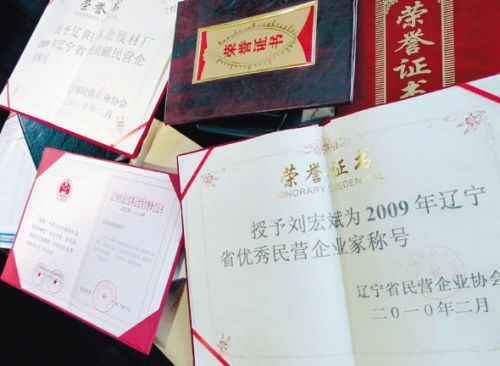 director has received numerous awards honor plus body

director of the Office of the possession of shotguns

Shen fake out one hundred police raided Liaoyang Steel, shocking results
1 shock:
fraud mills with annual sales of up to several hundred million dollars
2 shock:
director has received numerous awards honor plus body
3 shock:
director of the Office of the suspected bodyguards, and possession of shotguns
shotgun, bullets, Mercedes-Benz, BMW, bodyguards, bouncers … … the image of the film in the underworld, appeared together at this moment, in an annual sales of up to several hundred million dollars in steel, in a province of outstanding private entrepreneurs around.
4 January, more than 100 Shenyang police carry out an emergency mini-machine guns, surrounded the Liaoyang a steel! Anti? Pursuit? Not is, is fake! "Fraud, even arrogant than even the underworld!"
track: Shenyang fake steel source in Liaoyang
Not long ago, Mr. Lee eager to purchase number of rebar for Gailou, friends said to him, Shenyang is not only home to steel plants of good quality steel, and the price is lower than the market price of 500-700 dollars. Mr. Lee was very pleased, but also a little suspicious, and then contact the manufacturers in Tonghua, sent to the group of steel manufacturers to check. After sampling re-examination concluded that this is a group of counterfeit rebar, Lee immediately to the Shenyang Patrol Detachment report.
After many days of investigation police, smashed the sale of counterfeit and shoddy steel dens, police collected 10,000 tons of steel, worth $ 40 million. However, the investigation of a steel plant which is to the total elimination of counterfeit steel in the market to happen? Selling fake products account for their inferior steel are purchased from Liaoyang, chasing its source should be Liaoyang inferior unbranded steel production of small manufacturers. Although this does not belong to the jurisdiction of the police in Shenyang, Shenyang fake but departments have been closely watching.
4 1, at, one from Shenyang, Liaoyang bound trucks were stopped by police in Shenyang, and upon inspection, the vehicle 50 tons of steel rebar is all fake, origin in Liaoyang!
action: Shen hundreds of police armed raid steel
"dig deep in the end, we must find the source of fraud!" Day of 0900, Shenyang Public Security Bureau deputy director Ren Zhangke Patrol Detachment, led more than 100 police, armed with assault rifles rushed to the micro-Liaoyang, in cooperation with local police, the alleged fraud of Liaoyang County, northeast of steel wire rod plant and the full limited liability company surrounded by HSBC.
wire factory in the northeast, the police seized a large number of Fushun New Steel Co. Ltd. and Tonghua Iron and Steel Co., Ltd. identity, including playing cards, cards, and some steel product quality certificates. "Why are Fushun Liaoyang Steel and Tonghua Steel's trademark?"
factory gate, full of steel was about to start a large truck was stopped by police, touched, or warming up. "This is our factory is of steel produced, using trademarks of Fushun steel." Driver reluctantly tell the truth. After investigation, the Northeast steel wire rod plant and the full abundance of counterfeit Fushun New Steel Plant, Tonghua Iron and Steel Company's trademarks, mass production of inferior steel, "a day of production, sales reached one thousand tons!"
Police detained the spot more than 3000 tons of steel, and arrested more than 30 suspected counterfeiters.
analysis: low-grade steel is the chief culprit in the building collapse bridge collapse
recent times, all over the country building collapse, bridge collapse incident occasional social bad influence, reason, fake steel is one important reason. According to the account of counterfeiters, the two major steel production more than 18mm of steel, mostly for making load-bearing walls, foundations.
Fushun New Steel Co., Ltd. Sales Director Zhang introduction: "This is the production of two large steel mill fraud, the quality does not meet national standards, they copy us steel rebar with F-header , is not easy to distinguish from the appearance point of view, but the lighter weight, and now the Northeast Feng Steel Wire Plant and full limited liability company used the iron plate has been disabled, others in order to prevent counterfeiting we have for a new sign in our factory These signs show the lot number on the computer are archived on our regular rebar within the national standard deviation of 4%, counterfeit large deviations. This act fake steel infrastructure of the country great harm. "
Shenyang Patrol Detachment, deputy director Zhang said: "According to regulations, many sites must be steel construction with state-owned enterprises, more expensive, so some criminals to buy counterfeit steel construction of buildings, cost-profiteering."
investigation: fraud steel up to several million dollars annual turnover
According to the police investigation, the Northeast and full-Feng Steel Wire Plant annual production of each limited liability company 20 million tons, annual sales were billions of dollars. "They are recycling steel scrap processing and then refining, then counterfeit brand-name sales. One ton costs about 4,500 yuan, profit of 700 -800 million, is eight times the regular factory! Sale of one thousand tons of steel a day basis, one day a steel net profit reached 30 million. "
annual sales of up to several hundred million dollars, how many years they really fraud? Police stress: number of years and the total amount of fraud is the focus of next track.
broke the news: the director was a province of outstanding private entrepreneurs
wire factory in Liaoyang County, northeast office director of LIU Hong-bin, to a police search support shotgun and 300 rounds of ammunition binoculars. Law enforcement and police reporter in the interview, several Mercedes-Benz, BMW cars parked to the factory door after another, some look like the brawny bodyguards kept asking: "Editor's Note? What are the news media?" Although dispersed by police, These people hiding far refused to leave.
director Bin Liu's office has a stack of Honors: 2005 Outstanding Private Entrepreneur, Liaoning Province, Liaoning Province, 2010, outstanding private entrepreneurs, large 2010 tax glorious, excellent credit units. This award honors a person, not like how a marginal with the crime. "Bin Liu a life of crime, motivated and regulatory control is the main reason!" A police said.
Currently, police are hunting director Bin Liu.
Cui Ping, chief reporter intern elegant
King of the overall total of three photography. 9 1 2 3
(Shenyang Evening News)