The romantic Tanabata 99 pairs of couples nationwide Dali Love (Photos)
"Peacock playing in the water," the dancers dance in the water

" butterfly "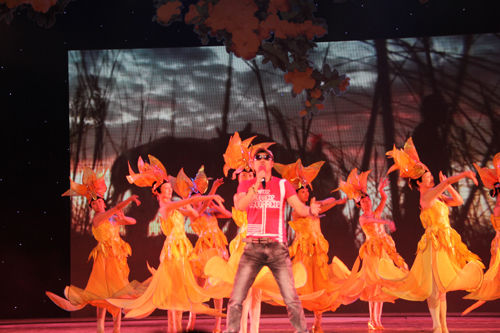 Spring Thunder "Flowers fragrant"

dance poetry performances" vine wrapped around the tree "

romantic Tanabata sing love
" auspicious Chinese Festival "First China (Dali) love song festival in staged
99 couples across the country Love Dali
newspaper (Taiwan) News: "fiber cloud get clever, meteor mass hate, silverside span secretly. Jinfeng Yu Lu a meet, they won numerous world …" along with the famous Jian-Hua Ding's voice actor reading, dancing, "Magpie Fairies" opened "peaceful China Festival" in the second quarter Tanabata events – "BES cellar. First China (Dali) Love Song Festival, "the prelude.
Tanabata night of this year's National 99 pairs of couples together romantic city of marble, has a touching love story in the Hudiequanbian, looked up at Vega Galaxy meet, gently touching down to listen to folk songs. The China (Dali) love songs from the Hunan Radio and Television Festival BES wine cellar hand held, following the Qingming Festival charter flights to Beijing after the memory of Chairman Mao, "auspicious Chinese Festival" this year, another large-scale activities.
Tanabata night, love songs fluttering.
"fragrant flowers", "Hudiequanbian", "Mei singing folk songs like", "pounding the rock on the new Bang Bang" … singer Jubilee, Ji Minjia woolen hand Band, Lee Chee Yong Wang and other folk songs sing Hudiequanbian, singing love songs; childhood lost arms, for love and regain the courage of Changsha guy Liu life to his personal experience and soulful singing, praising the true meaning of love, moved the audience shed tears skirt.
Tanabata night, deep affection.
participation of 99 of the couple by Sina and Hunan, Guangxi, seven radio application, after "say you love," "Love Song of a Kind," "singing love songs to Dali, "and many other aspects of competition, couples from all over seven thousand pairs stand out. Dong Liu and Deng Xiaoli just married this year, the completion of their life to Dali's most precious honeymoon. Husband and wife said that in addition to Dali's trip to witness two of the love, the parents also carries a more profound expectations and concerns. Deng Deng father and mother married for 26 years, has been profound feelings. Deng Xiaoli said that it was her parents' church, the ordinary love is the greatest.
Xu Liu Qinghe purple is the most fortunate of a couple. Love songs they get to participate in the first section 99 places. To seize this opportunity, Liu Dali Purple Rain came specifically to leave.
the event, accompanied by essays of famous love poems poet Yu Jian, the film, "five" in the existing one, nearly 8 years old the artist Tan Yao late in the active site of the new witnesses, their testimony love.
Hunan Radio and Television since 2010, the Dragon Boat Festival, the planned launch of the "auspicious Chinese Festival" series of large events, traditional festivals by copying and reproduction of ancient customs, to show the world China's seven traditional festival culture, rehabilitation and revitalization of traditional Chinese civilization.
love songs in the festival, activities initiated by the side once again apply for world intangible cultural heritage Tanabata million people signed the Declaration of action.
welcome comments I want to comment
microblogging Recommended | today microblogging hot (edit: SN044)