Sichuan Jianyang burst charge 15 million people without water supply 10 hours
engineers repair the pipeline.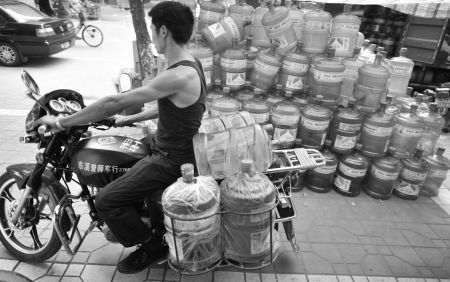 hydrotechnic kept bottled water for customers.

West China City Daily reporter Wang photography intern Song Min Yang Tao
● 7 o'clock yesterday morning, too, Jianyang a diameter of 630 mm of water damaged the main water pipe burst , leading to the city without water Jianyang city, 15 million people affected by water
● After the incident, residents line up to the wellhead water, city does not appear the phenomenon of buying mineral water, after 10 hours repair, yesterday 17:00 30 minutes to restore the water supply
● main pipe burst due to corrosion of aging, coupled with large trucks rolling road, a 15 investigation and security risks, the main water pipe may burst again
7 o'clock yesterday morning, Jianyang stone section of Highway landslide, buried beneath a diameter of 630 mm of water damaged the main water pipe burst.
because the water pipe is connected to city water plant and the only one of the main pipe, burst lead Jianyang city after the city without water, water for 150,000 people affected.
yesterday around 17:30, burst water pipe repair, the city in the water more than 10 hours after the water supply.
without water [7]
15 million people, "shouted thirsty" Furui play a big role in
7 o'clock yesterday morning, too, in Jianyang City, Ms. Jin Furui Street open a restaurant that did not tap water, and to inquire about a neighbor's house and found both without water. "Without water a business supposed to?" Until 10:00 had been no runoff. She also find out from others that turned out to be the main water pipe burst, the city is without water.
Jianyang city of about 150,000 residents, the main water pipe burst, the entire city without water, water for 150,000 residents have become a problem, but the city retains 10 to wells, many residents is a pail of water into the well water. Reporters interviewed found the city without water after the city does not appear the case of buying mineral water, residents are waiting for water pipe repairs completed as soon as possible.
point of sale in front of a bottled mineral water, mineral water piled up nearly empty barrel, "Today the phone has been non-stop, all so quickly and bottled water." Store of the person in charge of Miss Tan said, They normally get 100 barrels of water a day, and to 4 pm yesterday, they have sent almost 160 barrels of water.
"Fortunately, there are mouth Furui, drinking water no problem." Located in a residential building near South Street, four residents is home to the well for water. Her mother is carrying water, Xie said that due to hot weather, bathing on a problem.
emergency repairs] [
17 点 半 landslide debris runoff pipe burst
yesterday afternoon, the WCC reporter rushed to the main water pipe burst. Water next to the side of the road, not far from Tuojiang. This main pipe is located beneath the sidewalk side of the road, but because of Jianyang days of heavy rain, leading to loosening of roadside debris, the occurrence of the landslide. All earth and rock collapsed into the river, resulting in more than 10 meters of water all the exposed, hanging in the air. Reporters saw four workers are to repair the burst water pipe at the weld.
According to a construction site personnel, about 7 o'clock in the morning, because this side of the road debris of a large landslide, water pipes buried in the bottom of the shift occurs, and the emergence of a 2 cm wide gap So Jianyang the water supply is affected.
water company immediately sent staff on-site emergency repair, 4 pm, repair work is nearing completion.
under repair program, they first want to restore the main water pipe in situ, and then burst pipe welding is good, after 10 hours of repair, welding pipe basically good, 17:30 restore the water supply at around.
[Focus] 20-year-old water main "old"
corrosion problems of aging and more
August 2010, Jianyang washed out because of debris in charge of water, leading to the city without water. And yesterday the paragraph again, a similar situation, in the end is why?
"Last year, the location of debris flow also destroyed the main water pipe nearby." Jianyang Dragon Water Co., the responsible person, said Liu Wei Zhang, Tuo River near the edge of the incident point, just burst point is a row Hong mouth, mountain water from here into the Tuo River, due to heavy rains in recent days, the roadside debris are loose, and it came with a landslide.
Although this repair work is almost complete, but still very worried about Liu Wei Zhang mind a similar situation, because the local water plant and the main city on this one between the main pipe, basically along the road side of the road, which is 1991 years buried under water, has 20 years, many parts of the aging corrosion. Over the years, gradually built a road side gas station, auto repair factory, often from large trucks rolling over, he was very worried about burst water pipes under pressure again. Some time ago, they conducted a roadside investigation the main water pipes, found 15 safety problems, these areas may burst at any time.
now, they have these departments report to the Jianyang, hoping to solve this problem.
welcome comments I want to comment
microblogging Recommended | hot today microblogging