Affected by typhoons along the coast of Guangdong and Guangxi will have heavy rain
"Wei Vincent "the next 24 hours, the path forecast map

24 hours, the South China Sea, most to be windy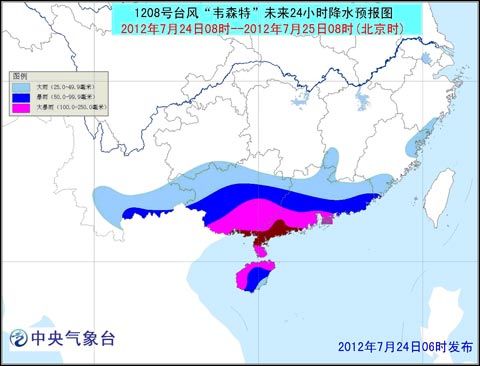 Guangdong and Guangxi coastal heavy rain

China Weather News Central Meteorological Station on the 24th to continue to publish a typhoon orange warning: this year Typhoon Vicente center on the 8th was 04 July 24 when 15 minutes before and after the, Chek Town, Taishan City, Guangdong Province, coastal landing, the landing when the wind near the center 13 (40 m/sec), the lowest center pressure of 955 hPa. 05 Vicente center is located in Taishan City, Guangdong Province, territory, is 22.0 degrees north latitude, 112.8 degrees east longitude, the wind near the center there are 13 (40 m/sec).
expected, Vicente will be 20 kilometers per hour speed north west direction, the intensity gradually weakened through the southern Guangdong, on the afternoon of the 24th into the eastern Guangxi.
by "Vicente" and the combined effect of the southwest monsoon, on the 24th from 08 am to 08 pm on the 25th, northern and central South China Sea, western Guangdong coast, northern Bay 7-9 winds. up to 10-13 parts of the ocean or regional wind gusts of up to 14, the southern South China Sea, the Qiongzhou Strait, along the coast of Hainan, Guangxi coastal 6-8 winds, gusts up to 9-10; Guangdong, Guangxi, most Hainan, southern Yunnan, Fujian, eastern and other places with heavy rain in parts of southern Guangdong, southern Guangxi, Hainan northern and western to the heavy rain, heavy rain, Guangdong southwest of the Ministry of coastal, southern Guangxi coastal areas of the local area (250-300 mm).
defense guide:
accordance with the responsibilities of government and relevant departments to do the anti-typhoon rescue and emergency work;
related waters water operations and passing vessels should be back to harbor, reinforcement of port facilities, to prevent the ship to go the anchors, groundings and collisions;
3. relevant areas should be noted that to prevent the heavy rainfall could trigger flash floods and geological disasters.
4 to stop the indoor and outdoor large-scale assembly and high-altitude outdoor dangerous operations;
5. Reinforced or dismantled easily wind structures, personnel should not be free to go out as far as possible stay in the wind a safe place, to ensure that children and senior citizens to stay at home the safest place, dangerous timely transfer. Wind when the typhoon center after reduced or static for some time, remember that strong winds will suddenly hit should remain sheltered in a safe place, dilapidated buildings timely transfer.
> reports:
typhoon Vicente has landed in the red Town, Taishan City, Guangdong Province,
typhoon warning: "Wei Vincent "to bring wind rain landing
China Meteorological Administration, the first time this year to launch the Typhoon two emergency response
" Vicente "or will become this year to our shores the strongest in Guangdong Typhoon
rainstorm passage of suspended Guangdong, Hainan Qiongzhou Strait Rail trains adjustment
share:/span>