Beijing announced the first day of PM2.5 monitoring data is far lower than the WHO standards
Beijing Environmental Protection Monitoring Center staff to adjust PM2.5 monitoring equipment (January 7 photo). Xinhua News Agency issued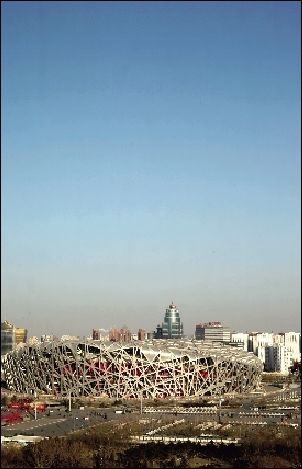 weather yesterday. The reporter yellow radium photo

(Reporter Wang Shuo) yesterday, Municipal Environmental Protection Monitoring Center website monitoring hour PM2.5 concentration of research data. The day quite a force northerly winds, so that a substantial improvement in diffusion conditions, the concentration of pollutants are declining. Reporters found that statistical data from the night before 9 am to 8 pm last night, "Chegongzhuang station" PM2.5 24-hour average concentration of 13.375 μg/m, below is the revised new "ambient air quality standards" PM2.5 standard 24-hour average concentration of 75 micrograms/cubic meter, the third phase is also lower than the WHO guidance of 24-hour average concentration value of 37.5 micrograms/cubic meter.
PM2.5 can be called excellent
8 pm yesterday, the reporter login Municipal Environmental Monitoring Center's air-quality official website to see real-time platform, "the city's air Quality "column has increased" PM2.5 monitoring research ", click to see after the research PM2.5 monitoring data.
data from environmental monitoring Chegongzhuang West of the city center, yesterday Chegongzhuang hour monitoring of PM2.5 in the highest concentration of 7.00 am to 40 micrograms/cubic meter, 9 concentration to 3 micrograms/cubic meter, after the concentration has been in the 15 micrograms/cubic meter hovering.
"sustained northerly winds to make a substantial improvement in Beijing's proliferation conditions, the concentration of pollutants are declining, 20 0900 at 8:00 on the 21st, PM10 pollution index of 13, reaching a excellent, PM2.5 associated with high, although the national standards have not yet introduced, but this concentration must be in excellent level. "Municipal Environmental Protection Monitoring Center, said Zhao Yue, deputy director, PM10 includes PM2.5, the two basic relationship is about half and half.
mean the sun 24 hours
"a few days before haze pollution, is now much improved, pollution index dropped significantly, which is the public can feel , and so a lot of fireworks at New Year and then look at PM2.5 index, you can find, in addition to fog, haze and other adverse weather conditions, human factors is how to increase the concentration of PM2.5 change. "Zhao Yue, said, In order to facilitate public understanding of, and will announce the 24-hour PM2.5 daily average, to be released national standards, then the concentration is given in accordance with the evaluation criteria.
the ministry Web site shows that, from the day before 12 noon to 12 noon yesterday, the Beijing air pollution index (API) is only 21, the air quality "excellent" in 113 key environmental protection cities ranking the fourth.
■ Micro-Review
dader: ah, today announced the beginning. Recently been in the planning, selection of good time, these two days have been windy. Can be considered to open the door guitar!
BadiShe: meaning is not monitoring and publishing data, but rather how to improve the environmental pollution.
one thousand eight hundred and twelve: looking forward to New Year's Eve when the clock struck zero the PM2.5 + PM10 readings.
■ Watch
Beijing to accelerate tackling PM2.5
since October last year, Beijing and other City spate of smog days, PM2.5 quickly "popular", more and more voices calling for the culprit haze into the national standard mandatory monitoring of PM2.5.
In this case, November 16, Ministry of Environmental Protection in the "ambient air quality standards" for public comment twice, the first national standard will be included in PM2.5 and PM2.5 annual and the daily average concentration limits were set at 35 micrograms/cubic meter and 75 micrograms/cubic meter, with WHO stage 1 transition the same target.
month later, the Environmental Protection Minister Zhou Shengxian announced the schedule for PM2.5 and ozone monitoring. Beijing, Tianjin, the Yangtze River Delta, Pearl River Delta and other key areas to become a pioneer, the first year are required to carry out monitoring of PM2.5 and ozone.
1 5 March, the Beijing Municipal Environmental Protection Bureau of Beijing PM2.5 monitoring given the three-step plan: New Year's published research PM2.5 monitoring data; after the introduction of new national standards, the first in the 6 conduct a PM2.5 monitoring stations to monitor and publish data; strive to complete before the end of the construction of the city's PM2.5 monitoring sites and publish real-time monitoring data.
Yesterday, the Beijing Environmental Protection Bureau to complete the first step in his commitment to go. Beijing Municipal Environmental Protection Monitoring Center began its official website research for PM2.5 monitoring data.
"Beijing fulfilling its commitment to open up a good head." Public and Environmental Research Center, said Ma Jun, Beijing is the nation's first real-time monitoring data of the research focus of the city.
intrusion haze in the days of suffering, questioning and debate in public the sound, Beijing's air pollution control and had met a new opportunity. Two sessions in Beijing this year, PM2.5 was first written into the government work report, after the meeting, Vice Mayor of peak resolution made eight major PM2.5 sources and responses. In terms of private, more environmental organizations expressed their willingness to work with the Government initiated public saving, pollution should weather.
in Beijing, a PM2.5 on the "crucial" battle has begun.
share: welcome comments I want to comment
microblogging Recommended | today's microblogging hot (edit: SN021)