Children left the village survey: most timid and shy child easily spoiled
10 3, 3-year-old Si-Shuangfeng appearance sitting on a chair in a daze, his parents in Shenzhen work, he is now with the grandmother. Map/reporter Hua Jian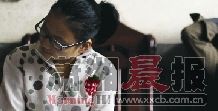 10 3, Shuangfeng Stone Village, home to rear children's father, Li Pei, and National Day speech, and there is not much exchange. Map/reporter Hua Jian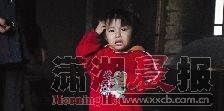 10 3, Shuangfeng Stone Village, 3-year-old Tian came home happy to see the stranger scared to cry. Map/reporter Hua Jian

Yesterday, the reporter went to the town of Stone Loudi Shuangfeng Yongfeng Village – a small dream home, the sky fluttering drizzle, muddy road of the village. The village is also home to many of the same dreams and small children left behind, they are mostly in the age of 10 years of age, some parents only see one side throughout the year. Children living with grandparents, along with grandparents close. Work out the child's parents are worried about security issues and education issues, they called on the government to run the nearest nursery, children's education to solve the problem. The following is a reporter visited the Stone Village, the village survey sample of 18 children left behind. Our reporter Liu Shaolong peaks reported
Scene one: that mother clinging to leave immediately thigh
4-year-old Xiao Wenping (nickname Wen Wen) Hutouhunao looks, especially the past two days he was excited, because the National Day holiday Mom and Dad came back from Shenzhen, with his feast. Wen Wen Huang Baiyu grandmother smiling from ear to ear, his face wrinkled like a blooming flower the same. "My son and daughter had gone home, the children especially happy these days." Reporter saw the arrival, Wen Wen Wei Yankui mother quickly got up, ready to pour tea. Go out to see her mother, Wen Wen immediately hugged her mother's thigh, for fear her mother gone. Wen Wen said that each time Mom and Dad away for a long time. At this point, Wei Yankui Yanhong Hong, she said: "Every time a home is the most happy, but unfortunately, when away from home, always so worried, the children let go." Wei Yankui sit down after a busy, Wen Wen climb mother from time to time body like a baby.
Weiyan Kui said, because the grandmother's body is still relatively good, take care of very careful, very at ease. Just busy work every time, like a kid, always blame the tears streaming down. Weiyan Kui said, "I am most worried about is the children's education, Grandma and Grandpa do not know enough to teach children, we sometimes feel regret when a child."
Lens 2: Grandpa legs bad day grandson turn around
heard her mother Li Changhui have to go to Hangzhou, 6-year-old Lee Seong-Ju back of the body, head and body tightly against her mother, his hands touched her mother's face, with the begging tone, said: "Mom, more than a few days and I Hello." At this point, 75-year-old grandfather grandson of Lee West, will hand over the mold. Old people walk, the left leg is bent, and he touched his left leg, said the past few years rheumatism, leg is very flexible, but still outside the house there are many things to do. Said the old man, he still has a very important thing, is to follow grandchildren. Encountered bad weather, the elderly more arduous. He said, "very naughty grandchildren, had no choice but to where he was, I would like to go, for fear the child what happened." Say this, old people smiling, it is certainly hard for him to live, but see old people bored.
Li Changhui use of the National Day holiday back home to visit their children, husband to stay in Hangzhou. She said the children 1 year old, she and her husband go out and do some business, they each take turns to go home, probably about 3 times a year. Speaking of leaving, Li Changhui tears in the eyes round and round, and fear of his son to see, quickly turn around and look the other side.
Lens 3: fried chestnut sister, brother, watching TV
1:00 pm, 13-year-old Wang Qiao's doorstep on the smell for a while deep flavor, the original, Wang Qiao was driving gas stove in the eating fried chestnut, chestnut is now listed on the season. Wang has been the clever 1 m tall, a little hand with a spatula, constantly stirring the pot, the pot of chestnut shell has burst open, exposing the yellow flesh.
Wang Qiao next to the 9-year-old sister, Wang Xiao Long, her eyes fixed straight pot, swallowing saliva. In the living room, his brother Wang Jie is concentrating on looking through the drama "step by step startling." That reporters came in, Wang Qiao expertly fried a few will turn off the gas. Accompanied by the village cadres, said Wang Qiao and her sister, brother, children are left behind, Wang Qiao and Wang Xiao Long is a pro-sisters, Wang Jie is their uncle's son, by almost 70-year-old grandfather with.
Lens 4: want to ask parents, he firmly shook his head
4-year-old Xiao silver division (small teacher division), lying on the table writing, when a reporter asked him how old the little guy immediately out four fingers. See the photographer's camera division division immediately lowered his head, and correspondents no longer speak, despite the reporter how to make her. When a reporter asked the parents want, the division division firmly shook his head.
14-year-old Li Pei, Stone Village is the oldest child left behind, in the county junior high school, brought by the grandmother alone. During the National Day in Changsha working father home to see her. As the perennial home, his father looked very guilty, "because together less, how many children and we have no words." When asked about the parents want? Li Pei answer was simple: do not want to; thought, to call in the past. Encountered dilemma, how to do it? Li Pei said, of course, is to find them to explain, so just fine.
[18 children left behind in a village situation]
A list of left-behind children (by age to the point):
1-3 years old 6
4-6 years old 7
7-10 years old one
10 years old 4
Second, the situation of children left behind
mostly in the 10 years of age, some children are not very good feelings with their parents, dependent grandparents. Character, most timid, more afraid of strangers. As the doting grandparents, children can easily be spoiled, to develop some bad habits; physical condition, developmental considered good, but colds; considered a good growing environment, but children are also risks of accidental injury occurred many, many children near home ponds, old grandparents, many do not know to prevent accidental injuries, did not quite know how to deal with the child's emergency diseases.
three caregivers Survey
care of children left behind are mostly grandparents, average age 50 years, mostly in poor health, with the band worked hard on children, elderly people over the age of 70 3. Basically, these two old people left behind with the children. In addition to old people with children, but also farming. Their educational level is generally not high, mostly primary school education.
four, family economic status
children left home, 90% are built brick house, newer house, a large, but seemed very empty . Two main sources of income, one child left behind parents working outside the money; second left-behind children's grandparents farm work income. According to the survey, the parents of these children left behind, the wages of two people who work, add up to about 4000 a month.
five out of the parents of
young about 30 years old, husband and wife both working outside, mostly in Guangdong, about once a year back, usually three days to give children a call; parents are worried about their children, but no way close at hand, because the income of workers, both total monthly salary of 4,000 yuan, while the side and the high cost of kindergarten a month from 1000 more, and rental conditions are not good, mostly house, is very suitable for the child lives.
six concerns
children left their parents are most worried about is the child's safety, especially in the event of a small thing after a dream. Second concern education, because the child's grandparents, not high level, no special people to education, fear learning can not keep up. Most children left their parents expect the Government to solve these two problems. They do very much agree with the inventoried Shuangfeng normal contact method, which continuously on the left-behind children and empty nesters to contact; also hope the Government can do nearby nursery, because many village primary schools are removed, the children read Kindergarten to go very far, very worried about the safety of children.
to share: welcome comments I want to comment
microblogging Recommended | today microblogging hot (edit: SN056)