Chongqing police seized more than 500 pieces of watch shape bug
candid eavesdropping devices.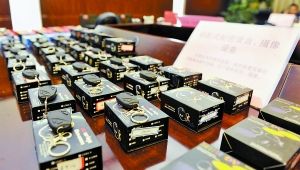 Chongqing police seized candid eavesdropping devices. Correspondent Yangcan Jiang Yong photo

Yesterday, reporter learned from the Municipal Public Security Bureau, the police followed the lead track, he moved to Guangzhou, Shenzhen, cracked a wiretapping illegal sale of stolen equipment according to the case, according to steal seized a large number of tapping special equipment, finished products, semi-criminal detention of 15 suspects.
Chongqing police in Guangzhou, Shenzhen, seized more than 500 pieces of stolen photos eavesdropping equipment
dens to hide manufacturing and selling electronic communications market
illegal eavesdropping, according to act not only against theft legitimate rights and interests of others, but also to national security and constitute a real and potential threats. Last September, the face of the increasing proliferation of eavesdropping equipment theft according to the grim situation, Chongqing police sent out a force of more than 800 people, conducted a massive illegal production and sales of special equipment according to the special eavesdropping work stolen and confiscated a number of illegal market in Chongqing stolen photos of eavesdropping equipment sales.
It captured the suspect confessed, Chongqing local illegal sales related equipment are from Guangzhou, Shenzhen and other electronic communications equipment to the wholesale market.
1 5 March, Chongqing, Shenzhen police task force rushed to investigate, through hard Mo Pai, locked in a large electronic communications market, according to the vicinity of an eavesdropping device processing point of stealing the scene and arrested a suspect character, Chen, Wang.
questioning, the suspect according to the production and sales of eavesdropping equipment stolen confessed to the crime.
daily turned eavesdropping equipment stolen photos
Chongqing police seized the suspect residence, various types of eavesdropping equipment, according to more than 500 pieces of finished, semi-finished more than 400 pieces. Police seized the physical delivery of these technical authorities was identified according to its Department of burglary special spy equipment.
It is understood that appear to be normal watches, pens, car keys, glasses, ties, buttons, chewing gum and other daily necessities, after the suspect with welding machine, screwdriver and special tooling, transformed it with the tapping theft according to function. These devices compact, well-crafted, realistic camouflage, the victim is difficult to distinguish by the naked eye. With the development and application of digital technology, a lot of eavesdropping or secret photographing equipment with built-in chip storage, and even the professional sector are difficult to detect by external effective discovery.
Reporters saw the police seized a large number of Chongqing, eavesdropping or secret photographing equipment. A cursory look, are pens, watches, glasses, car keys, lighters and other daily necessities, look no specific place. After pointing, it was found hidden on the watch dial is a small hole at the bottom there is a lighter hole, shot through these hidden devices, people's every move, a word are unknowingly being, it was a secret video recording.
eavesdropping stolen photos to create "a crisis of confidence"
In recent years, some domestic enterprises and individuals for the pursuit of economic interests, ignoring the state law, illegal production and sale of eavesdropping spy photos, etc. equipment, not only for national security and constitute a real and potential threats, more part of the illegal possession, use of eavesdropping equipment according to eavesdrop on other people talk, according to steal another's privacy, serious violations of the legitimate interests of others, causing interpersonal tension , disrupted the normal order of social administration.
According to police investigators that along with a considerable scientific and technological content, hidden prominent eavesdropping equipment on the market according to the illegal infringement of privacy of ordinary citizens phenomenon is likely to increase.
lawyer pointed out that high-tech eavesdropping equipment according to the appearance, easy to violate trade secrets, personal privacy. Once spread, not only "insecure", it will result in a crisis of confidence, affect social harmony and stability.
Chongqing police official said the police crackdown will continue to maintain high-pressure situation, production and sales of illegal eavesdropping to steal according to the behavior of wielding heavy equipment. Police also reminded the public, production, sale and use of eavesdropping equipment is illegal according to criminal acts, we should be treated rationally, consciously resist, according to safeguard their own interests and national security, do not because of curiosity or for the purpose of causing a large number of illegal wrong.
Chongqing Morning News reporter Du Hai
share: welcome to comment I want to comment
microblogging Recommended | today's hot microblogging