Concrete car hit the motorcycle Sichuan Cangxi fire caused five deaths (Figure)
scene of the accident. Tsang Hin photo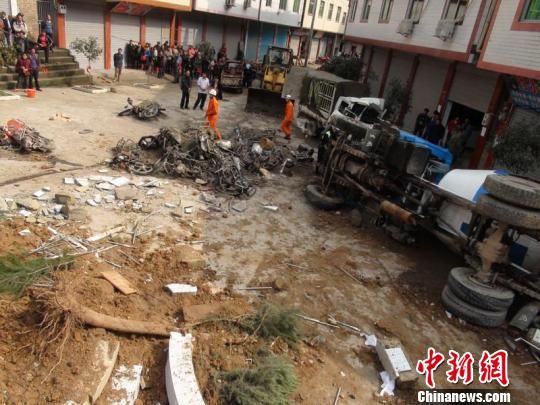 scene of the accident. Tsang Hin photo

BEIJING Cangxi November 5 (by Liu Zhongjun Xuan Cang) at 9:59 on the 5th, Longshan Town, River townships in Sichuan Cangxi road accident and fire, two people known to have died on the spot, rushed to the hospital died during the three people.
correspondent at the scene saw a license plate for the River J04389 concrete mixer truck rollover at the intersection, a light truck has been pushed beyond recognition, the number of vehicles were burnt motorcycle heap together , the air filled with the pungent smell of gasoline. Rushed to the scene of public security personnel have cordoned off the scene, rescue workers are some of the concrete mixer truck roll around with sand cover, to prevent fire re-ignition. Witness surnamed Li, said the site was directly hit a roadside concrete mixer truck motorcycle and the motorcycle hit the fork in the road all the way, also severing the intersection of a pine tree just roll on the ground. After the motorcycle hit a fuel leak, fire, was extremely chaotic, the specific number of casualties is unknown.
Cangxi vice mayor Li River to Township introduced, the fire was more intense, the scene a bit confused, cry cry cry into an accident after the township government quickly organized the evacuation of people around, and rescue trapped workers, also called the large-scale mechanical transport of sand on the fire to cover.
present, remedial work is under way, authorities cause of the accident is under further investigation. (End)
share: welcome comments I want to comment
microblogging Recommended | today's hot microblogging