Consumers II fireboats Dongguan official service cost nearly billion (Chart)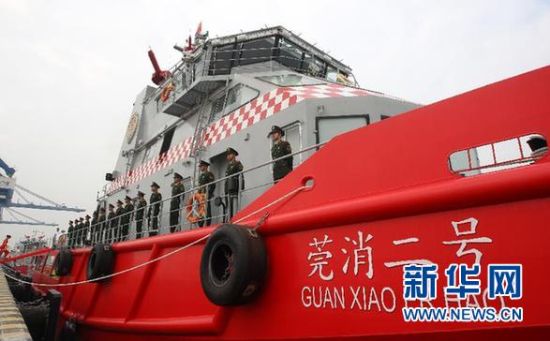 11 月 3 Japan, in Dongguan, Guangdong Humen Port, "Wan eliminate II" ship ready to fire into the water trials.

11 3, Humen Port in Dongguan, Guangdong, fire officers and men watched" Wan consumption II "fire boat water trials. Xinhua News Agency issued

GUANGZHOU November 3 (Reporter Shi Jing M, ZOU) 3 am, nearly $ billion, Asia's largest and most powerful fire boat "Consumers Wan II" in Dongguan Humen Port completed the transfer, the Lions put into service in Western offshore area.
It is reported that the vessel was built in December 2009 started the construction period of 23 months, a total investment of 89.98 million yuan. After the completion of the "Wan consumption II" Fire the total displacement of 850 tons ship, for the FIFI-Ⅱ-class fireboats, mainly for more than 80,000-ton oil tanker fire for design and construction. Ship to ship the ship, length 46 m, width 11 meters, the water clear height of 18 m, draft 3.6 m, five sub-construction, foam can store 60 tons, 90 tons of diesel oil, 60 tons of fresh water, the design speed of 15 The maximum speed 17 and a range of 96 hours, especially hydraulic anti-roll tank set up to enhance the stability of the ship, the ship to sea state 8 (10 typhoons) the ability of normal sailing, the boat the maximum allowable slope up to 30 degrees, greatly increasing the safety of navigation.
Dongguan City Fire Department, according to Deputy Director Chen Peidong, the "consumer Wan II" implementation of water main fire fighting and rescue boats, across the water, sea rescue, diving, emergency towage and other tasks. The vessel is equipped with advanced avionics systems, can achieve an infinite sea travel requirements; bilateral push design, the vessel can turn 360 degrees in situ, such as lateral translation maneuver, easy to quickly move closer to the fire boats; equipped with touch operating system analog control system, a total of three sets of manual control system control system, can be converted to use, sure. Fire system configuration three single-stage centrifugal pump 36,000 liters and 7 remote controlled water cannon, of which a main water cannon out of water, 60,000 liters per minute, with a range of 220 meters. The ship's water supply capacity per hour, more than 10,000 cubic meters. Equipped with two rescue boats and personnel to perform rescue at sea traffic task. The rear of the main deck control set up platform diving rescue, perform 30 m dive search and rescue mission. Fire fighting and rescue at sea a long time for the characteristics of the vessel also has a medical room, can accommodate 40 wounded, and has meeting rooms, command center, war room, rescue platforms to meet the needs of maritime rescue mission.
Guangdong Provincial Public Security Fire Corps captain Leisheng Wu said, "Consumers Wan II" fire boat put into use, will further enhance the sea area to resist the ability of fire and other disasters.
share: welcome comments I want to comment
microblogging Recommended | today's hot microblogging