Guangxi Tengxian call high energy shortage (Photos)
9 19, a hardware Guangxi Tengxian shop proprietress was introduced to the customer generator.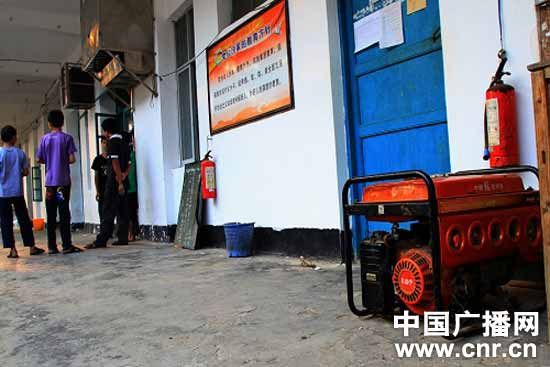 September 19, a township in Guangxi Tengxian front of the office stands a secondary generator.

中广网 Beijing on September 22 news (reporters Wang Xian Zhang Lei Li Nan) Voice of China "News" reported that power outages are common troubles of life, every day, power outage, I am afraid Everyone sort of stand. Power 20 hours every day for two consecutive months or so, so the trouble people really angry. Recently, Guangxi Wuzhou Tengxian people have suffered a power shortage of trouble, since in July and August this year, Tengxian frequently day and night power outage, people's lives have been greatly affected, where did all the power go?
generators, batteries are essential devices
9 mid Tengxian far to fall during the day and the hot, sweltering night, Tengxian people must endure because they are not enough power. A Ramon's public interview, said his family's shop to open the battery step in the town pond, Tengxian suburbs, the house has been owned generators roar door, the hostess comes to power some urgency.
hostess: This morning stop now, stop during the day, stop at night, one day a few hours, certainly not convenient. It to me, I will catch it quickly when the call to cook, or did not have to wait to eat rice.
Reporters: Small store them the different types of generators, batteries, two months, the store's business very well.
hostess: Most local people have it, because the old power, no way.
Tengxian, located in Wuzhou City, Guangxi Zhuang Autonomous Region, July and August this year, since a large area of ??long power outages plague this town Guidong than a million population, the most tense day when the general population only for two hours. Better condition these days, can be used on a day five or six hours of electricity. Tengxian from complaining to gradually calm, after all, in this place, who does not seem to account for cheaper electricity, schools, hospitals, and even the station ticket hall, generators are essential devices.
private hospitals: our own generation.
Reporter: Do you own power ah?
private hospital: Yes, ah, this place is often to stop, especially with more than usual we are generating our operation very much, and certainly if a very large risk of major surgery do not know what danger .
approaching evening, the fourth school to teach the town of Taiping Tengxian Director Tan Jingfeng busy checking the generator.
Tan Jingfeng: If the self-study period, no power to it, it certainly was made.
Reporter: This can guarantee it?
Tan Jingfeng: we can not guarantee that no power of its own staff, the school to buy their own, installment, divided into two semesters or three semesters of payment.
suffering from lack of electricity to local electricity companies suffer
bitter suffering power shortages, we also speculate the reasons for the blackout. Tengxian suburban industrial park not far from the ceramic is Tengxian the fruits of this investment for two years, not the Government gave the electric power business? "New in the Tao" is the largest one, the lobby looks a little magnificent hot and dark, the staff explained that there is no air conditioning, power. Where there is money? Four kilns, is now only one, all the workers to live, wages will send.
four ceramic production line stopped a three, the Government's commitment to a line of electric companies, which have been difficult for business owners think. Previously the company's production base in Foshan, Guangdong, eastern to the western industrial transfer, coupled with Tengxian investment, the company president, according to Field Office Director Chen said that in 2009, they moved here as the selected target.
Chen Zhao-Tian: at that time that power is very rich, or because we have to power over the rich, is certainly no problem, when they predict is not lacking, who did not think the situation. Foshan is also the past tense, but not so nervous.
two months, the pain of lack of electricity, "New Ceramic" has been in and around the yard as overwhelmed, orders huge loss. The ceramic enterprises, all the time in the event of loss, power outages also make the production line has long maintained a huge security risk.
business owners Da-Jiang Sun: wind up bosses loss that is small, afraid of accidents, is now worried that the gas station ah, once the wind up, maybe a gas explosion, very dangerous, which out is a major event, so we are always very tense.
companies complain incessantly, people living in this power shortage is also preventing the miserable, who is the founder of this tragedy? Southwest drought, electricity shortage on the us have not unfamiliar, but in Guidong of this town, the power shortage to the point, or confusing, to continue to listen to the reporter's investigation.
correspondents: whether the power tilt to the enterprise? Tengxian Secretary for Industry and Information Technology Peng Wei Yuan straight to the point.
Peng Wei Yuan: ceramic enterprises up later, we take care of the industrial development inside the city. Has to take care of.
correspondent: the current electricity shortage, the government still emphasize the "livelihood security" of thinking.
Peng Wei Yuan: we take into account the bar, adjusting to ensure the people's livelihood but also, where we are now ceramic enterprises to ensure only one line of production, the swap is probably a little more than ten thousand.
Tengxian power company vice president Luo Zhiming repeatedly emphasized, Tengxian electricity by Southern Power Grid, autonomous regions and the overall lack of electricity, natural Tengxian ration is not enough.
Luo Zhiming: We Guangxi power, for historical reasons, hydropower accounted for a proportion is also high. This year, drought, water shortage this year in particular, Guangxi, Guizhou is also worse than our water, our main large-scale hydropower stations in Guangxi are in the Red River upstream, where the left is from Guizhou, water supply, so this lack of more powerful.
Guangxi once in twenty years experience power shortage
since the summer of this year, Guangxi Zhuang Autonomous Region suffered two decades of a case of power shortage, the region's electricity supply capacity of about 900 million kilowatt hours, while the region's electricity demand more than 13 million, and the gap 4 million. Tengxian power company engineering staff to provide such figures to reporters, the establishment of the Guangxi region nearly a third of the gap, specific to the Teng Xian, under normal circumstances, the county electricity load 14-150000 kwh, a large network to power On average only 30,000, the gap is absolute.
Luo Zhiming: distinguish between the load down to the city, the city has given to us, 60 percent above the gap.
Reporter: electricity shortage, the last time about how long.
Luo Zhiming: There has been continued more than two months.
Reporters: Tengxian as we face power shortage, for example, even in our city of Wuzhou in Guangxi, the be the biggest one?
Luo Zhiming: should be regarded as one of the largest.
Reporter: electricity shortage, the last time about how long.
Luo Zhiming: There has been continued more than two months.
Reporters: Tengxian as we face power shortage, for example, even in our city of Wuzhou in Guangxi, the be the biggest one?
Luo Zhiming: should be regarded as one of the largest.
Why Tengxian quota so little, the power company's voice and credibility Council are in favor of an argument, this and the county's economic level, regional location may be related. Economic development, is the most important goal Guidong town, follow the trend of the eastern industrial transfer, Tengxian to undertake this high-energy stall – ceramics. Power companies said electricity in previous years, a full Tengxian far enough.
Luo Zhiming: Last year, we have to meet peak of 12 million, compared with less than 10,000 this year about it.
Reporter: This power shortage come as a surprise.
Luo Zhiming: Last year, that is not missing.
Reporters: how such a big change in how the year.
Luo Zhiming: very confusing for us last year, basically no load limit, there are indicators of this year.
promote energy-intensive industrial restructuring
Tengxian county leaders have said Tengxian to the smooth growth of three to five years in southern New Pottery. In this regard, the credibility of the Secretary Peng Wei Yuan also said:
Peng Wei Yuan: We guide the direction of economic development will not change. The power is not restricted the development of enterprises, then according to this trend, companies can make their own judgments.
the next two to three years, and if, as autonomous as to judge the power sector, Guangxi, but also electricity, power supply Tengxian there may be a breakthrough? Peng Wei Yuan County Public letter to the Secretary of the answer brief but clear.
Peng Wei Yuan: fundamental solution, this privilege is not us, this should be pinned, in the hope or expect a large network in the weather.
This is undoubtedly a field exams. Han Xiaoping, chief economist of China's energy network in an interview with reporters, said Tengxian example is the case. However, the ongoing industrial restructuring, energy, structural adjustment has also upcoming, high energy consumption enterprises to the western regions, may be more than the challenges facing Guangxi Tengxian, more than water.
Han Xiaoping: even without water, then this region there will be a big problem. They had the power to the main electricity grid through the south to Guangdong, the Guangdong region all these years because electric power supply, so they had to carry out industrial restructuring. In the industrial restructuring process, the first out of those high energy consumption, pollution, and create GDP, weak, weak tax revenue while increasing the number of industries.
considered after these companies moved out of Guangxi, west to enjoy preferential policies from Guangdong are also close, skilled workers can be retained. But the migration itself to increase its own power load in Guangxi, the western region must be good. For those who create weak GDP, energy consumption and more pollution of the environment large companies to move you here, is not enough to give you create value.
to share: welcome comments I want to comment
microblogging Recommended | hot today microblogging