Hang deep line sports car stopped due to heavy rainfall all restored to normal operation
2011 年 9 月 1 morning 6 o'clock, by Typhoon "Nanmadol" continuous heavy rain impact, the line connecting Hangzhou deep line K978 +400 at the left, that is, near the mouth of the tunnel Putian Wanfuting a major mountain range of slide collapsed. Fuzhou and Xiamen station that day were closed for 6 times and 8 times a moving car. After a section of the incident, slower moving vehicles. Workers on site repairs to ensure safety after EMU. (Picture)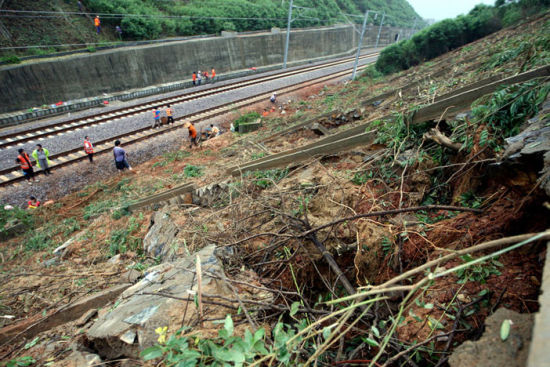 2011 年 9 月 1 morning 6 o'clock, by Typhoon "Nanmadol" continuing heavy rain, the line connecting Hangzhou deep line at K978 +400 the left, that is, near the mouth of the tunnel Putian Wanfuting a major mountain range of slide collapsed. Fuzhou and Xiamen station that day were closed for 6 times and 8 times a moving car. After a section of the incident, slower moving vehicles. (Picture)

Zhongguang Wang Hangzhou, September 2, according to Voice of China "CNR News" reported that, due to heavy rain led to the Hangzhou-Shenzhen line train was parked sports car group today ( 2) all restored to normal operation, the disaster section of EMU speed has been upgraded to 160 km. Details, taken immediately connect Zhejiang Taiwan correspondent Juan.
EMU disaster zone speed has been upgraded to 160 km
anchor: Hang deep line to stop running the sports car set to restore what happened today ?
Reporters: Typhoon "Nanmadol" caused by continuous heavy rainfall yesterday, 6:25, Hangzhou Putian deep lines between the uplink 978 to one thousand Xianyou Mega 400 meters to the left side of the mountain slope slide slump geological disasters occur, Man on the road side ditch water bed, endangering the safe operation of EMU. After the disaster, Nanchang Railway Bureau launched an emergency plan, blocking the line, quickly organized force repairs.
to 9 am yesterday, disaster sites have been restored to normal operation, but for security reasons, when the road speed EMU trains 45 km/hour, yesterday, Fuzhou and Xiamen station also were closed for 7 times and 10 times motor car. Because the speed of only 45 km/h, so it caused some of the opening line of serious train delays, motor car to reach the railway station in Hangzhou South long delays of 3-4 hours.
related to the station immediately launched the emergency plan, additional refund window, passenger comfort feeling. After less than 24 hours of railway workers struggling to repair, to the morning, hang dark line outage of EMU train has been fully restored to normal operation, is now a disaster zone EMU speed has been upgraded to 160 km.
when we can restore 200 km/hour speed is no exact time
anchor: Fuzhou section of EMU when the running speed can be restored to each hours 200 km?
Reporter: As to when to resume this section of 200 km/hour speed, the railway sector, according to the person in charge, although it is EMU trains resumed running, but it will resume operation on edge after slope slide slump continued reinforcement and repair of roads, for the early resumption of EMU 200 km/hour speed, the specific is still no exact time.
welcome comments I want to comment
microblogging Recommended | today microblogging hot (edit: SN009)