In the five-story building in Shanghai's Jingan roof stadium built 1000 square meters
table tennis activities in the bones that white-collar workers who Evening Star reporter Gong edition scene pictures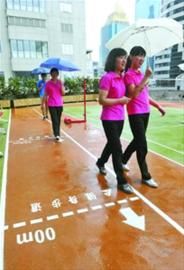 employees walking on the rain in the fitness trail exercise

Evening News correspondent reported the same hole
On Friday, Shanghai is building the first "air stadium" Jiangning Road in Jing'an District, Catic Building, officially opened. Five-story building located on the platform, a 1000 square meters of sports venues in the future will work within the white-collar workers in the building to provide outdoor exercise and fitness environment.
although in recent years, Shanghai is the mass construction of sports facilities have been expanding variety of commercial premises are endless, but for white-collar work in the business district, the working space or want to exercise after work nearby , still feel a bit difficult, high cost of land to find a business district where exercise is not easy. Jing'an find "air stadium" is a new attempt, whether it can be to solve white-collar workers in the business district a good way to fitness difficult it? This reporter had some visits.
survey] [Correspondent
Situation 1: Building work is not the venue
in Jing'an Temple Circle in the work of Ms. Li Xin Building, is a new mother after giving birth, even though everyone says that to restore her figure very well, but she still wants to try to return to the state of girlhood. Because she had to rush home after work with children, there is no more time and colleagues to participate in yoga and other exercise, Miss Lee is now the biggest desire is to be able to work during free time or lunch break, to the workplace activities about the legs and feet bones nearby.
"If at home, sometimes also with a bit of fitness equipment downstairs, but to work in the office, sit at the computer one morning, there is simply no place dynamic moving body bone." Miss Lee told reporters She had to participate in organized by the newspaper "Health Forum", a special white-collar office learned of the "public health exercise," but it also can only produce points on the spine maintenance role, and her long-term recovery plan is still a big figure gap.
"If the work place can have a ready to activities of the sports venues, that nice ah." Miss Lee said, "It's like when the playground before school, like, the recess when lap is also good! indeed, at work I can not go to the gym right outside the building. "
Situation 2: difficult to find a weekend and evening sports
in the Pudong Lujiazui financial district since the work of Mr. Sung from the study is very fond of sports, work, and his friends often similar to each school closer to home, or some of the business of sports facilities to play badminton, play football. But he will always encounter some trouble: "Like so busy with our work, only the weekend was free to exercise what, but set a badminton court is not easy, can be set to several days in advance, with the site I dare go to some friends. "
he told reporters, Shanghai is a lot of badminton facilities are very good site conditions, especially those located in a good location even more popular venue, can only buy cards way it may be set to ensure the site. But the more difficult of venues set to, and sometimes it is like to exercise, many people can only second best, choose the number of balls are called to play games like "sauna," the site. "In fact, it is difficult to provide weekend and evening, during the day these sites are often idle, but we had to work Yeah, think is very unfortunate." Mr. Song said.
correspondent in broadband Hill have seen on many sites, many white-collar workers will ask, "Where there is a certain class stadium" problem. Some people ask: "work to play badminton, everywhere is full, set to Shanghai where you can play badminton venue ah?" For this problem, many users have replied: "money and no place to set." There are friends recommend: 'simply to not fight the wind alleys. "
status III: sub-area white-collar appetite Fitness Court
Caoxi who lives in the building on Caoxibeilu Wang also very interested in fitness, fitness area is not actually a point, and sometimes she can go next door to the Court exercise fitness area.
"However, the feeling is always very good." Wang told reporters, on the one hand she always wore like a "trespass private house" feeling, "to go more often, and use some of the fitness equipment, many of the owners lived in this area will look at me with strange eyes, as if I should not have to occupy their leisure space. "every time even though she is a good exercise and left quietly, but into this area in, they always look at the security gate wink, for fear of someday have owners who can no longer over the exercise.
Wang "common exercise were" mostly live in the district where the aunt uncle who. "I am a young man, quite garish in their midst." Says Wang, fitness equipment may like to play these young people did not so much with the age of white-collar workers like some of the more intense, a little more athletic or more collective participation in the movement. "But I often work overtime, came back too late, and people feel very tired, they have time to go around to friends to participate in high intensity exercise?"
Wang also said that although his old to the community fitness Court, but these activities do not her favorite sport, not so co appetite. "Going to other sports venues, almost every book or spend money, but also about the human cost to go with it." Wang believes that his current work for the state in terms of fitness was only able to think such a choice now the.
Situation Four: favorite sport is difficult to participate
Mr. Chang, who lives in the southern suburbs of villas favorite football, reading, when he was the school football team a master, but now he began playing tennis a change. Mr. Zhang said, because work is too busy, he can only use the limited leisure time at home near the gym, but football is not only a tennis court in the district, he simply changed tennis forget.
"In fact, I most thought about or 'football addiction'." Zhang said, "but really not easy, but there are not many local soccer field, almost all in large stadium or school, I really have a place to play, I look around not so many people. "
said these words, Mr. Zhang faces, filled with happy memories:" What, like when reading when the thought of what to play on the university to which university to play, there are always a bunch of people playing together. "
[Success]
The first "air stadium" white-collar workers to meet the needs of
difficult problem for white-collar movement, in the recently constructed buildings in Shanghai is the first "air stadium" – the work of Xiao Suhua very Catic Building, voice. She is building a full-time party workers, white-collar workers for this building as well as their difficulties and doubts, known as "Xiao teacher", she is most familiar.
Xiaosu Hua told reporters, building a variety of life service stations, coffee bar also has a soul, and her white-collar workers who usually communicate often hear them talk about sports and fitness training needs. "We have this building's white-collar workers who really like sports, but the office is not a venue."
Xiaosu Hua said they will hold building games every year, 3,000 people in each building Hundreds of sports enthusiasts have come to participate.
although not a suitable sports venue, but the young people come up with a variety of ways to exercise. "Ascending the use of the corridor for movement, using the larger lobby space hula hoop, shuttlecock, throwing darts, the use of the plaza outside the tug of war …" can use all the space to spend, it's not, young white-collar workers are also very much like to participate in district and the city held a variety of games, they always want to be in the building and then expand out to some venues will be more extensive movement of items.
platform transformation transformed aerial playground
Xiaosu Hua said: "At this point, we are very grateful to the building where the aircraft property, they take the initiative to white-collar workers who built the 'air stadium'. "end of last year, five-story property began the transformation of the vacant platform, the platform on the water, lighting and other re-laying, and built a relatively simple sports venues, there were badminton courts and runway, many white-collar workers often work in free time, especially during lunch time, up to the platform some exercise. "Building not only have a variety of service points, and even have a playground, which makes building the work of young white-collar workers are very happy."
this special stadium and the streets quickly attracted Shimenerlu Jing'an District Sports Council's attention and get their support. Jing'an District Sports Council funded this year, more than ten million for the overall planning and reconstruction, building officially opened in July and August has been fully completed.
platform in 1000 square meters, all of the fitness facilities are close to the white-collar fitness needs, there are three hundred meters runway, fitness trail, a standard badminton courts, table tennis table and the upper tractor, running devices, limb back exerciser, health devices and other riding fitness equipment.
successful experience in the region continue to promote
Xiaosu Hua said, white-collar workers like the last building campaign, the most recent venues is the cultural center of the gym or community Jingan District Stadium, and some sports venues but also the cost of 45 yuan per hour, is neither convenient nor affordable. "Air stadium" the opening of the building's white-collar workers to bring convenience, 8:00-18:00 from Monday to Friday opening hours of the basic white-collar workers during working hours to meet the recreational sports. "In the trial opening stage, it was 8:00 on a lot of people over the movement, after work at 5 pm is the peak of a movement, a lot of people walk or play here." Xiaosu Hua said, "especially a lot of family in the field white-collar workers, they prefer to come here to campaign. "
welcome comments I want to comment
Previous 1 2 Next
microblogging Recommended | hot today microblogging