Justice Secretary melee Hunan deputy added: saying that he would resign as deputy attorney
Liao Yao-in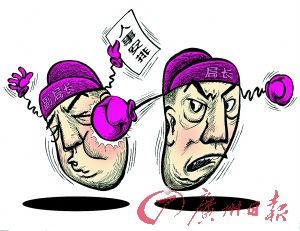 comic: Secretary, Deputy Secretary for personnel arrangements melee

Hengyang, Hunan Bureau of Justice deputy Secretary of conflict due to personnel arrangements melee event tracking
Tolerance boss abuses claimed to have more than three years of bureaucratic situation bored with going to resign but never compromise
● I will leave the civil service, but I will dry in the end with such a person, who can overthrow a corrupt life, is victory, is the anti-hero.
● I am an officer is to study corruption and anti-corruption.
● The biggest problem now is the official number one infinite power, some officials is no real ability, can become a fool, full hard not hard to see the background, there is no money, do not put it down face up, know anything about the thick black road.
● I think the students have been able to pull down Wanchun not easy, you do not often go to the anti-people, people long to go on the whole you.
deputy director of the future:
open green food company
lawyer interests of the people
Yao Liao resigned soon, and in the resignation, Liu Yao's will is far from official, open green food company to become a "farmer" and a populist lawyer . "Farmers" is in the Liao Yao set up their own concept, broader than the farmers and high-end, he produced more environmentally friendly, natural agricultural products, with a scientific concept to manage the farms and marketing.
In fact, Liu Yao in the company's plans to open green is not a whim. He was born in rural areas for agriculture has a very strong interest in 2009 and 2011, Liu has published two papers agriculture, "China's rural development issues in the analysis of several basic", "New Research on the development model of modern agriculture." Thesis studied under a very wide attention and food security red line of arable land, rural land contamination and governance issues.
Liao Yao's home in Hengyang City Economic Development Zone, an area of ??200 square meters, the roof planted with pumpkin, gourd, and a variety of vegetables, his car was a Ford. Liao said that he was just 1,500 yuan to buy a house price, housing price as long as more than 40 million, but he still loans 280,000 yuan to buy the house. Rooftop planting vegetables, apart from their own consumption, the excess of relatives and friends can donate.
established agricultural companies, in Liu Yao that their ideas are not noble, "I just let themselves and their families to eat healthy before doing this plan, although I am envious of the Tao, but I know not find paradise now, I have a few classmates and discuss preparations founded agricultural company, specializing in the production of green food. "
Liao Yao also prepared another very dry part-time entry into the WTO – lawyer, populist. Liao Yao in keen on equity, the Central Party School, graduating in 1997, they passed the lawyers' licenses, although he served as Deputy Secretary of Justice, in charge of legal aid centers, but sometimes the case suddenly over, the defendant has not appointed lawyer, then Liao no time to assign tasks to subordinates, often personally as a lawyer, "I often asked to defend death-row inmates, they often do not appoint a lawyer."
10 October, Hengyang, Hunan Bureau of Justice of the party committee , the Deputy Director Liao Yao Wan-Chun due to public resistance to the Secretary of Health of the "enter" instruction, the two fight at the venue, Liao was hit to the left cheek bruised. After media reports after the incident, causing the parties concerned. October 14, beating the Secretary Wanchun students were suspended on October 17, Liu Yao's injury recovered, Bureau of Justice back to work. But officialdom has frustrated Liao, "up to a month or two, I will resign."
take official of the great condemnation, public collision boss, walked away from what makes The deputy director of upright heart? Now this fight but also reflects the kind of bureaucratic ecology? Officials prepared to demobilize the alternative to leave the world a lot of questions to be answered.
text, graphics/Independent newspaper reporter Hengyang Wuwei
(except signature)
10 18 evening, a small restaurant in Hengyang, the correspondent Liao Yao-in to see. White shirt, black pants, silver-rimmed glasses, Shuangbin gray, fading bruises left cheek, just 41 years old this year, Liu Yao in the side looks old, but the conversation does not change between the pedantic.
deputy director of its people:
JD "mixed" into the official
said Liao Yao The study by the Self into the Central Party School of Law graduate, is the direction of Constitutional and Administrative Law, Wuhan University, has since admitted to the JD, the previous life experiences, Liu Yao refused to talk about in it: "are from the rural areas, with admitted to the ability, there's really nothing. "After graduate school, Liao Yao from September 1997 to September 2003 as between the Party School in Hengyang, Lecturer in Law.
2003 September Liao Yao in the selection of cadres, public examination by the Hunan Province, Hengyang County became the deputy head in charge of Development and Reform Commission, Price Bureau and the Office of Legislative Affairs. October 23, 2007, Liu Yao in Hengyang Municipal Bureau of Justice transferred as Deputy Secretary. In fact, Wan-Chun Liao Yao-survivors in the morning than any of nine months. But the mention of this boss, Liu Yao still teeth: "(which he beat) are the result of my anti-corruption."
Liao Yao-in after the accident, there have been students called to comfort him, just accept the Reporters also phone calls during the interview.
10 17, Liu Yao's injury healed in the basic unit to return to work, because students have been suspended after Wan-chun, Liu Yao to take the initiative in the greetings of my colleagues a lot, but there are many of my colleagues chose to avoid. "I feel, Wanchun students suspended, 80 percent of the cadres of the Bureau of Justice still very happy."
melee event:
Bureau long "into" was deputy blocking
Liao recalls, Wanchun students in particular, like to play "Three-Ha" (a kind of poker), Wan if the win the money, it must VIP speed connection, once lost money, but do not want out; Wan is like beauty, life is very indulgent, very much doubt Liao, Wan asked this woman recruited into the civil service, and he has a hidden relationship; Wan-chun was born in units in a lot of things are what they say, according to the procedure has never been to. All this in the Liao Yao appears in the upright scholar, very poor. Three years, Liao continued through various means against the authority of a million, but this time face to face accusations Congress is the most intense, the most direct one. "In the past, and colleagues to face relationship, and I forbear too, the way questions are more relaxed."
comes to Congress on October 10 of that field frame, Liu Yao in there still is not convinced "In the confrontation in the first round, he hit me a punch, I immediately got up, one will be pushing him to the ground, I was already tugging at his collar, he did not move, but for some people behind the pull side frame, he is simply not my opponent, he hit my left cheek so many punches, I just played a bit bruised by him, showing how weak he is. "
million and the reason is because Liao fight "into the" problem. Wanchun students should work in a female prison in Hampshire civil servants transferred to the Bureau of Justice under the Legal Aid Center of Hengyang City, Legal Aid Center is in charge of Liu Yao unit, but the unknown female civil servants, into the program not right, do not know what a special background. Therefore, in the Congress on the Liao Yao sternly refused, "You're into is unreasonable, sub-program, I strongly disagree!"
Wan-Chun Liao, Yao health requirements must be accepted, "which places unreasonable? Which place sub-program? which place is not normal? "
forced by students in Wanchun, Liao Yao-in continues to contradict, the two then fight.
Liao said Wanchun health behaviors such precedents, "he Gesanchawu who will arrange access to the judicial council, but not according to the procedure of personnel on the go, before I was in this respect different advice, he sent his confidant to, forcing me to accept, I forbear such a behavior for three years, it is unbearable. "Liao said the students came to the Bureau of Justice Wanchun the first three months, their relationship get along also good, but Liao subsequently detected the problem in many ways, "I'm on hand to collect evidence of many of his irregularities, he is a person is a militant, will not let go, soon I will definitely retaliate . "
However, Liao Yao also will not let go:" I solemnly declare, in the near future, may be three five days, probably a month or two, I will leave the civil service, but I will dry in the end with such a person, who can overthrow a corrupt life, is a victory, is the anti-hero. "
However, Wanchun students yesterday responded that the fight is moving Liao first hand, the female civil servants to recruit them, in Hampshire prison for 11 years, passed the bar exam, is a subordinate personnel changes are reasonable, he and the female civil servants do not have any relationship. "After a forensic identification, the two of us were injured, Sometimes."
Alternative Secretary:
born with a bullish temperament
Liao Yao many of the students seems straightforward nature Liao is a scholar. "Laoliao good character, straightforward personality, but it seems that bureaucratic culture on the Mo Xuehao, out of such things or people very surprised, to fight things open, I am afraid there is less consideration." Liu Yao, a classmate in this told reporters, Laoliao respect for teachers, there is some thing once his mentor, Laoliao equipped with the students, thousands of miles away with the car went to Wuhan to help.
in Liao Yao in his view, inherited from his stubborn. "My father is an upright man, and once because the production team and give very little food at home, he thought this whole family will starve to death, so risking a lot to steal rice, the production team was found, but My father refuses to admit, but that mess production team, production team who pressed his head to drown him in the pond, thanks to his uncle came to save. "
Liao Yao in childhood stubborn, in the junior high school, he even fell out with the class teacher as a trivial matter. "We were just switched to a new class teacher, and once the class has just finished cleaning, the class teacher asked me to put down the broom on the ground helping them set free in situ, but I told him I did not prostrate broom, and should Take this time to a broom to sweep it to the students receive a good son. "To this small, Liao Yao at loggerheads with the class teacher, and finally even to the point to be hands-on, but Liao always consider themselves right.
Yao and Liu students to do six years, said Liao Ching-yuan, Liu Yao in love Baodabuping, afraid of offending people. "In elementary school once a tall boy bully a little man, he first reported the teacher, then go and little man."
grow up, despite the official picking up, but has not become smooth how much. In many cases, Liao put a lot of energy are invested in research on agricultural science and law. This is, from his two renamed can be seen. Yao Fang Liao Liao called the Central Plains, and in the Central Party School Song Liao changed his name when, in 1999, returned as a party school teacher Hengyang he changed his name to Liu Yao, the "Yao is the fourth in the Big Dipper stars, I changed the name, is to maintain fairness and justice. "
Qing Yuan Liao recalls, Liu Yao had in him at the Central Party School, wrote a letter in this sentence:" Society is a vat, He said to do, as predecessors: 'pieces are not afraid to stay clean in the world 。'"
into the bureaucratic mind:
officer is to study corruption
as already understand that the "vat" character, why should Liao Yao in the bureaucratic mix it? Liu replied: "I officer is to study corruption, anti-corruption."
"We all know that poisonous snakes, but still it was to study the snakes, we all know that mountain tiger, but still some people up the mountain Today when the 8-year officer, was to see the trees to see the forest. "Liao Yao said the biggest problem now is the official number one infinite power, some officials is no real ability, can become a fool, all hard to see background not hard, there is no money, do not put it down face up, know anything about the thick black road.
Liao Yao said his background is not very thick, but through reading and research, he received a real experience. "Doing things to have is the ability to engage in exchanges have real feelings, and I see this world there can be absolute fairness and justice, I do not bite reason people die, but never in cahoots with the people, more not any of the others bully and silence. "
Liao Yao-in that now the forces of corrupt officials within the bureaucracy is still very strong:" I think students have been able to pull down Wanchun not easy, and often you do not put people anti-down, you'd have people go on the whole, especially as I am a subordinate against superior, so much effort and energy to pay, he can be toppled. "
share: welcome comments I want to comment
microblogging Recommended | today's microblogging hot (edit: SN026)