Li National University Campus Arts Festival watch
After the performance, Li shook hands with the students. Xinhua News Agency reporters Pang Xing and Lei She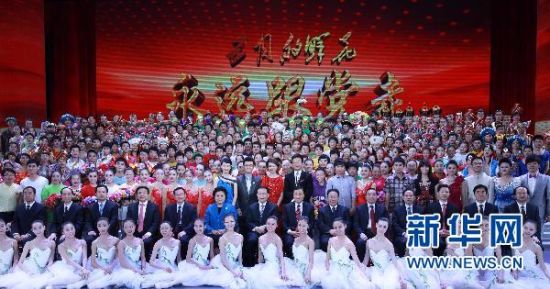 After the performance, Li Changchun and college photo. Xinhua News Agency reporters Pang Xing and Lei She

Xinhua Beijing May 4 (reporter Zhou Tingyu) youth singing loud and clear, sonorous oath of youth. National University Campus Arts Festival "May flowers – party forever," staged in Beijing on the evening of 4, for the Communist Party of China 90th anniversary gift. Politburo Standing Committee member Li Changchun, the capital, together with representatives of college students watched the performance.
by the Central Propaganda Department, the Ministry of Education, the show hosted by the Central Communist Youth League, to the Youth Day as an opportunity to promote the "spirit of May Fourth," praise the glorious history of the Chinese Communist Party, celebrating the Chinese Communist Party in various historical periods led the people made great achievements.
8:00 pm, show at Overture "May flowers" in the opening. The whole show through "the banner of youth faith," "motherland youth footprint", "young pioneer era," three chapters, cherish the memory of our ancestors, celebrating the era and the future. Performances, contemporary college students to respect feelings about history, images and multimedia technology will be a modern classic scene dock; aftertaste oldies song after another, a section of the new high-spirited dance agitation, a common interpretation of history, heritage and the memory of the traditional a future of unlimited vision, showcases the contemporary era of college students full of youthful style, highlighting their party forever the high-spirited passion and ideals. Collection of song and dance performances, poetry readings, performances and other instrumental music and scene performances, variety of cultural programs, and feelings of sincere performances, won waves of warm applause from the audience. Performed in the "revival" of loud singing came to an end.
After the performance, Li took to the stage, shook hands with students and performers of all college students together with a photo, full of passion to their performances to give enthusiastic praise. Li said that this program ideological, intellectual, artistic, ornamental superb, clear theme, thinking deep, warm praise of our party in the revolution, construction and reform of the great achievements in various historical periods, from the heart to express the college students party forever, and constantly open up new prospects for the socialist cause with Chinese characteristics, firm belief. The entire show in various forms, lively, passionate, strong infection, shock gives a deep soul, a vivid display of contemporary college students positive and healthy spirit of good, clearly showing that college students party and the people can rely on generation of outstanding young people.
the CPC Central Committee, secretary of Propaganda Minister Liu Yunshan, the CPC Central Committee, State Councilor Liu Yandong, Vice Chairman of CPPCC, president of Chinese Academy of Social Chen Kuiyuan to watch performances.
(edit: SN034)