Maximum rainfall in 61 years has caused 37 deaths in the loss of nearly ten billion
In the morning of July 22, Wangjing, Chaoyang District, a section of water seriously into a "lake" vehicles such as yachts. July 21 to July 22, morning, Beijing lowered the maximum rainfall in 61 years. rainfall of more than 10 hours a lot of water, so that part of the road. news agency Fa Li Xueshi photo "/> the 22 morning, Wangjing, Chaoyang District, a section of the serious water into a" lake ", vehicles such as yachts. July 21 to July 22, morning, lowered the maximum rainfall in 61 years. Rainfall of more than 10 hours, so that part of the road a lot of water. News agency Fa Li Xueshi photo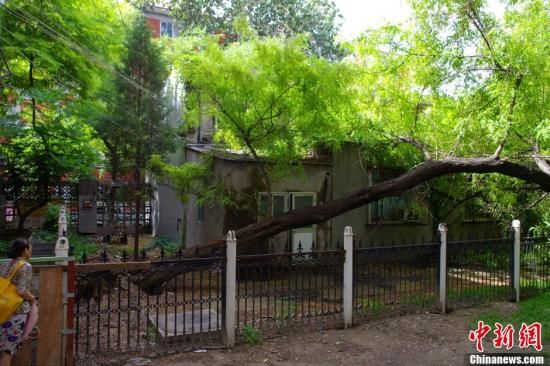 7 22 am, the acacia trees grown more than twenty years, Chaoyang District, a district because of heavy rains, uprooted collapsed, part of the supply line pressure off, but fortunately collapsed position in the two Housing not cause injuries. At 14 o'clock on the 21st, Beijing dump heavy rain, ended at 2:00 on the 22nd

BEIJING, Beijing, July 22 (Xinhua) (Reporter Yin Li) the afternoon of July 21 to 22 am Beijing suffered 61 years the most rain, heavy rain continued nearly 16 hours. Official evening of 22 news release, ended at 17 o'clock on the the 22nd, were found due to the torrential rain torrential superimposed disaster killed 37 people in Beijing's territory. According to preliminary statistics, the storm led to the economic loss of nearly one hundred million yuan.
July 21, Beijing occur torrential rain to heavy rain, the city's average rainfall of 170 mm, maximum rainfall since 1951 with complete meteorological records. Among them, the maximum rainfall point of the town of Fangshan District, Hebei 460 mm. Heavy rain caused flash flooding of the Fangshan area, Juma River upstream flood peak discharged.
It is reported that 37 of the dead in, drowning 25 people died, houses collapsed to death six people, a lightning death, electric shock and killed five people. At present, there are 22 dead identified, the remaining 15 people are confirmed. In addition, disaster relief, the three government workers because of the expense of the public.
latest data shows that the "7.21″ heavy rainfall process led to Beijing the affected area of ??16,000 square kilometers, a population of about 1.9 million people affected, Fangshan District, 80 million people. Beijing the city's roads, bridges, water conservancy and many damaged houses many collapsed, hundreds of cars suffered serious losses. Preliminary statistics show that Beijing's economic loss of nearly a hundred billion.
According to statistics, the relevant departments of Beijing to participate in the heavy rainfall response to number 16 million people. Ended at 7 p.m. on the 22nd, Beijing, transfer of masses 56933, Fangshan District, transfer of 20 990 people.
Beijing Flood Control Office, the relevant responsible person said, in response to the heavy rainfall process exposed some problems and deficiencies, such as urban infrastructure is still relatively weak, the standard is not high; the operating mechanism of the flood control headquarters on need to be further improved; the popularity of the flood control and disaster reduction knowledge be improved; social mobilization to be further strengthened.
Beijing next step will earnestly follow-up relief and rehabilitation work, the work focus from rescue to relief. As soon as possible to restore public facilities such as transportation, telecommunications, electricity, water, people in disaster areas as soon as possible to normal production and life; further investigation and danger, to prevent secondary disasters, especially the geological occurrence of secondary disasters; fully carry out the disaster areas of health and epidemic prevention work to prevent epidemics occurred; organized disaster investigation and verification work, and actively carry out relief and self-help work; do the victims of the aftermath of the masses. (End)
welcome Post Comments share: the microblogging recommended