Oil wholesale market in Zhengzhou an explosion (Figure)
the fire scene. Wu Yang photo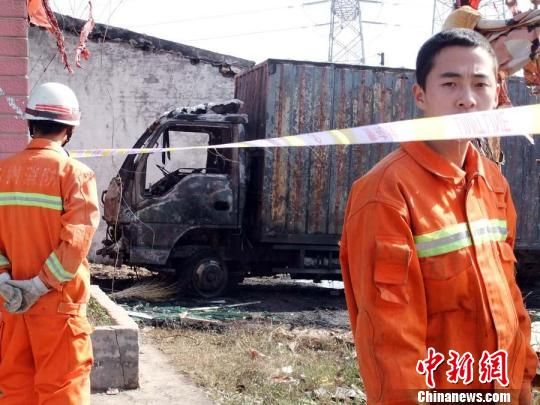 a logistics company trucks were burned. Wu Yang photo

BEIJING, Zhengzhou, November 13 (Reporter Wu Yang) "boom – the sound of a loud noise and fire on the up." Noon today, a witness described to reporters in the South Fourth Ring Road, Zhengzhou City, has just occurred in the wholesale market near the fire, said.
It is understood that the explosion occurred in the South Fourth Ring Road, Zhengzhou City, is located near a bridge called Shibalihe Zhengzhou oil tire wholesale market. Reporters arrived around 12, this because of "explosion" caused by fire has been extinguished the fire brigade arrived in time.
one closer to the fire scene from the merchant told reporters that about 9:00 or so, suddenly heard the "boom" is heard The Voice, and he immediately adjacent to the courtyard of a company from the fire is estimated that companies do not know why the tank exploded, the fire was nearly two hours.
correspondent saw the scene of the fire, an explosion near a logistics company will be one centimeter thick glass crushing blow, the fire also destroyed a car parked next to medium-sized logistics companies freight cars.
Subsequently, the reporter from the 120 emergency center in Zhengzhou City, learned that there are a victim in Zhengzhou City, the First People's Hospital, the injured may have been hit by explosions set off in pieces, no life dangerous.
news that one person died in the fire. But the official did not confirm the news, an explosion or fire is still under investigation.
share: welcome comments I want to comment
microblogging Recommended | today's microblogging hot (edit: SN002)