Photo by PS farmers into Hebei Shenzhou Yueyu Fan or rights
Wang Hebei Province Public Security Department announced the arrest photo light. (Information)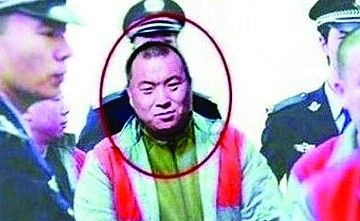 This popular online photo fugitive arrested Wang in fact, false light, circle it in the picture into the PS was also City of innocent farmers. (Photo from Internet)

9 11, deep in custody serving a sentence in state prison, escaped felons Wang light flight. September 24, Wang was arrested in Henan light. In the report for this incident, the number of media outlets quoted by friends found a picture of a star system involved in the PS version of the picture, the original picture of the face is deceitful, and therefore light users was questioned whether Wang was arrested . September 29, Wang Hebei Province Public Security Department announced the arrest site map light, this event has ended.
however, does not eliminate the police to clarify the presence of PS on the network a large number of images, by PS of the Old City has been used by farmers Li Yanbo fun into a fugitive and helpless villagers help: Please help me clarify, I am not a king vibration of light! October 11, Li Yanbo to be the capital of a firm to provide legal aid, rights will be carried out.
who spoof me? Old City farmers were PS
36-year-old Li Yanbo is Gucheng a farmer, the local minor celebrity, not only because of his 110 kg weight, and he is loving Gucheng Union Leader. Volunteer Alliance to contact the network as platform, Li Yanbo also have more access to networking opportunities. September 13, he was browsing the site, paste it in the Old City were found in a straight to his eyes the picture, the picture man wearing a red prison uniform by several police pressed the arm, but the picture that face shocking themselves. "I think I must be who spoof it, paste it in the past in the Old City has a similar spoof of my pictures, although the fat figure who is Yueyu Fan Wang says light, but there was an immediate response to friends that this is not Lee Hikohiro you ?!"
Li Yanbo page was printed screenshots for evidence, the reporter saw, IP address of 123.183 .* netizens, released on September 13 the same background, but the main diagram inconsistent faces two pictures. Were two pictures Posted at 10:00 on September 13 and 15 o'clock or so, the pictures released earlier more obvious signs of fraud, the head and neck is evident at the interface between PS smear marks.
Liyan Bo said he posted it to the moderator message complaints, a few days after this post was deleted. But let him depressed, September 20, several well-known site in news video, are cited later he was PS goes to upload pictures, text is "Wang escaped fugitive light."
be "famous" was laugh, "Why is it"
Li Yanbo main business is operating in the Old City stone, sand, monthly income of 2,000 yuan, wife in poor health, species with 5 acres of land.
"out of this, the village whenever the Internet, read newspapers all know, the village hear of acquaintances, people will tease me, 'hey, Hikohiro, how do you not go to catch?' Or else said, 'Li Yanbo you are so fat, a quick escape, to talk about the chant?!' "Li Yanbo no secret of his distress: I bother anyone.
leaving Li Yanbo depressed, Tianjin, a newspaper published by PS picture, which happened to be seeing his cousin, the cousin called to ask Li Yanbo reason specifically, Li Yanbo cousin's explanation has not been acceptance, cousin also asked Li Yanbo, "Why is your face not others?"
Liyan Bo said, "Yes, I also pondering it, why is it ?!"
According to Li Yanbo introduced him as "Old City geeks" in the name of Baidu has personal space, personal space, there are multiple photos, and does not set the view permissions, he suspected that someone downloaded the images from space for processing.
cleared off the network diagram is injured parties
they have been on the network to remove the PS picture, September 14, Li Yanbo police to Gucheng Bureau of Police, the Police Department that the private prosecution of this case and asked him to court those responsible.
Li Yanbo consulting a number of local lawyers, has not been a satisfactory answer. September 20, his desperation, he and a number of sites to contact, request the deletion of the PS-line picture, part of the site and agreed to remove most of the site's response to Li Yanbo Meipi Qi, "people reply to me directly, we reproduced, the original release sites you go to it. "Ultimately, Li Yanbo pinning our hopes on the police arrested Wang early light.
9 25, Liyan Bo saw the news that Wang was caught light, and thereafter it can be cleared, "suspect", so his surprise, a number of websites, pictures or video reference PS goes on to be a false map. "No one to ask how I feel? I am not Wang light. Internet search out tens of thousands of links, all my face, I do love alliance to help others, who will help me?!" Said Li Yanbo .
Police released false map site map network still
9 29, Li Yanbo in the third person as Baidu broke the news about it is it City farmers by PS event, would like to clarify identity. Also became a hot post this post, but did not terminate after this picture of PS on the network continue to spread.
At this point, caused by this false map users questioned whether the police arrested Wang light voice, spread like wildfire on the network. September 29, arrested in Hebei Province Public Security Department released a live picture of light Wang responded.
Li Yanbo that can breathe, but in the Web search engine, or they have been able to find a lot of PS photos, text comes with a number of sites, "Wang Yue Yufan light." This makes Li Yanbo difficult to accept.
Li Yanbo in an exclusive interview with reporters, disclosed that he most wanted to find the original person through legal means, to each other in order to punish, "I do not want to claim how much I wanted to prove that I am not a light Wang, revocation of the map goes off, but also my identity, I lose reputation. also warned others not to spoof others, spoof is a price to pay. "
site does not remove the false figure to sue the parties
10 11, the provincial capital Huang Hao lawyers provided legal assistance to Li Yanbo. According to Huang Hao introduction, he has retained the evidence of the notary, the prosecution will involve a number of well-known sites, it is learned, the proceedings will be launched this month.
reporter access to the July 1, 2010 since the implementation of the "People's Republic of Tort Law" Article 36, which on the Internet has clearly defined responsibilities and rights, Internet users use Web services to implement tort has been infringed is entitled to notify the network service provider to remove, screen, broken links and other necessary measures. Network service provider after receiving the notice did not take the necessary measures, expansion of some of the damage to the network users jointly and severally liable. Internet service providers know their network services network users to use against the civil rights of others not to take the necessary measures, and jointly and severally liable to the network users.
In fact, Li Yanbo from September 13, has been in negotiations and countless websites. The afternoon of October 11, Li Yanbo Old City by train to return home, when the telephone call to reporters before leaving, "when will calm down? Good life have been disrupted. Then I can not free others so frustrating ? "The more than 100 kilograms of brawny, phone and sighed. (Yanzhao Metropolis Daily reporter/paper)
share: welcome to comment I want to comment
microblogging Recommended | today's hot microblogging